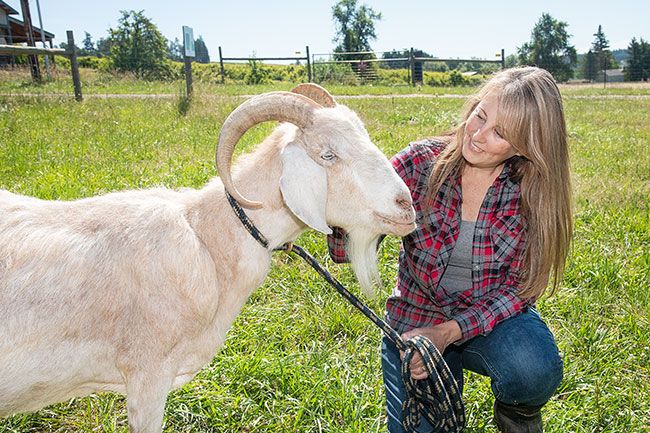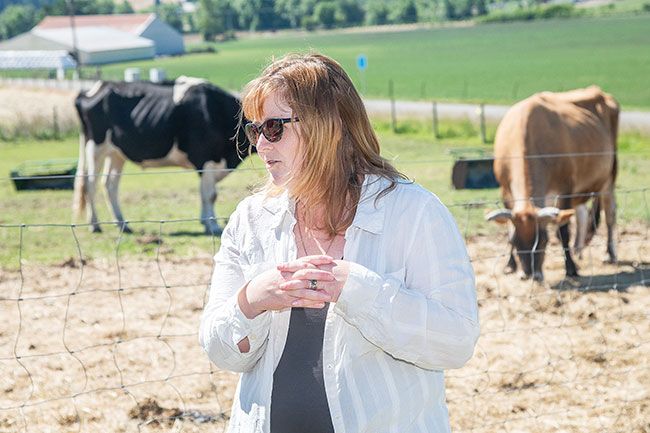 Stopping by: GIVING THEM A GOOD LIFE
Farm animal sanctuary offers permanent home
Billy Blue Eyes hobbled out of the barn and across the pasture, heading for some tasty-looking flowers near the fence.
With his eyes on those prize blossoms, Billy didn't seem to mind walking on three legs. The old goat had stumbled and broken his foreleg a few weeks earlier; when the bone wouldn't heal, his human caretakers drove him to the Oregon State University veterinary hospital for surgery.
The operation was his second second chance at life, two more than most goats would ever have.
But Billy is a resident of Wildwood Farm Sanctuary, where he and other farm animals can breathe deeply and live out their lives in peace and safety.
And sometimes stop and eat the roses, which should have been fenced off, but that day were not. At least not until Wildwood founder Shauna Sherick moved a section of fencing back into place, gently foiling Billy's plans.
Oh, well. Billy turned and ambled away, surprisingly agile, heading toward other promising parts of the pasture.
Billy, who may eventually be fitted with a prosthetic leg, is one of about 100 animals who have found permanent homes at Wildwood, located on North Valley Road between Newberg and Yamhill.
"We let them do what they want. They're free to go in or out," said Michelle Blake, vice president of the volunteer-run nonprofit.
The farm is filled with additional goats, alpacas and bovines, mostly steers rescued from the fate faced by most males born to dairy cows. The majority of residents aren't four-legged (or three), though; they have wings, instead: chickens, peacocks, turkeys.
Pete, for instance, is a 10-year-old turkey gobbler. He's been at Wildwood as long as Billy has.
He will happily tell you so, spreading his impressive tail feathers and gobbling loudly. He's showing off, not warning visitors, Blake said. "He's a sweet old guy."
Most of the residents came from places of abuse, starvation and neglect. Some "were surrendered after someone had second thoughts about turning them into dinner," Blake said.
Large agricultural practices are based on efficiency and a quick, profitable turn-around. Poultry, bovines and other species may be cooped up, barely able to move; some animals never see the sky or feel the grass.
At the sanctuary, in contrast, "we tell them, 'this is your home,'" Blake said.
It takes awhile for some farm residents to get over their past. Many arrive frightened of humans, then gradually relax.
It may take a year or two, but most become comfortable being near people.
They don't turn into pets, though.
Alpacas Jax and Brownie, for instance, were very fearful when the came to Wildwood after being seized from a hoarder. But after seeing people come and go without hurting them, and after having many positive interactions (ie., snacks offered by caring volunteers), Blake said they now are more curious than afraid.
Visitors are told to respect the animals at Wildwood. Pet them if the animals ask to be petted, but don't pursue them or force attention on them. This is not a petting zoo, Blake said.
The animals have priority. "Let them come to you on their own terms," she advised.
Some of the winged and four-legged residents enjoy being scratched and brushed by the volunteers they see regularly. And most develop relationships with other animals — with many cases of cross-species BFFs, such as Charlotte, a heifer, who loves goats and geese.
The animals are platonic friends. They are neutered.
Occasionally, one arrives already pregnant and has its baby on the farm. Volunteers treasure that experience, and give the new arrival a permanent home where it will never know suffering, Blake said.
Wildwood founder Sherick wanted to eliminate suffering when she started taking in farm animals back in 2012.
She created the sanctuary on property settled by her ancestors. She had spent a great deal of her youth there, helping her grandparents, who grew hay, Bartlett pears and other crops.
They also raised beef cattle and dairy cows, all of whom "seemed to have good lives," Sherick said. The herd included babies, as well as mature animals.
"It was idealistic the way the animals were treated," said Sherick, who was inspired to become a veterinary tech; she's worked at a Newberg veterinary clinic for more than 20 years.
Growing up, Sherick said she thought all farming was like that. Later, she said, she was "really shocked" to learn about feedlots and industrial farming.
Now a third-generation resident of the 200-acre property, Sherick has kept much of it as a nature preserve, where she sometimes hosts wildflower walks — one of the activities she's had to temporarily suspend because of the pandemic.
She's working with the Yamhill County Soil and Water Consvervation Service to preserve the Oregon white oak savanna, evergreen forest, wetlands and native flora and fauna.
She also tends the orchard and grows hay for the animals living at Wildwood, a name she chose to represent its mission of preserving nature.
Not long after founding Wildwood, Sherick went looking for help in building an enclosure for the sanctuary's chickens.
She approached Fences for Fido, a nonprofit that helped dog owners create safe spaces for their pets. Blake was on the Fences for Fido board, and she helped build a fence for the hens of Wildwood.
Blake, a Dayton native, also had previous experience with farm animal sanctuaries. In the 1990s, she recalled, she attended Thanksgiving celebrations at a sanctuary in Oroville, California, where the resident turkeys enjoyed pumpkin pie while human guests ate a vegan dinner.
The two women hit it off, and Blake joined the Wildwood board in 2014. Now she's responsible for grant writing, media relations and, of course, fence building, although she's eager to find some younger volunteers to take on that task.
Blake had been shocked by industrial farming, too. She was especially bothered that it's common practice on dairy farms to separate calves from their mothers, and to send the boys to auction or the slaughterhouse.
"We're brought up being told milk is the best food for us," she said. "But we're drinking milk that's meant for another species. It's not natural."
She grew up at a time when Yamhill County still was a center of the turkey industry. "We were all taught the turkey myth, that turkeys are stupid," she said.
But watching Wildwood's turkeys, she sees intelligent birds that enjoy walking around the farm and spending time with other animals.
"We let them be how they want to be," she said.
Wildwood is one of many farm animal sanctuaries across the U.S. It's the first one in Oregon to earn Global Federation of Animal Sanctuaries accreditation.
GFAS grants accreditation following a rigorous review of everything from a sanctuary's governance structures to its animal housing, first-aid supplies and medication storage. Harassment policies and plans for emergencies and other contingencies also are required.
Neither Sherick nor Blake nor any of the other volunteers are paid for their efforts at the farm.
At least two volunteers are on site every day, feeding animals, cleaning stalls, administering medication, brushing coats and doing other tasks. They bring their own vegan lunches.
The farm draws many of its volunteers from the Portland area. They don't get to interact with farm animals otherwise, Sherick said. Many love the hard work and bond with the animals; some move on to other volunteer activities after a few months.
"Volunteering here is a workout," Sherick said. "You don't need a gym membership."
Before the coronavirus pandemic, members of the public frequently visited the sanctuary, as well. "We're here to educate and inspire change, too," she said, explaining that seeing the farm's residents visit might encourage someone to be kinder to animals or switch to a vegan diet, for instance.
School groups toured the sanctuary. Adults came for wildflower walks and other activities in the nature preserve, as well as for fundraisers.
Few grants are available for farm animal sanctuaries, Blake said. Recently, though, Wildwood benefitted from a grant from Intel: an employee applied for funds to buy materials for platforms for the goats to climb on; she also received time off to help build the structures.
Otherwise, fundraising is critical.
Sherick said Wildwood participates in a national sanctuary fundraiser, called Goat Games, and hosts its own events as well. Usually it has several fundraising dinners a year, an Earth Day event, and barnyard bingo. The sanctuary also has hosted a 5-kilometer run and walk on the trails built by Sherick's grandfather.
During the pandemic, though, the farm has had to depend on virtual fundraisers. Each month, for instance, donors are entered into a drawing to win a vegan grazing box created by a Portland chef; it includes treats for pets, as well as people.
Donations can be made through the sanctuary's website or its Facebook or Instagram pages. Donations also can be sent to Wildwood Farm Sanctuary, 15481 N.E. North Valley Road, Newberg, OR 97132.
In addition to giving cash, donors can sign up to sponsor animals or give a sponsorship as a gift. Sponsors receive photos of "their" animal and updates on its life.
For more information about donating, volunteering or the farm in general, go to wildwoodfarmsanctuary.org,
Starla Pointer, who believes everyone has an interesting story to tell, has been writing the weekly "Stopping By" column since 1996. She's always looking for suggestions. Contact her at 503-687-1263 or spointer@newsregister.com.