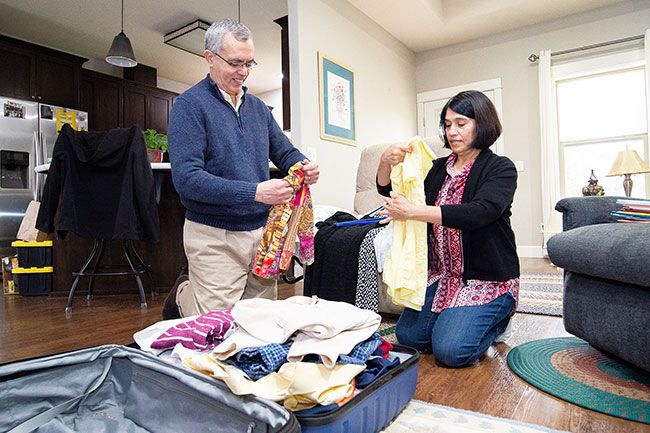 Stopping by: A new mission
But none of that worries them: They will have each other, and the support of their church.
The Aguiars will leave Dayton, where they've lived for more than two decades, to move to Colombia. They've been assigned by The Church of Jesus Christ of Latter-day Saints to lead young Mormon men and women serving their missions in the South American country.
The young missionaries, and the Aguiars themselves, are tasked with "sharing our faith in God the Father and Jesus," Angel said.
Whether they are talking with other Christians or with non-believers, he said, they will tell them about a living, active faith. "The heavens have once again opened, and the church is upon the earth," he said.
"We'll be out with the missionaries, teaching and testifying," said Angel, who, like his wife, came to the faith at age 16. "We'll help the missionaries help individuals overcome hurdles, and we'll teach the missionaries to listen."

To prepare for their three-year service, the Aguiars are attending training session that include the same series young missionaries present to families in the field.
They are working with missionaries stationed in Yamhill County, including some longtime members of the church and one who joined the faith a year or two ago. All are "masterful teachers," Angel said.
Angel, too, served a mission for the church, spending two years in his late teens talking and praying with people in Chicago.
Not everyone welcomes Mormon missionaries into their homes, he said. Some reject their approach, and not always kindly.
"I just smiled while maintaining a positive state of mind," he remembered of one such instance. "On a mission, success is not measured by the number of converts, but by, day to day, doing what we need to do."
Noting how young the missionaries are when they start, Isabel added, "they learn their strengths and who they are."
When she meets one of them, whether it's in Yamhill County or in Colombia, she considers how their experience will shape their life. It will help them become productive citizens, she said, as well as strong members of the church.

Like the missionaries, the Aguiars are excited to serve and somewhat apprehensive about being far away from their longtime home.
Angel noted the difference between small-town Dayton and sprawling Bogotá, where they will live.
"Fortunately," he said, "we speak the language."
While both speak Spanish, they are not yet familiar with Colombian colloquialisms and culture. Learning the culture is important, Isabel said, because they want to be respectful to their new neighbors and "represent the Lord well."
For instance, in Dayton, they enjoy taking walks. Angel waves to everyone he meets. Such friendliness might be considered suspect in another country, especially one that has suffered instability and unrest in the not-too-distant past.
"We want to learn before we get there," he said.
Both have experience adaption to cultural differences.
Angel spent his childhood in Cuba. He moved to the U.S. with his father in 1970, when he was 8, to escape the Castro regime.
Isabel is a native of Mexico who lived with her grandmother while her mother was working north of the border. She joined her mom here when she was 9.

During their posting, the Aguiars will reside in a furnished house that belongs to the church in Bogotá.
Living in a city of about 8.7 million people, as well as in a new country, "will be radically different" than living in Yamhill County, they said.
Traffic jams, for one thing. "It can take two hours to get across town," Isabel said.
They will use two cars, one with an even license number and one with an odd number. In an effort to reduce traffic, the government restricts driving on an even/odd basis.
The Aguiars will also travel outside the capital in order to reach stakes, branches and wards around the country. One of the mission sites is 90 minutes away by plane.
Any hardships will be minor, Angel said, "because we're so grateful that the Savior is the way and the life."

The Aguiars will oversee the Colombian region from July 1, 2021, through June 30, 2024. They are preparing to leave Oregon in June.
"Our time will be completely dedicated to the (mission) work," Angel said.
Their children can visit, if coronavirus allows, but the Aguiars themselves won't leave Colombia during their posting.
To see family, they expect to rely on Zoom or other programs — luckily, they joked, the pandemic has made them used to that, even though their kids live fairly close now in Carlton, Idaho and Montana. Later this year, they expect to see their newest granddaughter for the first time via an online connection.
To become mission president, Angel will leave his job as vice president and senior loan officer for consumer lending at First Federal.
He enjoys working for First Federal, which he called "an incredible organization." He said he would be happy to have an opportunity to return to the bank in three years.
For now, he is eager to serve his church.

Isabel said they were "completely surprised" to be tapped for the Colombia mission. Nearing retirement, they were looking forward to staying in Dayton and having more time for their grandchildren and a little traveling.
They will travel much farther than they dreamed.
"The Lord has ways of doing his magic," she said.
Instead of retiring, she said, "we'll have a wonderful adventure and do a lot of growing."
The Aguiars plan to sell their house and furniture, and put other possessions in storage.
All they plan to take with them are their clothes and Isabel's favorite spatula, they joked.
Or maybe it's not a joke: Isabel enjoys cooking for her family and will happily prepare comfort food for the missionaries, if she has the chance.
In addition to learning some Colombian recipes, she hopes to learn about herself during her three years in South America. "I hope to grow to be more patient and compassionate," she said.
She also expects to practice public speaking and gain confidence in addressing groups of people — things she has avoided in the past, but won't be able to turn down as the wife of a mission president.
She's eager to meet hundreds of young missionaries over the course of the three-year assignment. "They'll be blessing our lives as we work with them," Isabel said.
Angel added, "We hope to forge wonderful friendships and have the opportunity to strengthen the church in Colombia."
It will be difficult to leave Oregon, they said. But they plan to return to Dayton with plenty of stories to tell.
---
Supporting Young Missionaries
The LDS church has more than 60,000 missionaries around the world.
They are mostly young men and women, 18, 19 or in their early 20s. Many postpone college in order to serve missions for the church. Women commit to 18 months, men to about two years.
"They go out, meet with families and hold discussions," said Angel Aguiar, who will serve as president of the Colombia Bogotá South Mission. "They read the Book of Mormon together, pray and invite them to follow Jesus."
The church's outreach is not about meeting a recruiting goal, but rather about sharing a message. "The eternal salvation of mankind is in the balance," he said.
Missionaries, like adults who serve as mission presidents, are assigned to a geographic area in the U.S. or to another country. One of the Aguiars' sons went to Fiji for his mission; two went to Barcelona, Spain.
Several missionaries from other parts of the country or world serve in Yamhill County at any one time. The county is part of the Salem mission — one of three in Oregon — overseen by R. Scott and Sherry Ann Wilde.
Colombia is a region unto itself, with about nine geographic areas called stakes. A stake, with 2,000 to 3,000 people, might cover a section of Bogotá, a huge city, but might spread for many miles in a rural section of the country.
Each stake has multiple wards, or congregations, which might include 150 to 160 people. Each of those may have two to four missionaries — an even number, Angel said, since they work in pairs.
As mission president, Angel will be responsible for assigning and moving the missionaries, who may serve in one spot for six weeks or more before moving to another site. He and Isabel will ensure they are trained and provide support to work with local people.
"We believe God directs His work through revelation," Angel said, "so I'll spend time on my knees finding out what God wants, then communicate that to the missionaries."
Missionaries encourage one another and every Mormon, Angel said. Their work strengthens the church as a whole, he said.
As mission president, Aguiar and his wife will help the young workers focus on their service and deal with any complications.
They may become homesick, feel depressed or suffer from low self-esteem. Or they may wonder if spending two years in a foreign country is worth missing what's going on at home.
The Aguiars will interview each missionary every six weeks to ensure all is well.
Because of the pandemic, many of those interviews will take place on Zoom. They also will host a zone conference, probably online, during which missionaries from across Colombia can share ideas and stories, and hear uplifting messages.
"The most important thing is for the missionaries to know they are loved and appreciated," Isabel said.
Her husband added, "my wife and I are endowed with a gift of love for others. Love comes easily for us."
Angel said he expects the friendships they make with the missionaries in Colombia to last. "President A and Mom will remain part of their lives," he predicted. "We'll cry when they cry and celebrate when they do."