Still some treats in store for Halloween in Yamhill County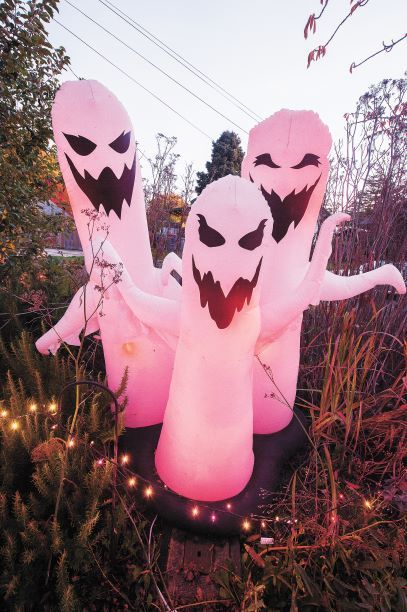 But Halloween will continue.
Trunk-or-treat events are planned in Willamina, Sheridan and several other cities. Trick-or-treaters can go from vehicle to vehicle, collecting candy.
The McMinnville Downtown Association is planning a virtual Halloween costume contest in addition to its annual Scarecrow on a Lampost contest.
Groups and businesses will place their most artistic scarecrows on poles along Third Street. The one judged the best will receive $100 in MacBucks.
Individuals, families and other groups can dress up and pose with their favorite scarecrow for the Virtual Costume Contest, then submit their photos to Chloe@downtownmcminnville.com. Winners will be chosen in three categories: scariest, best family or group costume, and most unique.
The downtown association also is offering a coloring contest, with coloring sheets available from the MDA website or in person from the McMinnville Public Library, First Federal and numerous retailers, including Boersma's, Oregon Stationers, Northwest Food and Gifts, Soul Mates, Currents Gallery, Mes Amies, Accessory Appeal, Found Objects, Inner Oasis, McMinnville Antique Mall, Hopscotch, Timmreck & McNichol Jewelers, Third Street Oil and Vinegar, Yamhill Valley Dry Goods, La Bella Casa, Third Street Books and The Vortex.
First Federal and Recology are partnering with MDA to award prizes in the coloring contest.
The Yamhill County Sheriff's Posse will host the Nightmare of 2020 ride for those 9 and older from 6 p.m. to 9 p.m. Friday, Oct. 30, at the county fairgrounds in McMinnville. Cost is $20 per horse. Social distancing and other safety rules must be observed.
Around Yamhill County, some individuals and groups are still planning trick-or-treat events. Many local families plan to put out bowls of candy for children to grasp, or to distribute candy using gloves. Some have even built small slides to deliver treats, social distance style.
A nationwide map on the Internet lists homes welcoming trick-or-treaters.
Go to halloween-map.com and consult the map to find homes in McMinnville, Carlton, Yamhill, Lafayette, Willamina and other Yamhill County cities that have registered. You can add your home, as well, listing whether there will be decorations and how candy will be distributed.
Yamhill will have a "Halloween Prowl" on Oct. 31, during which costumed trick-or-treaters will walk along Maple Street asking for candy. Masks and social distancing are required.
In addition, in Yamhill, haunted vendor tents will be set up on First Street and trunk-or-treating will be going on in the fire department parking lot.
Carlton's usual downtown trick-or-treat parade is canceled, but the police department is planning an emergency vehicle parade through town on Halloween evening.
In addition, Carlton residents can attend a free, socially distanced haunted tunnel and trunk-or-treat event at the American Legion Hall.
Not happening in 2020:
-- There will be no "Night at the Museum" event at the Yamhill Valley Heritage Center this Halloween. The museum is closed due to the pandemic.
-- The Heiser Farms Pumpkin Patch on Grand Island is closed, its pumpkin cannons silent, because of coronavirus. It's usually a popular place for families to visit on October weekends.
-- The MDA's trick-or-treating event is canceled. It usually draws hundreds of families, who walk from business to business collecting candy.
-- Linfield University will not offer a haunted house to the public. The campus is closed to outside visitors because of coronavirus concerns.
-- Several area retirement homes that usually host trick-or-treat events also are closed because of the pandemic.