Along the Street: Soap business opens retail shop in Carlton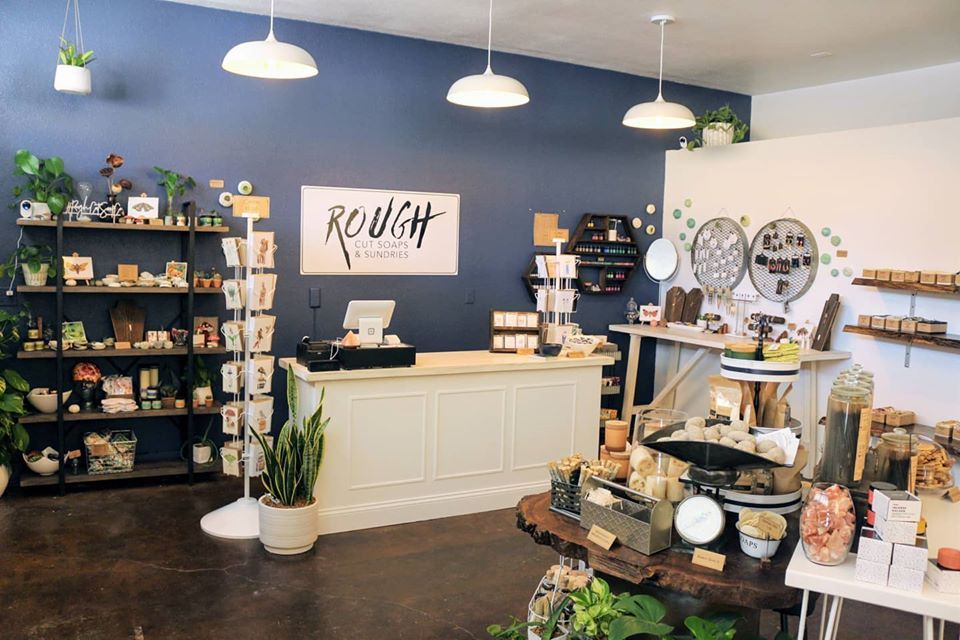 Rough Cut Soaps and Sundries has moved to a more visible location in downtown Carlton — West Main Street.
Owner Tanya Braukman started making soap at her home in Carlton and selling it online and at festivals and area gift shops. In 2018, she opened her own retail location on Monroe Street, with jewelry and gifts as well as soaps, lip balms, herbal facial creams, bath salts and beard balms.
Now her shop is at 223 W. Main St., the former home of the Stone Griffon Winery tasting room. The winery recently relocated down the block to 305 W. Main St., the former home of Carlton Bakery, which in turn moved across the street into a new building at West Main and Kutch streets.
Rough Cut Soaps is open 11 a.m. to 5 p.m. Fridays through Mondays. The website is roughtcutsoap.com.
Betty Lou's sale
Montréal-based Noble Foods Nutrition, a nutrition and energy bar contract maker, has acquired the contract packing activities of Betty Lou's Inc., the McMinnville producer of energy bars, protein shakes, crackers and protein balls.
Co-packing activities will continue uninterrupted at the facility, while Betty Lou's-branded products will be made at a new facility under the continued ownership of founder Betty Lou Carrier, the company said.
"After 42 years, I have decided to sell the co-packing activities of Betty Lou's to Noble Foods and focus our efforts on our private Betty Lou's brand," Carrier said.
Terms of the deal were not disclosed.
Painted Lady win
The Painted Lady, a Newberg restaurant, has been named a travelers' choice award winner on Tripadvisor, the online travel company. The rankings are based on ratings, reviews, and popularity within the last year and denote the top 10% of properties on the site.
The Painted Lady focuses on locally grown gourmet dining in a restored Victorian home in Newberg's downtown.
Fiber Arts Show
Currents Gallery is seeking entries for its annual Fiber Arts Show. Artists may submit wall pieces, wearables, 3-D items, and more made of wool, cotton, and synthetics either sewn, knitted, felted, painted, printed etc. Pieces must be ready to display and available for sale.
Artists can enter the juried show online or in person at the downtown McMinnville gallery. The gallery is limiting the number of people allowed inside and complying with COVID-19 safety guidelines.
The submission deadline is Sept. 11, and show dates are Sept. 16 through Oct.10. The jury fee is $10 for each individual item or $25 for 3 items.
For more information, email currents.gallery@gmail.com.
BIPOC Block Party
Mac Market will host a market of Oregon businesses with BIPOC (Black, Indigenous and people of color) and LGBTQ+ owners on Aug. 15.
Food, drink, art and goods' vendors include Third Eye Books, Tia Lola's Salsa and Xicha Brewing. La Rhonda Steele Band will provide live music from 5 p.m. to 8 p.m.
Tickets are $10, and proceeds benefit AHIVOY, a nonprofit serving Latinx and Hispanic vineyard workers of the Willamette Valley, PFLAG Newberg, a branch of the nation's first organization for LGBTQ+ people, and NAACP Portland, a branch of the largest U.S. civil rights organization.
Attendees can choose from four 2-hour time slots to attend in order to allow for social distancing. Masks are required when not eating or drinking
The event runs from noon to 8 p.m. at 1140 N.E. Alpine Ave. in McMinnville.
Tickets can be purchased through Eventbrite. For more information, visit BIPOC Block Party's Facebook page.
Send news and press releases for consideration in Along the Street to news@newsregister.com.