Linfield University it is; trustees approve name change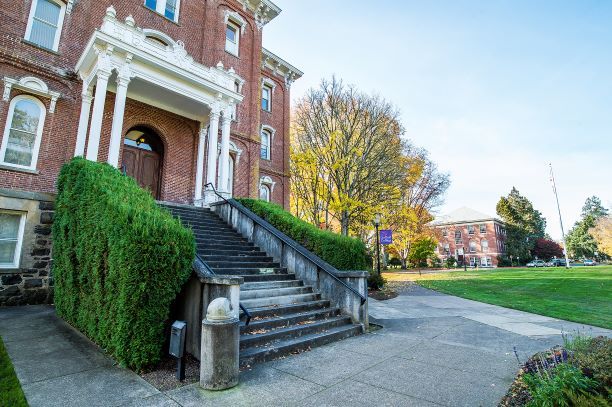 Linfield University it is.
The 162-year-old college's Board of Trustees voted Saturday, Feb. 15, to approve changing from Linfield College to Linfield University. Now the work begins to make the transition not only to a new name, but also to a new structure with graduate programs.
"Linfield will change its name, but what won't change is what makes it special," President Miles Davis said. "Linfield will remain a small, high-quality, liberal arts institution. Now, though, will will be able to expand by having schools and colleges within the university and by offering master's degrees."
Davis, who joined Linfield in July 2018, added that the school is not rejecting the past, "but building toward a bright future."
Linfield, started by the American Baptists in 1858, has about 2,000 students enrolled on its McMinnville liberal arts campus, Portland nursing campus and in online and adult degree completion programs.
Linfield, like most other schools across the nation, suffered enrollment drops for several years. By the time Davis arrived, enrollment had dropped about 19 percent in five years.
But last fall, after a year-long, campus-wide recruiting effort, the college's freshman and transfer enrollment rose 38 percent over 2018. Retention rose, as well, from just under 70 percent — a good rate, compared to other schools — to 84 percent, he said.
The increase helped put the school on the way to a balanced budget, although Davis warned that recruiting, marketing and other efforts had to continue.
The college trimmed some of its teaching staff while adding new majors, including those in wine studies, sports management and law, rights and justice.
It put a focus on attracting "first gen" students and mentoring them to assure their success.The college also eliminated a requirement that prospective students submit SAT scores; they students still need a high grade point average in high school, Davis said.
Linfield also attracted students with its new marching band.
The college purchased a new campus for its Portland nursing school, as well. The bachelor's degree program will move to the East Portland campus in the spring of 2021 after nearly 40 years in rented quarters near Legacy Good Samaritan Hospital.
The college had its best fundraising year ever last year, as well, Davis said. That contributed to the welfare of the institution, although not always the general operating fund, since donations often are targeted for specific projects.
The president said last fall he was proposing a conservative budget for 2020-21 based on small, but steady, enrollment growth and holding the line on spending..