Record 18 youth runners qualify for nationals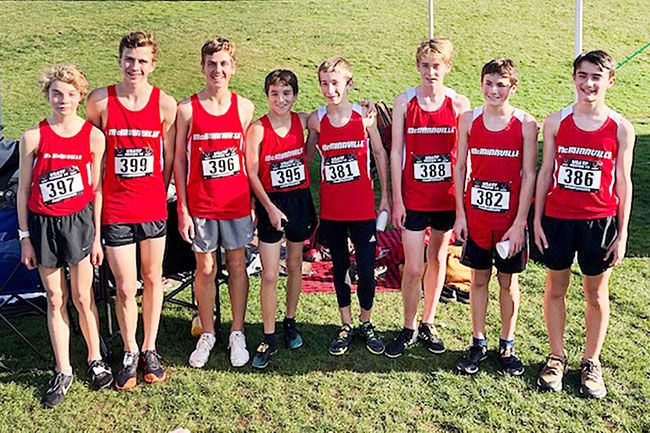 EUGENE – With record-setting performances at the USATF Region 13 Meet, the McMinnville Track Club and two runners from McMinnville competing for Tigard Track Club earned 18 qualifications to the United States Cross Country National Championships December 14 in Madison, WI.
Cooper Hurl ignited the festivities with an excellent effort in the eight and under boys' 2K race. He placed in the top-15 with a time of eight minutes, 57 seconds – a personal best.
Mac Track's boys' 9-10 team captured fourth place overall, led by Henry Barsotti and Torsten Nordstrom.
Hunter Hurl, racing for Tigard, finished third individually in the boys' 11-12 3K. He set a career best of 10:41 to qualify for nationals. Fellow McMinnville athlete Emilio Gonzalez also qualified as a member of Tigard.
The Grizzlies' 13-14 boys' squad placed fifth to also secure spots at nationals.
Full results –
8 and under boys (2k)
15. Cooper Hurl 8:57 (PR)
9-10 boys (3k)
17. Henry Barsotti 11:34 (PR); 24. Torsten Nordstrom 11:48 (PR); 36. Jackson Lewis 12:09 (PR); 67. Alex Grimaldo 13:08; 78. Ty Coulter 13:28 (PR);83. Easton Moody 13:51; 89. Emerson Barsotti 14:23 (PR)
11-12 boys (3k)
14. Hunter Hurl 10:41 (PR); 90. Emilio Gonzalez 12:16
13-14 boys (4k)
7. Kyle Spencer 13:35 (PR); 9. Owen Wark 13:40 (PR); 50. Kasen Paolo 14:36; 52. Gus Blank 14:39 (PR); 73. Eli Rolfe 15:19; 74. Sam King 15:20; 82. Kaden Carlson 15:40 (PR); 101. Mason Hostetler 16:52 (PR)