Students see, hear, feel air show performances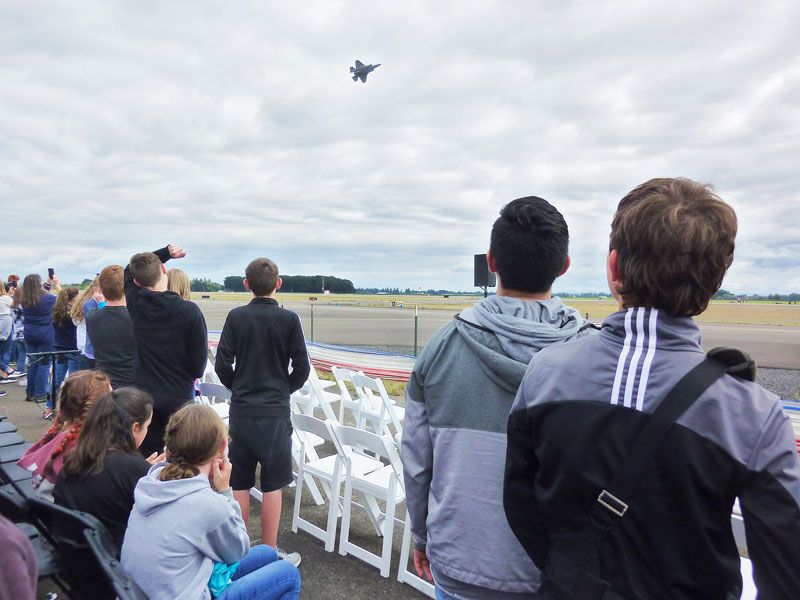 As McMinnville fifth-graders arrived at the Oregon Air Show to watch a dress rehearsal Friday morning, teachers were already planning follow-up lessons about flight, math, science and related topics.
Newby teacher Tara Romero, for instance, said her teachers would make a book with stories about what they experienced. They would think about what they saw, heard, smelled and felt at the event.
The air show quickly touched all their senses.
Students saw planes of all descriptions, from small, sleek aerobatics models to a double-fuselage creation that surprised everyone with its agility.
They heard — HEARD! — the sounds of propellers and jet engines straining to take planes straight up, then going quiet as the craft fluttered toward the ground, seemingly out of control.
They smelled the jet fuel and felt concern about the pilots; they also felt — FELT! — the boom jets speeding overhead.
Come to think of it, those books may need extra pages to contain all that students experienced.
Fifth-graders from Newby, Wascher, Grandhaven, Memorial, Sue Buel and Columbus elementary schools spent the morning at the McMinnville Airport watching air show practice. Friday afternoon, eighth-graders from Duniway and Patton middle schools took their places in the viewing area to see different planes go through their routines with equal dexterity.
"Most kids have never experienced anything like this," Romero said. "It's fantastic; a once-in-a-lifetime, fabulous experience."
A Columbus fifth-grader, Emma Mortimore, was among students eager to see the air show. "I'm interested in planes," she said.
Later, she said she had especially enjoyed seeing planes fly straight up and turn upside down. "It makes me want to fly," she said, admitting that it sometimes makes her queasy, too.
Emma was among 1,000 McMinnville students who had a chance to watch the dress rehearsal. Over the weekend, crowds of 10,000 people a day were expected.
The McMinnville fifth- and eight-graders weren't the only students involved with the air show.
Members of the Nerd Herd robotics team escorted the visiting fifth- and eighth-graders.
McMinnville High School culinary arts students set up a Grizzly Catering booth to sell hamburgers and hot dogs throughout the weekend.
Mac High senior Harper Eacret said she and her fellow Grizzly caterers were looking forward to meeting the public and serving food.
"It's fun to cater for a lot of people," said Harper, who plans to pursue a career in food service.
Students from the Delphian School also took part in the Air Show all weekend. They are demonstrating drones in one booth. In another, they've set up simulators that allow people to try flying The Spirit of St. Louis on the same path that Charles Lindbergh took on his solo flight across the Atlantic Ocean.
Students welded and stretched canvas to make two replicas of Lindbergh's plane that hold the simulators. The computers are housed in the faux radial engines. Inside, would-be pilots sit with a joystick and try to fly a plane depicted on a screen.
The "Lindbergh Challenge" teaches construction, math, science and computer skills, said teachers Diego and Gail Martinez. Even more important, they said, trying to complete Lindbergh's 33.5-hour flight teaches grit.
Fifth-graders gasped as a stunt plane took off shortly after their arrival.
"It's smoking!" a boy said, noting the trail of white smoke that remained in the air as it looped over backwards, then shot across the sky, climbed straight up and spiraled down.
Later, students marveled as the smoke changed colors — red, blue, or a combination of the two, instead of white. They shouted and pointed out every maneuver.
"It's supercool!" Madelyn Marsh said, noting that the bees flying around was the only downside.
Madyson Seely, Madelyn's classmate at Columbus School, said she especially liked seeing the red Oracle stunt plane fly low enough to go under a ribbon about 30 feet above the runway. When the plane did it again, this time upside down, she cheered.
Fifth-graders waved to pilot Jeff Boerboon as he taxied his unique plane past the viewing stands, on the way to the runway. He later told students that the Yak 110, the one with two fuselages, is made from two Yak 55s. He created it by removing one wing from each plane and welding the two center sections together, then adding jet engines.
The jets were obvious as the Yak 110 took off: It roared. "Oh!" some children said, covering their ears.
The powerful engines propelled it straight up; then the plane fluttered down as if it were going to crash. When it appeared to be dangerously close to the ground, Boerboon pulled up and flew safely away, delighting the crowd.
"I like seeing it nosedive, then pull out," Columbus fifth-grader Harley Dillon said.
And his classmate Javi Becerra added, "I like when it twists around. Pretty cool."
Other planes performed similar stunts, appearing to be out of control, then showing off their power and agility. Students loved it.
"I'm going to go home and tell my parents how good this was," said Colin Schultz, a Memorial fifth-grader.
Classmate Patrick Carr said, "I liked it, but it was loud!"
Eighth-graders arrived that afternoon.
Patton student Aidan Williams said he was especially interested in seeing the air show because he has two older brothers in the Air Force, one of whom flies. Their grandfather, Ken Olsen, also was a pilot during his 30 years in the military.
"I don't know if I want to fly," Aidan said. "But I might. I might want to go in the Air Force."
He turned eagerly toward the runway as a pair of stunt planes took off, one a single-wing version and the other a biplane. He and other students followed their tandem routine.
Naomi Edwards, also from Patton, said the show was more than she expected.
"It would be really cool to be up there," she said, noting that one of the stunt pilots was a woman, Jessy Panzer.
Classmate Logan Schroeder agreed. "I wish I could be a pilot," he said.
Later, after a few minutes of waiting for the next act, eighth-graders turned their heads toward the north to see the approach of an F-35A Lightning 2 — the most modern, high-tech fighter plane in the U.S. Air Force.
It appeared first as a dot racing toward the Evergreen Air Museum, then crossed over the museum and Highway 18 and shot over the Air Show crowd.
Until it was directly overhead — almost close enough to touch, it appeared — the plane seemed to be silent. Then it was followed by a loud boom, the kind of loud that's felt in the chest, as well as heard by the ears.
While an announcer narrated the F-35's routine, the plane circled the area of the airport, going up, up, up, then coming in low over the runway. It shot by in an instant; it slowed down for a stately pass. On one run, the jet turned sideways, revealing the open cargo bay where about 6,000 pounds of bombs could be carried.
Students applauded during the finale, in which the F-35 flew in tandem with a World War II Mustang — the most modern jet in the military alongside the iconic World War II propeller plane that helped secure victory.
After several passes, the jet dropped back, allowing the crowd to hear the unmistakable sound of the Mustang's engine — music to the ears of American soldiers in WWII.
Then the F-35 raced by again, leaving only sound and vibration in its wake.