Lifetime commitment: Erin Stephenson named DSA woman of the year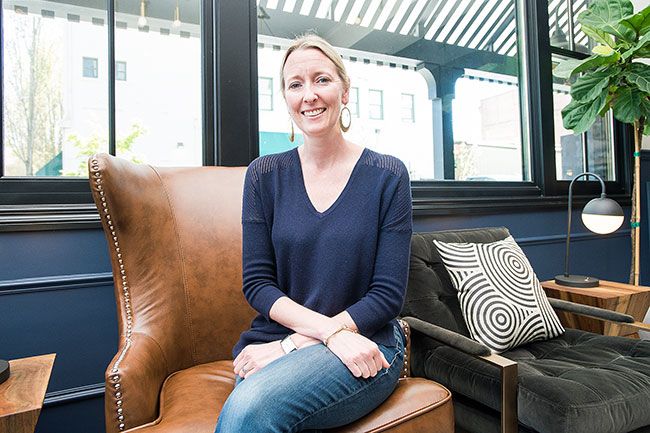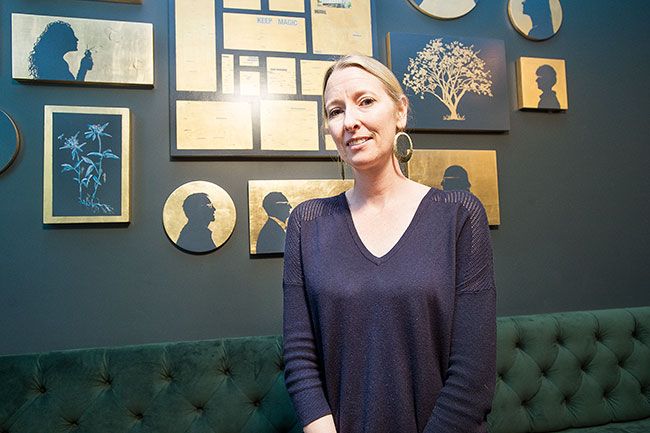 A 1997 graduate of McMinnville High School, Erin Stephenson returned to her hometown after earning a degree from the University of Oregon.
"I love being in McMinnville, with my mom and dad, my friends, my community," she said. "It's a place that makes me proud to be here.
"Community means everything to me," she added.
Stephenson, recently named McMinnville's Woman of the Year, has been active in the community in both work and volunteer efforts, starting as a VISTA volunteer, then directing Habitat for Humanity; working with First Federal's Charitable Giving Program; and developing her own businesses — first Third Street Flats, then the Atticus hotel — designed to attract people here and let them experience the best of McMinnville.
Along the way, she's served on numerous boards, volunteered with Turkey Rama and other events, and even started a summer program for young children.
"The greatest gift for me was having the opportunity to really get involved in McMinnville in my early 20s, to serve on boards and committees and to learn," Stephenson said. "Our community has so many amazing leaders. I was able to spend time learning from them."
Stephenson and her husband, Travis Easterday, will attend the annual Distinguished Service Awards banquet Monday, May 6.
She is one of five award winners who will be honored that night. Man of the Year Allan Larsen, Junior Citizen Heather Miller, Outstanding Educator Molly Bousquet and Outstanding Farmers Brad and Crystal Fuerst also will receive awards at the event, which will start at 6 p.m. in the McMinnville Grand Ballroom.
Tickets are $45 each, available from 971-237-1400.
This won't be the first time Stephenson has been honored at a Distinguished Service Awards banquet.
In 2005, when she was director of McMinnville Habitat for Humanity, she was named Junior Citizen of the Year. Back then, winners weren't notified in advance of the awards; rather, they were taken to the banquet on a ruse and surprised.
Stephenson said she wasn't expecting to join the list of outstanding junior citizens in her hometown.
"In a community absolutely defined by service, I'm really honored," she said in 2005. "So many people here have done such amazing things."
McMinnville has grown and changed in the ensuing 14 years, said Stephenson, who has added two children to her family in that time. But at its heart, it remains the same: residents are uniquely committed to supporting one another and the place they call home, she said.
According to her friend Helen Anderson, Stephenson is that type of McMinnville resident.
"She balances motherhood, business, family and community, and she has a grand vision," Anderson said.
"Erin is busy, but she's never too busy to help out," she said. "She handles things wih such humor and such skills. She's amazing."
Stephenson's recent major accomplishment is the Atticus, the type of hotel she would like to stay in if she were traveling: Offering local flavor and a downtown setting, as well as comfort.
"It's rooted in our love for McMinnville," she said.
When she and business partner Brian Shea were developing the Atticus, Stephenson focused on including community voices and using products that were as local as possible — Rhonda Feero of Bella Casa sewed all the throw pillows, for instance; Flag & Wire supplied the coffee; woodworker Jon Basile built the coffee tables for the lounge and local artists created original works for the rooms and common areas.
She gathered 20 locals to do "gold leaf poetry," choosing words from newspaper articles and covering the rest with gold; another group of people picked out books for each guestroom, then included a list of what each would do on a day in McMinnville.
While Stephenson was in high school, she worked at the Mack Theater, 1893, 3rd Street Pizza and the Chamber of Commerce. As a high school freshman, she helped with Turkey Rama, then spent two of her high school summers working with the McMinnville Downtown Association.
She was named Yamhill County good citizen by the Daughters of the American Revolution after winning at the school level.
When she went off to the U of O, she was planning to continue to grad school and become a history teacher or professor.
Instead, she took the opportunity to become a VISTA volunteer in her hometown, working with Habitat. She was there when the ReStore started, and she founded the Run, Walk & Ride fundraiser.
She was in the right place when the nonprofit's director resigned, and, putting her grad school dreams on hold, she took over the job.
"I decided a master's degree program would always be there, but I'd never have another chance to lead an organization like Habitat," she said.
During her time as executive director, the Women Build and Apostle Build programs were launched. In addition, Habitat began constructing its first subdivision near Linfield College.
After Habitat, Stephenson became director of charitable giving programs at First Federal.
"What better learning experience could I have?" she asked, recalling how many charities First Federal helped. "As I worked with the recipients, I saw how much service happens in McMinnville and Yamhill County."
That led her to become more and more involved in service, something she had a penchant for since childhood.
"I learned community service at home," she said.
Her parents, Rob and Linda Stephenson, modeled service by being involved.
Her mother was the county's first female tax assessor, one of the first women to join Rotary and an advocate for exchange student programs.
He dad was active with the Chamber, the McMinnville Downtown Association, the Jaycees and Kiwanis clubs, and other groups. He still serves on the MDA's public art committee.
"Our calendar was dominated by community commitments," their daughter recalled. "It was the fabric of our family life."
It's important for young people to see their parents involvement, Stephenson said, thinking of kids in general as well as her own sons, Ledger, a first-grader, and Rowan, a sixth-grader, specifically.
Adults need to pass that value on to the next generation — not just the concept, but the art of community service as well.
"I'm grateful to have had the opportunity, not just with my parents, but to work alongside people like the Chris Brownes, the Cassie Sollars, the Mary Sterns, the Steve Macys, the Jeb Bladines, the Dave Haugebergs..." she said.
"I was mentored by so many great leaders," she said, "people who made our community what it is today."