Marjorie L. (Walker) (Johnson) Sanders - 1924 - 2018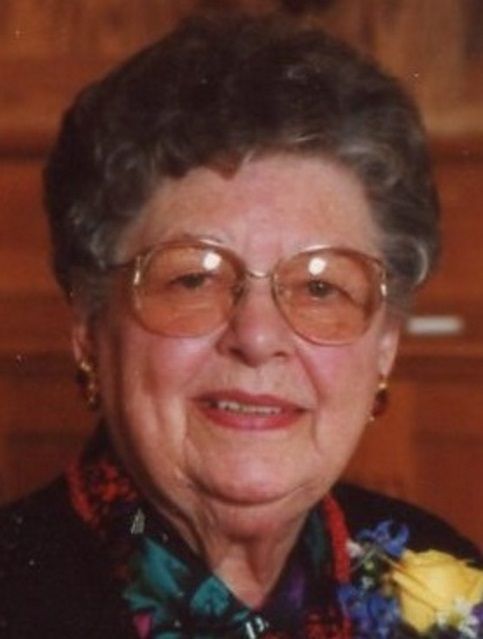 Marjorie Lillian (Walker) (Johnson) Sanders passed away peacefully in her sleep during the early morning hours of November 5, 2018, at the age of 94 years, six months and 20 days, following a long and courageous battle with old age.
Born April 16, 1924, in Scotia, California, Margy was the eldest daughter of Paul Revere Walker and Lillian Elma Waldron. The family, including younger sister Lucille, moved several times during her youth, living in Roseburg, Salem and Monmouth, where Margy graduated from high school.
After a short time working for the railroad, Margy enlisted as a WAVE in the United States Navy, serving at the naval hospital in Bethesda, Maryland, as a Pharmacist's Mate. Following her term of service, she returned to working for the railroad, where she was introduced by her boss to Melvin Johnson. The couple married and settled in Vanport, moving from that area shortly before the flood. After a short time living in Boring, Oregon, they settled down in Ballston, Oregon, to raise daughter, Melva June (Johnson) Rosenbalm, and son, Marvin David Johnson. They also welcomed four children from foster care, keeping Margy busy for a time with five children under 5 years old.
Always civic minded, Margy was a member of the Garden Club, the Ballston Community Club, the Election Board, was a 4-H Foods Leader, clerked for the school board, and helped out whenever and wherever around town. She later worked as a cook at Physicians Medical Center and the Bayou Restaurant.
Widowed at 50, Margy began a new phase in her life. During this time, she met and married Tom Sanders, and the couple eventually settled in Oak Hills, California, where Margy continued her active participation in community activities. Among other civic achievements, Tom and Margy donated the land for, and were two of the founding members of, the Oak Hills Volunteer Fire Department in San Bernardino County, the Station 40 Brush Bunnies.
Margy was preceded in death by her first husband, Melvin Johnson; her beloved son, Marvin Johnson; her sister, Lucille; and her second husband, Tom Sanders. She is survived by her daughter, Melva Rosenbalm (Ken); four grandchildren, James Rosenbalm (Fran), Jeanna (Rosenbalm) Bottenberg (Ray), Sarah (Johnson) Standley (Mark) and Matt Johnson (Natasha). She is also survived by 10 great-grandchildren, Cody, Cy, Trey, Tyra, Maddy, Sierra, Lilliana, Kyler, Ian and Riley; and two great-great-grandchildren, Wyatt (Cody) and Jayce (Cy).
Services will be held at 2:00 p.m. Saturday, November 24, at Amity United Methodist Church.
In lieu of flowers, contributions may be made to the Window Preservation Project at Amity United Methodist Church. To leave condolences, visit www.macyandson.com.