Robert Addison Christensen - 1927-2018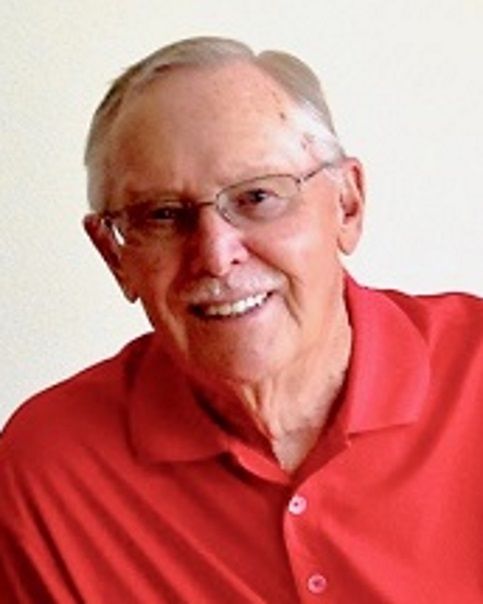 Longtime McMinnville, Oregon, resident Robert A. "Bob" "El Jefe" Christensen, sank his final putt while under hospice care in Portland's South Waterfront. He was totally Bob all the way: telling stories, texting family, Googling stuff, speaking Spanish to his caregivers and wearing his favorite Duck gear.
Bob was born in Lincoln, Nebraska, to Magnus and Irene (Grill) Christensen. He grew up in Denver, Colorado, where he graduated from South High School. He briefly attended Dana College in Blair, Nebraska, before serving as a paratrooper in the Army's 82nd Airborne Division. After military service, Bob attended the University of Denver (DU) and Mexico City College. He received a Bachelor of Arts in the humanities from DU in 1951.
Bob met his dear wife, Donna Lea Lamb of Winona, Kansas, at DU on a blind double date. He was invited because he had a car. (Donna wasn't all that impressed.) They married January 20, 1952, at First Bethany Lutheran Church in Denver. Bob taught junior high Spanish and worked for Firestone before joining International Harvester Credit Corporation (IHCC).
During his IHCC career, each move added a new daughter to the family. After stops (and births) in Scottsbluff, Nebraska, Cheyenne, Wyoming, and Portland, Oregon, Bob and Donna thought they'd best stop moving. Once the girls were grown, a final career move to Minneapolis brought new adventures before early retirement from IHCC management.
In 1983, Bob and Donna moved back to Oregon, where Bob built a second career from 1984 to 1994 as a certified flight instructor, co-owner and president at MAC Air Flite Service in McMinnville. Over time, a second home in Palm Springs brought more golfing and less flying. Bob was a member of the McMinnville Senior Mens Golf Club for 20 years, serving as club coordinator, steering committee member and chairman. Bob and Donna rarely missed an Oregon Ducks football home game or bowl trip, including two national championship games.
Donna and her three daughters and sons-in-law will cherish lots of fun family memories: Gina and Alan Amerson of McMinnville; Anne and Ray McGrew of Seattle; and Betty and Eric Staniak of Tacoma, Washington. Bob is also survived by his younger brother, Paul (Lynnette) of Littleton, Colorado; four grandchildren, Michelle Booth, Dana Booth, Molly McGrew and Taylor McGrew; and a great-grandson, Dorian McGrew.
El Jefe will be remembered for his bone-dry Danish sense of humor, a passion for reading, writing and storytelling; his insatiable curiosity and immense pride in heading a household of strong women. Bob knows the past, the present and the future are female – and he's good with that.
Bob's ashes will be interred at Willamette National Cemetery in southeast Portland, not far from where he and Donna raised their girls. A private family celebration will take place later this fall. Go, Ducks. Go, Bob. To leave online condolences, please visit www.macyandson.com.