Elizabeth Ann (Liz) Marts - 1924-2018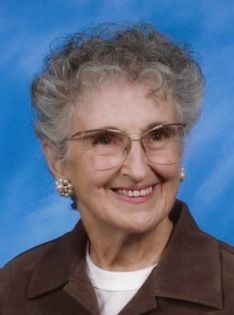 A Celebration of Life for Elizabeth Ann (Liz) Marts will be held at Edgewood Downs, 7799 S.W. Scholls Ferry Rd., Beaverton, OR 97008. The family looks forward to sharing memories of Liz with you in the Rose Room; coffee and treats will be served.
Private family interment will be in Steele Cemetery, Falls City, Nebraska, next to her husband of 59 years.
Mrs. Marts died August 22, 2018; she was 94 years old.
The only daughter of Elmer and Frances Kramer, she was born January 18, 1924, in Peoria, Illinois. Liz was raised and educated in Peoria and sang in a Big Band.
She married Earl Marts on June 19, 1943. They lived in Peoria until 1952, when they moved to Southern California. They lived in Fullerton and then in 1980 moved to Sheridan, Oregon.
From 1986 to 1995, Liz and Earl traveled with the Mobile Missionary Assistance Program. She lived in McMinnville from 1995 until she retired to Beaverton in 2016.
She enjoyed singing, sewing, knitting, crocheting, and all kinds of craftwork and was a Sunday school teacher for many years.
Family members said she was a strong Christian, a prayer warrior and a superb wife, mother, grandmother and great-grandmother. Survivors include her son, Doug Marts of Beaverton; her brother, Don Kramer of Peoria; two daughters-in-law; four grandchildren; and 16 great-grandchildren.
Liz was preceded in death by her husband, Earl Marts; son, Ken Marts of Sheridan; and two brothers.
Memorial contributions may be made to Wycliffe Bible Translators or Providence Heart Institute.