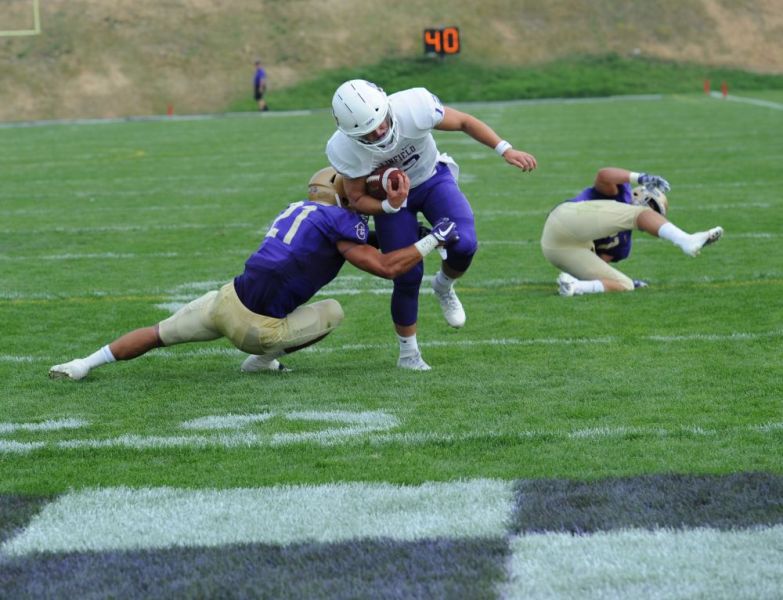 Linfield falls to Carroll College in season opener, 21-14
HELENA, MONTANA -- Linfield College's Wildcat football team dropped the first game of the season to NAIA Carroll College today giving up a late touchdown fighting back from 7-0 and 14-0 deficits.
Just when it seemed Linfield has seized momentum in the fiercely fought contest, two mistakes led to the Carroll winning score. After the 'Cats had held the Saints offense in check, Linfield QB Wyatt Smith was picked off giving Carroll the ball on their 35-yard line with 1:45 left.
The Saints followed with quarterback Kolby Killoy's 35-yard game-winning toss to Joe Farris down the right sideline. Farris slipped behind the Linfield coverage and broke a tackle on his way to the end zone.
After the young Wildcat defense had dominated the second half of the game, the winning score on a broken defensive play proved bitter setback.
The Saints had used the running of Major Ali, who danced for 121 yards against Linfield, including scoring romps of 12 and 15 yards.
Linfield mistakes limited its offensive output in the first half when the 'Cats left at least 10 points on the field on a missed field by All-American candidate Willy Warne and an interception in the end zone -- a 50-50 ball that was ruled in favor of the Saints.
After Carroll's second score, however, Linfield's offense, buoyed by improved play of its defense knotted with the score with a pair touchdowns.
Smith first passed four yards to Dawson Ruhl cutting the Carroll lead in half, 14-7, with 2:33 left in the third. Six minutes later, the two Wildcats switched roles with Smith pulling in a 13-yard TD pass from Ruhl Ruhl.
Smith passed the ball a career-high 54 times but completed just 25 throws for 279 yards. He was intercepted three times and sacked three times. Two of Smith interceptions occurred in the Saints' end zone.

Linfield receiver Keegan Weiss caught seven passes for 76 yards. Ruhl caught five passes 25 yards while J.D. Lasswell had four receptions totaling 42 yards.

Linfield outgained Carroll in total yards, 382-304. The Saints yielded two turnovers to the Wildcats' three. The 'Cats were also flagged seven times for 94 yards. The Saints drew five penalties, three of them for pass interference.

Smith and Colton Ramos combined for six punts, four of which were downed inside the Saints' 20-yard line.

Wildcats linebacker Patrick Pipitone recorded a career-high 10 tackles, including two for loss, in his first career start. He also picked off a pass, returning it 10 yards. End Travis Swanson recorded four tackles for loss among his eight total stops. Duke Mackle had seven tackles, plus an interception, and Taulelei Toledo finished with six tackles in his first extended action since joining the program.
Linfield plays its home opener Saturday at Maxwell Field against the Redlands Bulldogs, who opened the season 2-0, including a 20-12 victory of George Fox last weekend. Stadium gates open at 11:30 a.m. Kickoff is set for 1:30. p.m.