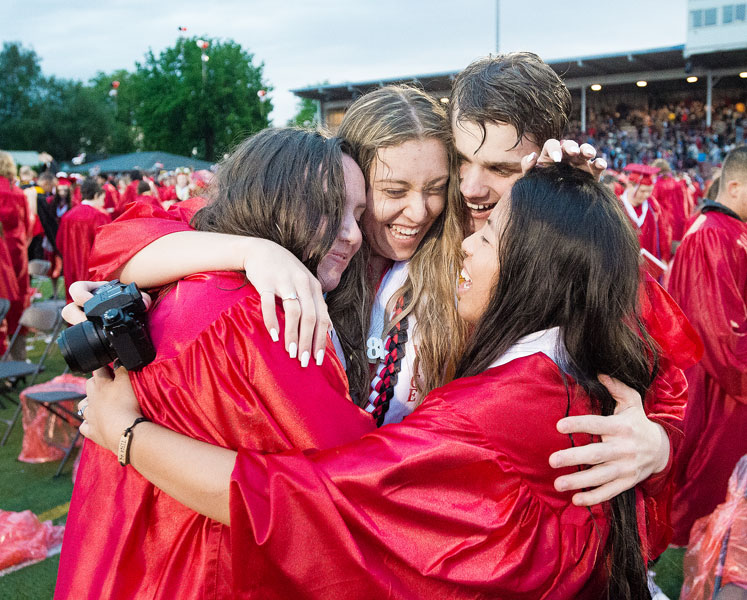 Showers, a rainbow and 500+ celebrations
Though showers fell from time to time, a rainbow appeared Friday night as McMinnville High School teachers and administrators distributed diplomas to more than 500 students — it was Mac High's largest class ever.
Seniors donned plastic rain gear over their red robes as they took their seats in Wortman Stadium, following an entrance march to "Pomp and Circumstance." But they removed the gear before walking onto the stage to receive their certificates, hugs and high-fives.
Celebrations erupted sporadically in the grandstand as students' names were called.
Christina Burklund applauded her son, Connor Weaver, whom she called an "amazing" young man. Her first son to graduate, Connor will attend Chemeketa Community College to study chemistry and biology, with plans for a career in natural resources.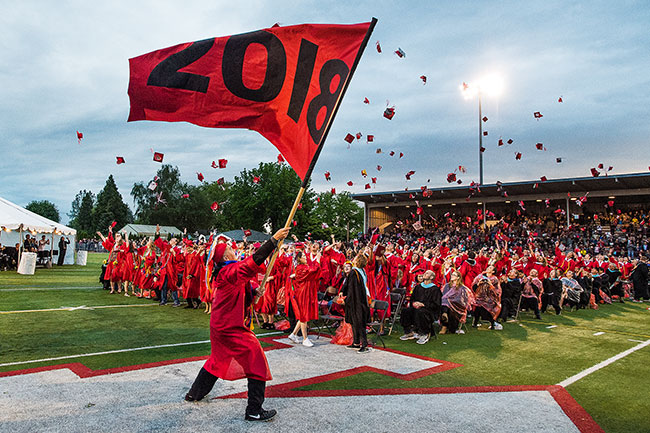 In another part of the stands, "Dawson! Way to go, Dawson!" grandmother Pat Tippens and other relatives shouted, as Dawson Chase accepted his diploma. His mother, 1996 Mac High graduate Melinda Richards, added with pride, "That's my baby!"
Dawson's mother and grandmother both said they are proud of him. "He has a kind heart and always has a smile on his face," his mother said.
Charles Mondragon cheered for his nephew, Michael Abeyta. Mondragon traveled from Colorado to join other relatives in celebrating Michael, who plans to attend college on an ROTC scholarship.
"My nephew is a very talented kid," he said. He mentioned Michael's success at wrestling -- second at state twice and first in his weight class at a national tournament -- and at cross country, as well.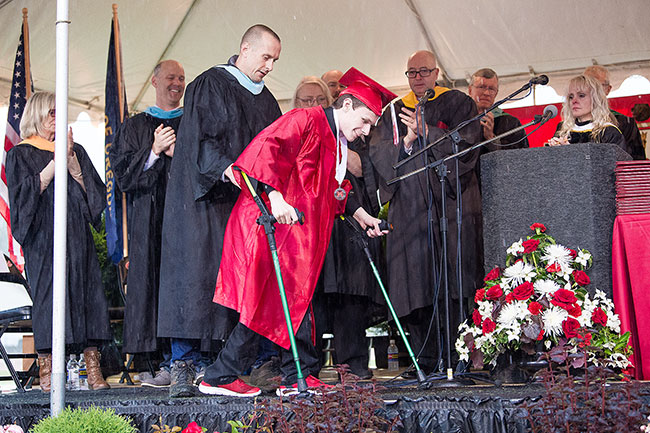 "He's a good kid; he's funny," Mondragon said. "I'm very proud of him."
Robert Taylor and his parents were searching for their son and grandson, Caden Taylor, as the Class of 2018 marched onto the football field. "There he is; there's Caden," Taylor said, excited.
"I'm very proud of him," Dad said of his only son. "He's very good; very responsible. He's quite funny, but shy like his dad."
Next year, he said, Caden will apprentice with an HVAC company to learn to install and repair heating and cooling equipment.
Taylor waved, and his son waved back. "We love you!" Dad and grandparents called.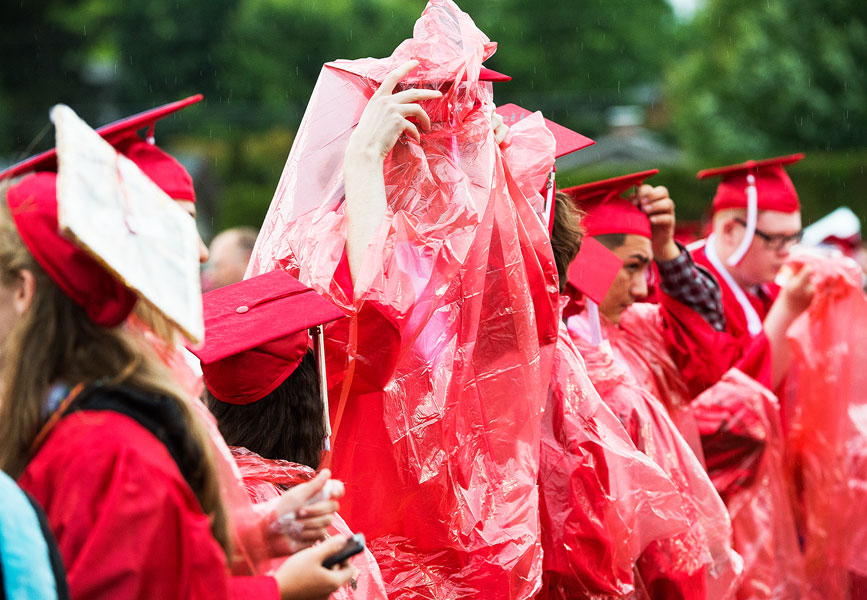 The waves, cheers and calls were repeated by more than 500 other families.
Principal Tony Vicknair said the Class of 2018 showed "phenomenal" leadership. The class showed grace despite the turmoil of the year, he said, noting students had to deal with construction as they attended classes and took their finals.
"I've been watching you grow up. It's been great to be part of your senior year," said the principal, whose son, Grant Vicknair, was among the graduates.
Vicknair announced the winners of the professional/technical excellence award, Karissa Olsen, and academic excellence award, Leslie Wallace. He noted 62 members of the class qualified for honors diplomas, 335 received pathway endorsements and 135 had grade point averages of 3.5 or higher.
And he said 160 of the graduates earned 24 or more college credits each while in high school. Riley Yoder earned 70, and Katelynn Gregory 74.
He also made note of numerous outstanding performances by members of the class, including a state swimming championship won by Garrett Sutton in the 50-meter freestyle. And he thanked The Bruin and its editor, Diana Denney, for having "challenged us and made us think."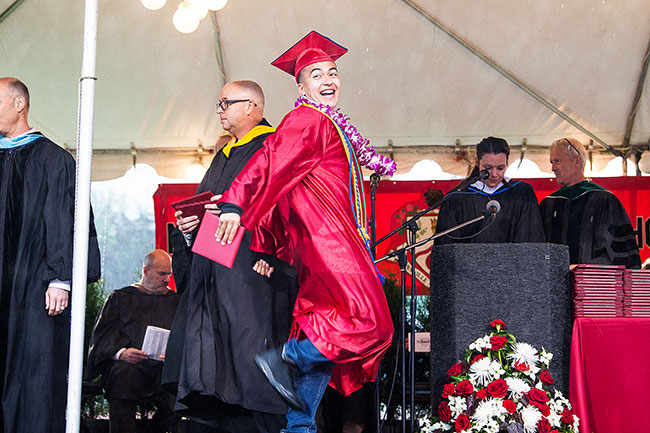 In addition to celebrating the Class of 2018, the principal honored two retiring staff members, Michael Roberson and Fay Loflin.
Three of the 12 valedictorians — Kevin Chang, Natalia Rentsch and Diana Denney — addressed their classmates with messages of encouragement and companionship.
"People will let you down. You don't have to let yourself down," Diana told her fellow graduates. "Be the person you've always dreamed of being."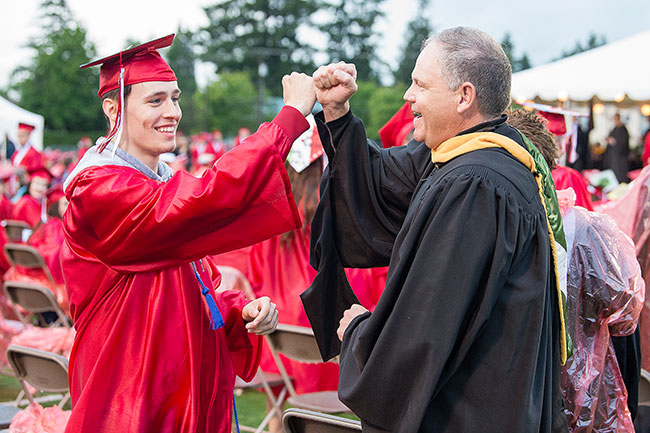 Kevin thanked his classmate for "being kind, inspirational and awesome" and encouraged them to pursue "greatness throughout your life."
Natalia, who came to Mac High as a junior, said she was quickly "surrounded by the kindest, most talented people I've met." She finished her speech with, "Once a Grizzly, always a Grizzly."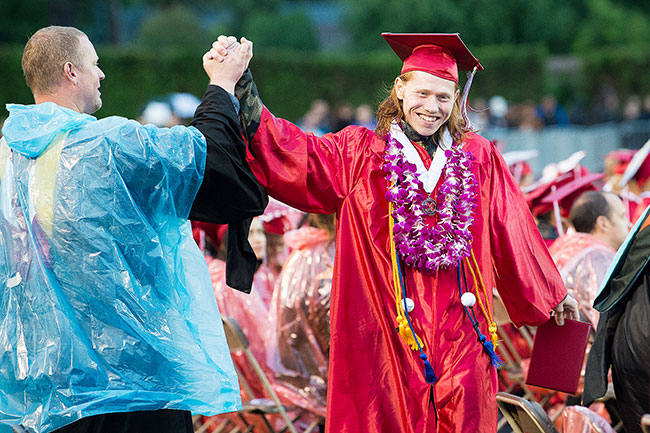 Several graduating seniors joined the Symphonic Choir and Symphonic Bands for final musical performances. Fittingly, lyrics of one of the choir's songs, "Stand Together," included the line "...see the rain that's falling."
Graduates gave a standing ovation — appropriately — to Colton Craver as he stepped from his wheelchair and crossed the stage on crutches. It was the first time students had seen him walk, Craver said (see related story here). He'd been practicing for years, but kept his plan secret until the moment he stood up.