McCready sentenced to 13 years in prison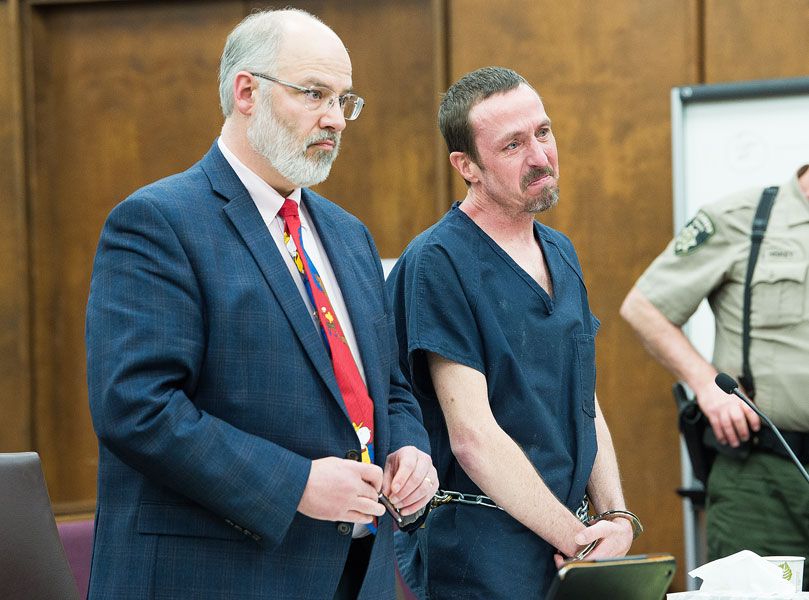 Phil Watkins was handed an "instant death penalty" by Timothy McCready, Deputy District Attorney Amanda Dresen told Judge Ronald Stone at the defendant's sentencing hearing Friday afternoon in Yamhill County Circuit Court.
Stone sentenced the 44-year-old McCready, a Sheridan resident, to 156 months - 13 years - in prison for his role in the June 24, 2016 motor vehicle crash that killed a Sheridan man and injured three others, including the deceased's sister.
McCready will likely be transferred to state Department of Corrections custody today. He will be placed on 36 months post-prison supervision when released, and his driver's license was revoked for life, all part of the sentence.
Stone waived most fees and fines, telling McCready he wants him to pay as much restitution as possible to the victims. The state has a period of time to determine an amount.
Dresen asked for a sentence of 220 months - just over 18 years.
"You were playing Russian roulette," Stone told McCready. "You had a bullet in the chamber."
A week earlier, Stone convicted McCready of on one count of first-degree manslaughter, two counts of second-degree assault, one count each of driving under the influence of intoxicants and reckless driving, in addition to six counts of recklessly endangering another person. One endangering charge was dismissed before the four-day bench trial began.
First-degree manslaughter is a Class A felony and second-degree assault a Class B felony. The remaining charges are Class A misdemeanors.
All three felony counts fall under Measure 11's mandatory-minimum sentencing guidelines.
McCready waived a jury trial and opted for the bench trial in which he let Stone decide his fate.
He was driving drunk and recklessly on that Friday evening in June almost two years ago when he attempted to pass two vehicles just west of Sheridan on Highway 18B in a designated — double-yellow — no passing zone. McCready was headed eastbound and collided head-on with a westbound car.
Dresen, as part of her opening statement, and the Oregon State Police gave this account of the crash:
About 7 p.m., McCready's eastbound 2001 Hyundai Elantra was passing (two) vehicles recklessly on the two-lane business route. Dresen said he "flew by" the vehicles, that included a large NW Natural service rig.
Just west of Rock Creek Road, on a sweeping right-hand curve, the Elantra collided with a westbound 2001 Hyundai Accent. Both cars came to rest in the highway.
Watkins, the Accent driver, was transported to Legacy Emanuel Medical Center in Portland. The 61-year-old died Aug. 6 of that year from respiratory issues related to multiple injuries sustained in the crash, according to testimony.
McCready was also hospitalized at Emanuel. Accent passenger Kim Watkins of Willamina, then 59 and Phil's sister, and Elantra passenger Steve Livasy, then 30, of Sheridan, were also hospitalized. Watkins currently uses a wheelchair.
McCready's BAC (blood alcohol content) was .322 and .169, based on two draws, the second one taken several hours following the first, according to testimony.
Livasy, a friend of McCready's, and Phil Watkins were also legally intoxicated, testimony revealed.
"I believe you are remorseful, but remorse is not enough," Stone said. "The evidence was overwhelming that you were in the passing lane.
"We're all responsible for the consequences of our actions," Stone said. "Sometimes we have to pay with the time of our lives."
See Tuesday's News-Register for additional details.