Linfield chooses Miles Davis as new president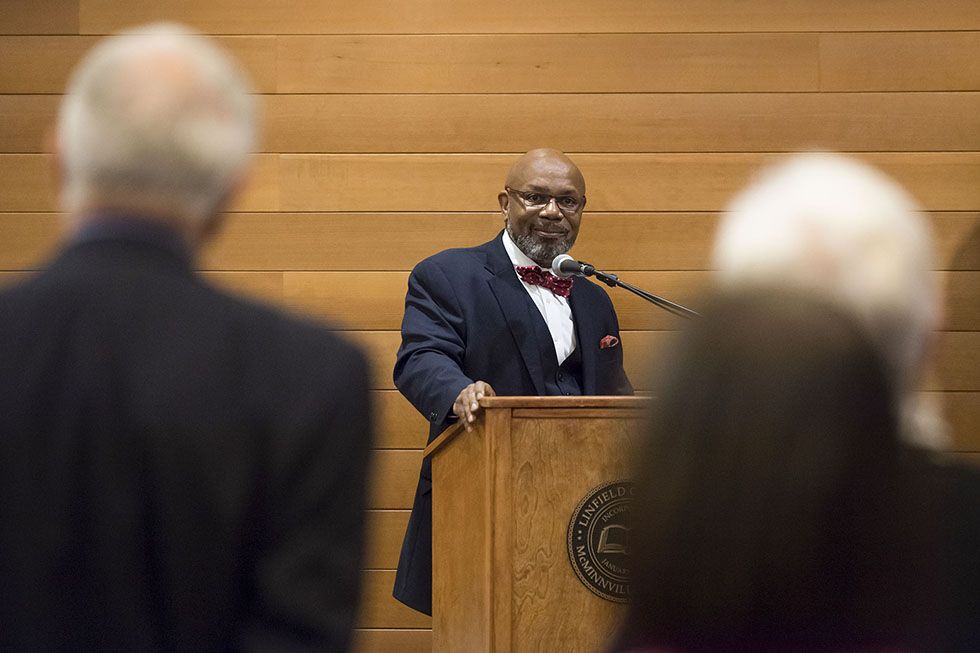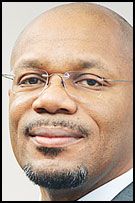 Dr. Miles K. Davis not only will become president of Linfield College in July, but he said he'll also become part of the community.
"It's a wonderful opportunity to be engaged in the community as well as the campus. It's an opportunity to not be anonymous, to contribute," said Davis, whose hiring was announced at noon today by the Linfield Board of Trustees.
"The role of a college president is more than just being a super fundraiser," he said. "It's to participate in the life of the community, and help make a difference in the community."
Davis will follow Thomas Hellie, who plans to retire June 30 after 12 years with the McMinnville-based liberal arts college which also has a nursing bachelor's degree program in Portland.
He will be Linfield's 20th president since its founding in 1858. He is the first African American to hold the post.
He comes to Linfield from Shenandoah University, a private liberal arts university affiliated with the Methodist Church. He's been at the school in Winchester, Virginia, west of Washington, D.C., since 2001. In 2012, he was named the dean of the university's Harry F. Byrd Jr. School of Business.
Similarities between Shenandoah and Linfield, and between Winchester and McMinnville, helped lead him to consider applying for the West Coast position, he said.
Both are private schools with multiple campuses. "I didn't want a state university. Too much politics," Davis said.
The towns are similar, with about 26,000 people in Winchester and 33,000 in McMinnville. And both have strong town and gown ties, he said.
"McMinnville is a perfect fit for me and how I see my role," he said.
Davis said friends and colleagues had been encouraging him to become a college president. At one of the many educational conferences he attends, he spoke with a man who later became affiliated with the search firm that helped Linfield look for Hellie's replacement.
When the man called, saying Linfield would be a good fit for him, Davis at first didn't take him seriously. Then he started learning about the college and McMinnville, and realized "quite frankly, he was right."
"Linfield has a solid foundation," he said. "President Hellie laid a foundation to build on."
------
Davis, 58, spoke to the News-Register Tuesday from Phoenix, Arizona, where he was attending a conference of 1,100 banker directors and bank presidents. He said only a handful looked like him.
"I'm used to that," he said.
He's also used to hearing an inevitable question: Is he related to jazz trumpeter Miles Davis? "All my life I've been asked," he said.
"It's a wonderful name" and a conversation starter, he said. And he does love music; he grew up listening to jazz and enjoys all sorts of music. He attends many campus performances at Shenandoah and expects to continue that at Linfield.
"Often, a college is the place that provides those opportunities to the community," he said, noting that citizens will always be welcome at Linfield's concerts, plays, lectures and other cultural offerings.
While he loves music, Davis chose another field of study when he started college himself. He earned a bachelor's degree in communications from Duquense University in his native Pennsylvania.
He thought at the time that he would become a photojournalist at a community newspaper. He said he still values newspapers that provide information and help people get to know their neighbors.
He went another direction in graduate school, though. He earned a master's degree in human resource development from Bowie State University. He continued on to The George Washington University for his doctorate in human and organizational sciences.
He was a managing consultant and principal for EDS Corp. He has been on the boards of many non-profits and publicly traded companies.
Davis also served in the Navy. "It gave me an opportunity to see the world," he said. "It exposed me to discipline and made me realize the value of service."
------
Before becoming dean of Shenandoah's business school, Davis was the inaugural chairman of the school's management science department and founding director of its Institute for Entrepreneurship.
He is considered an authority on entrepreneurship. His most recent work focuses on integrity, values and principles in the business world, as well as faith-based entrepreneurship. He has helped organizations manage cultural and structural changes, strategic planning, leadership development and strategic growth initiatives.
"Entrepreneurship is imagining a world that is not," Davis told the News-Register, pointing out how founders of Uber, Google and self-driving cars all started by imagining things that didn't yet exist.
"It's asking questions," he said. "It's asking 'why are we doing this this way.?' "
He said he will be asking the latter question a lot when he assumes the presidency of Linfield. The question opens opportunities to improve things -- or to continue in the same vein, if that's what works best.
However, he said, the answer can never be a simple "because that's how we've always done things." It has to come with justification backed by data, he said.
The entrepreneurial principle can be applied to college enrollment, as well, Davis said. It's not good enough to write off the issue as a "crisis in education," he said. It's not that there are fewer potential students today, he said; it's a matter of how to make an appealing educational product that will attract students willing to pay for it.
"Maybe we need to look not at 18 year olds, but at 24-year-olds or 35-year-olds or 50-year-olds who want to upgrade their skills," he said. "Or maybe we look at groups that are underrepresented, like Hispanics. How do we engage them?"
Maybe it's a matter of branding, of building programs students consider relevant, of using data to drive decision-making, he said. Maybe it's involves offering education to groups beyond those considered traditional, like Shenandoah does in a new programthat provides educational opportunities for recent veterans on the new G.I. Bill.
"I don't pretend to have all the answers," Davis said. But he said he's willing to ask questions and try things.
"I'm not afraid of failure; you learn things when you fail," he said.
Davis said he learned a key aspect of his leadership style from Dr. Jerry Harvey, a leader in the field of organizational psychology who was the adviser in his doctoral program.
"Never go into an organization expecting to be the savior," Harvey told him. "Saviors get crucified."
Harvey focused on working with people and bringing out their inherent abilities, Davis said. "He pushed me in a lot of ways, taught me to build and make informed decisions."
In other words, Davis said, instead of riding in to make changes, he will approach the Linfield presidency with questions, data, teamwork and community involvement.
"What can I learn? How can we work together to make things better?" he said.