SMART coordinator named top volunteer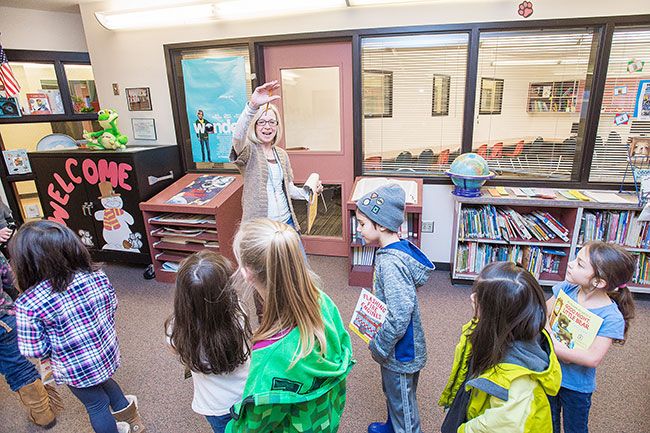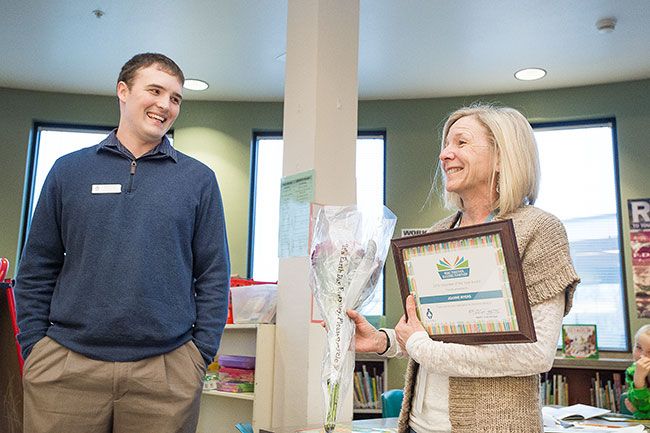 LAFAYETTE — JoAnne Myers was reading to a couple of Wascher Elementary School kindergartners when a line of adults streamed into the room.
Many of the Start Making a Reader Today volunteers and their young reading partners looked up from their books. But Myers, the SMART coordinator, kept reading -- she only gets to once in awhile, when one of the regulars is absent.
The visiting adults had to ask her to stop.
"We're here to announce that JoAnn has been named SMART Northwest Area Volunteer of the Year," said Michael Finlay, program manager from the state office.
SMART's Northwest area includes Marion, Polk, Lincoln and Tillamook counties, as well as Yamhill. There are 42 sites that serve more than 1,500 students with weekly reading sessions; each month, children also may take home books for their own libraries.
Myers was taken by surprise. "This is crazy!" she explained, shaking her head. "Wow, what an honor!"
She said she appreciates the award, but finds her volunteer job rewarding in and of itself. "I love what I do," she repeated several times. "I just love what I do."
Myers, who also works as a part-time teaching assistant at Wascher, is one of more than 500 volunteers. She was chosen for the award because she is a great site coordinator who cares deeply about her volunteers and the children in the program — at Wascher, the entire kindergarten class.
"She makes sure kids and readers are having fun," Finlay said, noting Myers mentors other site coordinators and arranges parties for her volunteers.
Barb Beatty joined the Wascher SMART crew after moving here two years ago. The former teacher said volunteering gave her a chance to continue working with children and schools.
She said she is grateful to have Myers leading the program. "JoAnne is a role model. She's always there if you need her," Beatty said.
Another volunteer reader, LaVonne Morgan, said Wascher is a great school with great teachers, "but we wouldn't have this program without JoAnne."
She is well organized and tenacious about recruiting volunteers, Morgan said.
Myers has been overseeing the SMART program at Wascher for 12 years. She recruits and schedules community volunteers and matches them with young students to boost reading skills and encourage a love of reading.
"I love the kids. I love the people I work with — the adults," Myers said. "I can't decide which I love more."
When the award was announced Monday morning, she received a plaque that reads, "Read Together, Succeed Together. Thank you for your dedication to children's literacy."
Myers said she believes strongly in the SMART program.
"It's a very safe, fun environment to practice reading or to get read to," she said.
The weekly meetings encourage the love of reading, not just reading skills, she noted.
"It's no pressure for kids," she said. "They develop a great relationship with their special reader; they get so close over the course of the year."
Myers also will be honored Feb. 9 at a statewide SMART event at the Portland Art Museum and April 5 at a Northwest SMART event at Willamette Valley Vineyards.