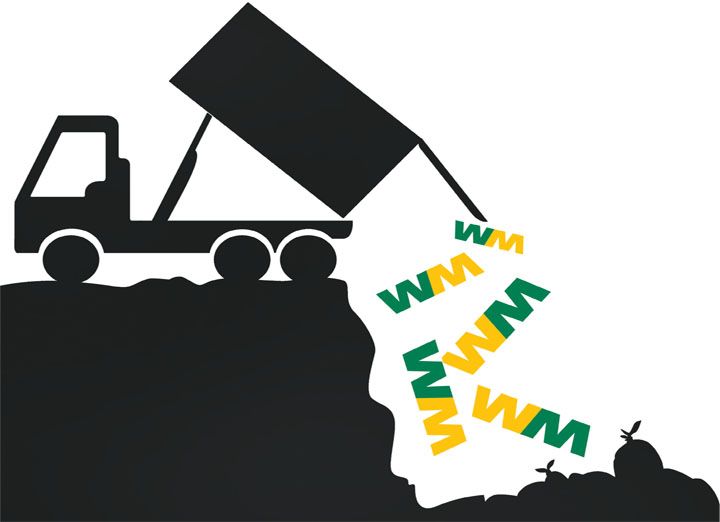 City dumps Riverbend
Instead, the community's residential, commercial and industrial customers will begin paying a 10 percent surcharge, effective Jan. 1, to have Recology Western Oregon truck the material to a landfill in Southwestern Washington.
Recology, the city's franchise hauler, will divert McMinnville waste to its newly completed Orchard Avenue transfer station. There, the company will load the material on long-haul trucks for shipment to the 380-acre Headquarters Landfill, a former Weyerhaeuser dumpsite in Cowlitz County, Washington.
Only waste collected inside city limits is affected. Waste from the rest of Yamhill County, including Newberg, will continue to go to Riverbend.
"This is something that's been on my bucket list for a long time, and I'm glad to see the city moving in this direction," said Councilor Kevin Jeffries, a vocal Riverbend critic. "If we have voiced our opposition to the landfill being there, this is the responsible thing to do. A 10-percent increase to ensure we're not contributing to the problem is well worth it."
Before Tuesday's vote, the council held a public hearing to take testimony. While a number of environmental advocates testified in support of the move, no one spoke in opposition.
"The only possible benefit of continuing to send McMinnville's solid waste to Riverbend Landfill is a short-term small rate savings for Recology's customers," said Gerry Hunter, owner of Third Street Pizza, who serves on the board of the local environmentalist group Zero Waste. "The cost of doing so includes perpetuating, and even increasing, the visual blight on our beautiful landscape."
The landfill emits offensive odors and contaminates the local watershed, Hunter said. It also damages local tourism, he argued.
"Why would we as a community contribute to an actual stinking pile of garbage adjacent to the farms and wineries as well as our downtown and largest waterway?" he said. "I doubt you'll find any businesses would, as part of their business model, put a pile of garbage anywhere near their customers. Why would we do this as a community?"
However, the landfill is not leaving. At least not in the short term.
In fact, Jackie Lang, senior manager for communications for Riverbend parent Waste Management Inc., said Tuesday's decision could actually keep Riverbend open longer.
"It's not about McMinnville," Lang said in an interview last week. "It's about volumes. It's about economies of scale. If traditional volumes decline, or if in the future, we are bringing in less waste, our capacity will last longer and Riverbend will stay open longer."
The most modest of expansions would allow the landfill to remain open another 10 years at the current fill rate, Lang said.
"That expansion model is based on a certain number of tons coming to Riverbend per month," she said. "If volumes decline, the more likely scenario is we will continue to operate for 30 years."
Environmental activist Sid Friedman, who lives near McMinnville, told the council that reasoning is flawed.
"I've heard some say it's foolish for McMinnville to divert its trash from Riverbend, because others will continue to dump there," he said. "But to me that's like saying we shouldn't do anything about global warming, because China's going to continue to burn coal.
"This isn't about what others do. This is about the choices we make and what we do."
McMinnville resident Jeff Fahey told the council it faces a predicament.
"Riverbend is not dead, and the courts could rule in favor of continuing it," Fahey said. "If Riverbend prevails, and we bail, it's either going to extend its lifetime by the garbage we don't send them, or they'll get another customer."
But he said he still feels it's a sound idea to switch. "That would put you in the shoes of leading the charge in the local area for getting out of the waste management business," he said.
The long-term fate of Riverbend, which will run out of room in the next two years if it fails to secure approval for an expansion, continues to rest with the courts. The Oregon Supreme Court held hearings Nov. 14 on an appeal brought by the Stop the Dump Coalition and a group of allies.
Despite the legal issues, executives at Waste Management remain set on expanding and confident they will ultimately prevail. Opponents are equally determined and confident in seeing the opposite outcome.
Civic activist Mark Davis, a regular contributor at council meetings, supported the switch to Headquarters, reputed to have a 100-year capacity.
In some ways, he said, the decision to dump Riverbend was made long ago.
"I believe the city made a de facto decision to part ways with the landfill a couple of years ago, when (it) started to move into urban renewal and made an investment in Visit McMinnville," he said. "I don't believe this focus on tourism is served by having a huge pile of garbage sitting on the edge of town that occasionally wafts odor into the community."
However, Davis questioned the rate increase.
Recology has been granted a monopoly on local trash, he noted. On that basis, its calculation deserve closer scrutiny than before.
"I really think the council needs to have written financial information the public can look at," he said.
Mayor Scott Hill expressed agreement. However, he said there's still time to give the financial considerations more attention.
As part of the decision to switch landfills, Recology promised not to pursue any other rate increases during the coming year.
Recology accountant Walter Budzick said the company was familiar with Headquarters, where it sends all the trash it collects in Clatsop and Tillamook counties.
"We have existing relationships with that landfill," he said. "We know that it's well-run."
The company's local general manager, Carl Peters, said the residential customer having a 96-gallon roll cart emptied weekly would experience an increase of $3.72 a month or $44.64 a year. That would increase the cost of his service to $40.94 a month or $491.28 a year.
He said the commercial customer having a two-yard front-load container emptied weekly would pay $23.65 a month or $283.80 a year. That would push the cost of his service to $260.15 a month or $3,121.80 a year.
Local garbage rates have typically remained fairly stable, Peters said. Before implementation of a yard debris program fostered a 5.5 percent increase last year, the company had not hiked its rates for two years, he said.
McMinnville resident Jim Kreitzbender supported the switch, but said the accompanying rate increase could hurt some people.
"It will be hard on the poor people," he said. "They will have to downscale their garbage service."
Environmental advocate Ilsa Perse, partner in the Currents Gallery on Third Street, said she doesn't mind the rate hike. She approves of the direction McMinnville is heading, she said, especially with environmental moves like banning plastic bags.
"A 10-percent increase in our garbage rates will mean virtually nothing," Perse said.
"This is a very small business. There's not a lot of money in an art gallery, but we can easily afford 10 percent to make it so this town of McMinnville is not participating in the environmental disaster that is Riverbend Landfill."
McMinnville resident Dee Goldman expressed delight with the council's decision. "I'm really pleased we have this opportunity to send our garbage to a more environmentally stable site and not to add to the stench of the landfill and to the impact on local farmers," she said.