Suspect arrested in McMinnville shooting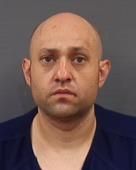 McMinnville police have arrested a convicted felon with a lengthy criminal history in connection with last Saturday night's shooting in which the victim was shot in the ear.
Christopher Gene Ridenour, 35, of McMinnville, has been charged with one count each of attempted murder, first-degree assault, menacing, possession of weapons by certain felons, unlawful possession of firearms and unlawful use of a weapon.
The charges are a mix of felonies and misdemeanors. Attempted murder and assault are subject to mandatory minimum prison sentences under Measure 11 guidelines.
Ridenour was also in violation of his post-prison supervision and is lodged in the Yamhill County Jail without bail pending arraignment in circuit court.
He was taken into custody Tuesday by a Yamhill County sheriff's deputy on the post-prison violation, according to the jail roster, and charged Wednesday in connection with the shooting. Ridenour's arrest record in Lincoln, Polk and Yamhill counties dates back to 2000.
Police gave this account of the incident:
About 6:40 p.m., officers responded to the shooting in the area of Northwest Ninth Court and Hickory Street.
They located an unidentified adult male who had been shot. He was transported by McMinnville Fire Department ambulance to the Willamette Valley Medical Center.
It's alleged Ridenour approached the victim, whom he knew, and the two argued. Ridenour fired one round and fled the area prior to the police arriving.
Anyone with information related to the case should call the McMinnville Police Detective Division at 503-434-7307, Ext. 5941, or the department's tipline at 503-434-2337.
It was the third shooting incident in Yamhill County last weekend. The others occurred in Amity and Yamhill. The Amity incident was a self-inflicted gunshot wound.