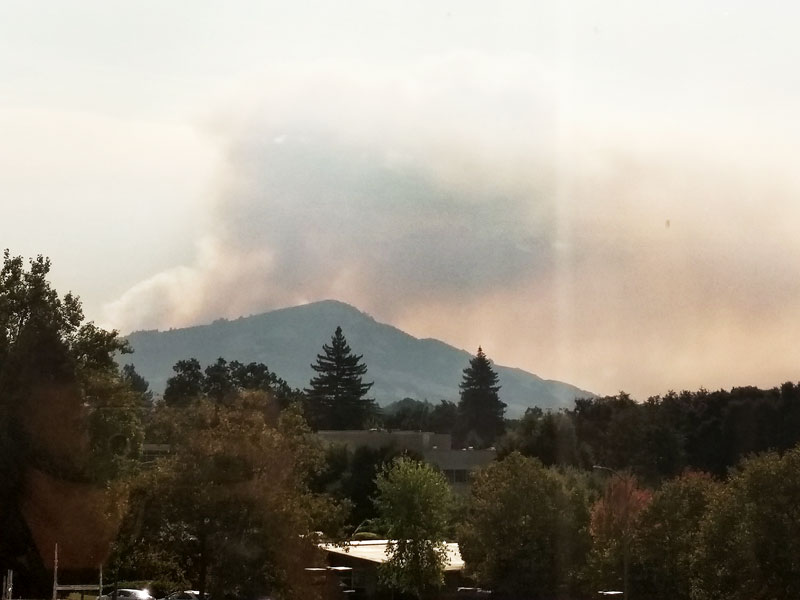 Living the Santa Rosa wildfires
After almost two weeks, Jen Bryant still remembers how the wind began howling through Santa Rosa and surrounding wine country hillsides the evening of Sunday, Oct. 8.
Bryant, who was raised in McMinnville, has worked in patient experience and relations at Santa Rosa Memorial Hospital the last year. She lives downtown, next door to the hospital.
"The winds were incredible," Bryant said. "Sixty to 80 mph. You woke up the next morning to smoke, frantic phone calls and texts."
Wildfires would eventually turn deadly and destructive exploded overnight around the Sonoma County city of 175,000. "It was nothing that anyone would have thought would happen," Bryant said.
She moved to McMinnville when she was 3. She attended Columbus and Newby elementary schools and Duniway Middle School, then spent 3 1/2 years at McMinnville High before graduating from South Eugene High.
Bryant went on to earn a bachelor's degree from the University of Oregon in 2007. She lived in Eugene, McMinnville, Portland and Seattle before settling in Northern California.
From a personal standpoint, Bryant said, she was never in danger as a result of the wildfires, thanks in part to where she lives and works.
"I consider myself in a lucky spot," she said. "The voluntary evacuation zone was a quarter to a half mile away."
But she said heavy smoke permeated the area — "dark, dark smoke." And the wind was whipping trees from multiple directions.
It was intimidating to see how wide-ranging it was," Bryant said. "We're surrounded by a lot of hills, and from the fourth floor, you could see the fire."
The reality of the situation quickly became apparent the morning of Monday, Oct. 9.
She said she soon learned some hospital staffers had lost their homes. "They were at work, and it was so awful for them to be there," Bryant said.
Others had been evacuated as a precaution. Some were sleeping in their offices at the hospital.
Santa Rosa Memorial is a 338-bed hospital. It remained open throughout the ordeal, accepting patients from the region.
Fifty-one of the hospital's staff physicians lost their homes, according to the San Francisco Chronicle.
Twice as many patients as normal crowded into its emergency room, and 36 babies entered the world.
A few newborns, and women in active labor, were brought in from fire-threatened Sutter Santa Rosa Regional Hospital, according to media reports.
Bryant said what she's seen and lived through in the past two weeks has had a profound impact. "Going to bed at night, and just having a bed to sleep in, I've never been more thankful," she said.
It doesn't matter in the least that she's only lived in Santa Rosa a short time. She feels she has put down roots and they've grown deeper.
"I feel more a part of the community after this," Bryant said. "It's been a coming together of people. You feel the support of everyone."
Walking into a restaurant after it had reopened, she said it struck her how caring everyone seemed.
"People would ask, 'How are you doing? Is everyone safe?' That's one of the first things you saw."
Conversations Bryant heard at a grocery store were much the same, she said. "The community outreach, to make sure we were all doing OK was pretty amazing."