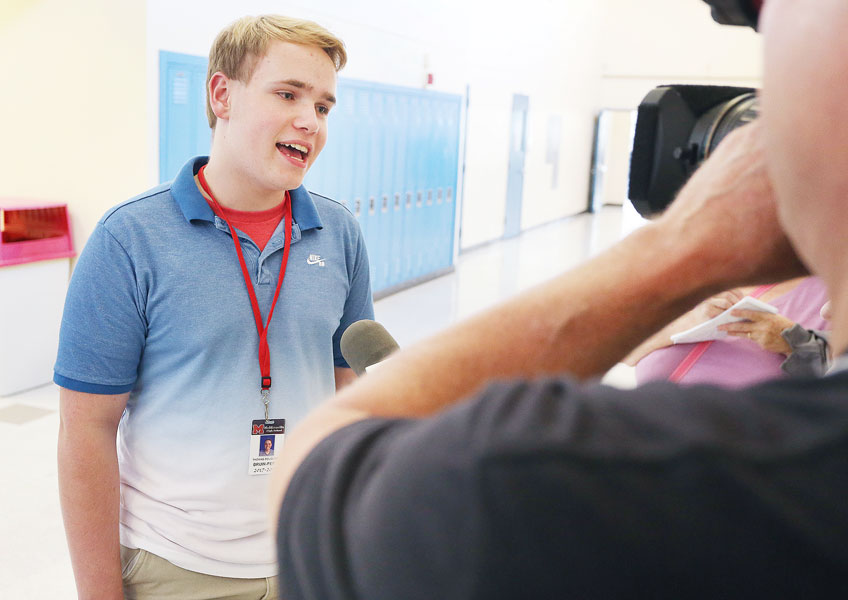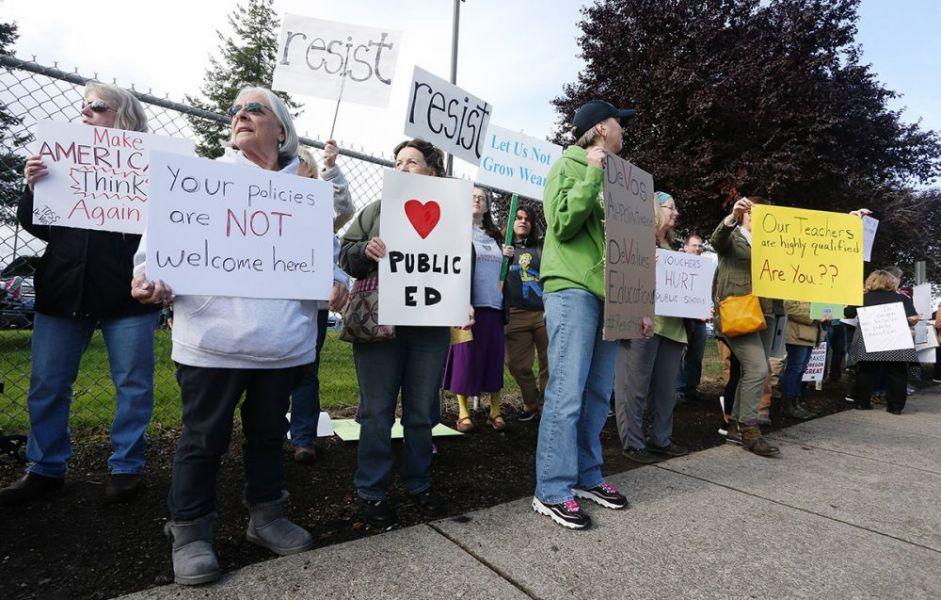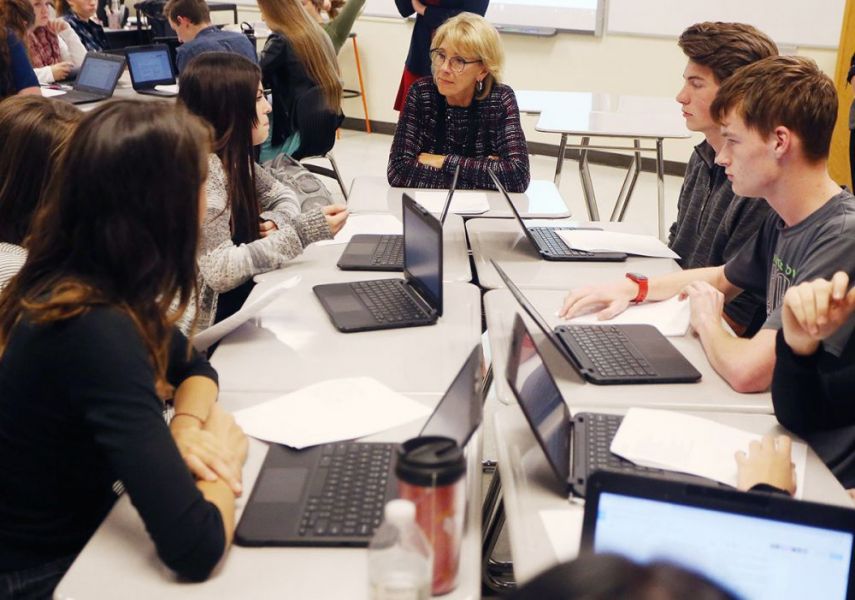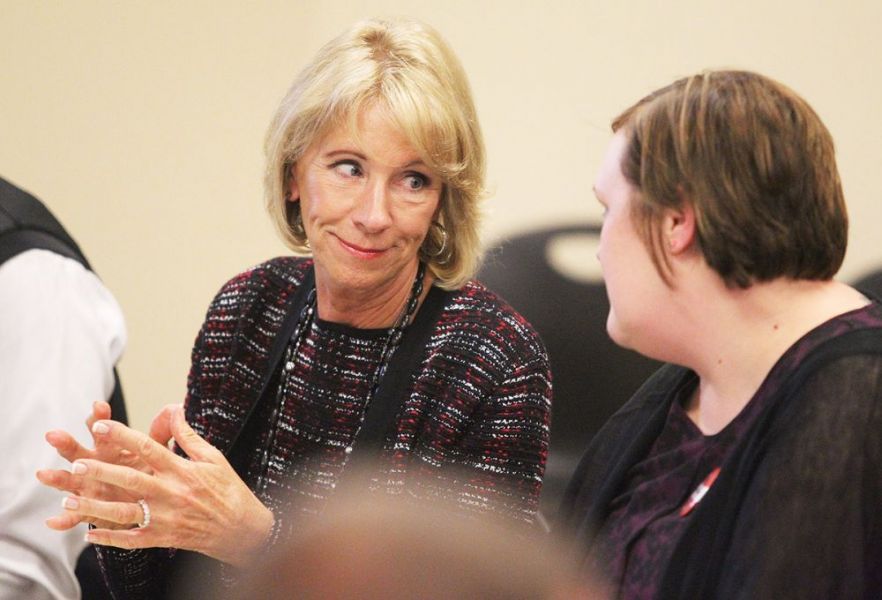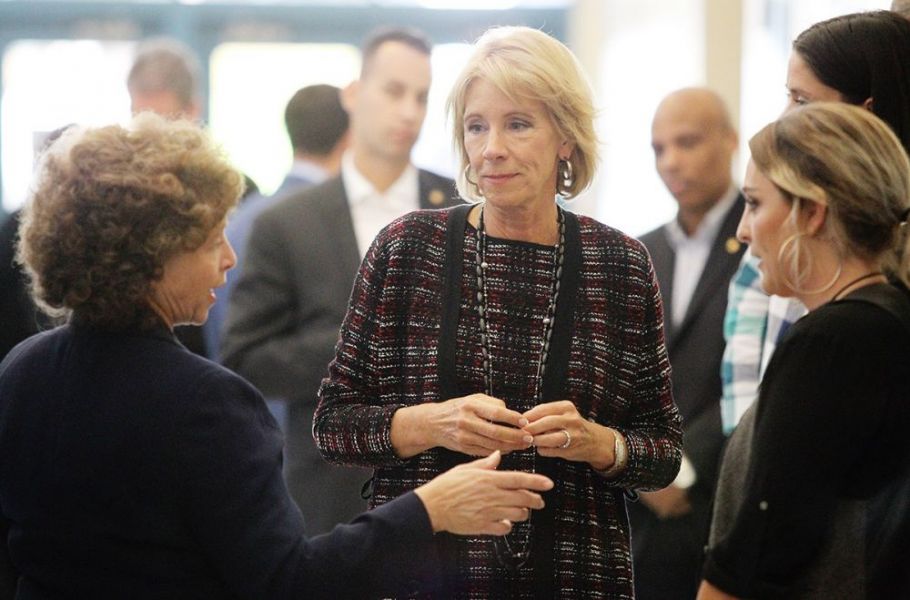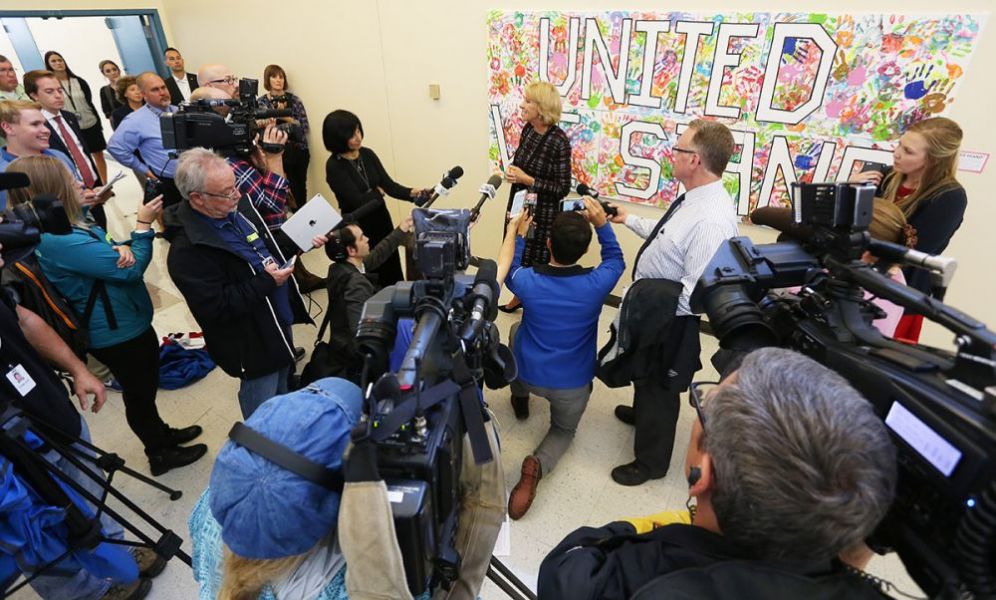 DeVos praises Mac, pitches school choice
[Updated 10 p.m. 10/12/17] While protesters gathered outside Wednesday — most opposing controversial Secretary of Education Betsy DeVos, with some supporting — students and teachers inside McMinnville High School took the opportunity to display their programs and achievements.
DeVos, who visited both the school's main campus and its Engineering and Aerospace Sciences Academy at the Evergreen Space Museum, said she was inspired by what she witnessed.
"Students were actively engaged learning 21st century skills," she said. "I was extremely impressed by the way the school has embraced that to achieve excellence. The results show."
She said she decided to visit after reading an article about the school's high test scores and graduation rate, which exceed those of most large high schools in Oregon.
Before her trip was even officially announced, a group began organizing a protest against her policies, which they feel favor private schools over public.
Participants stood along Evans Street, on the west side of Mac High. They said her promotion for vouchers would take money from public schools and send it to private school counterparts.
A smaller demonstration, this one welcoming DeVos, unfolded along the same street Wednesday afternoon.
Inside, educators regarded the visit as a chance to draw national attention to their work.
Mac High teachers — and teachers from across the district, for that matter — said they are passionate about helping every student reach his or her potential. They said they work hard to make sure each child feels connected to the school and supported in and out of the classroom.
DeVos dropped in on a staff development session, in which teachers were discussing methods to help students develop 21st century skills, such as critical thinking, judgment and decision making, cognitive flexibility and emotional intelligence.
The staff holds such staff training programs every Wednesday through the year, using them to address a range of topics. Half the staff attends one week, the other half the next.
At this one, DeVos shook hands with each teacher, then sat between Principal Tony Vicknair and science teacher Audrey Wright. While media cameras clicked and whirred, the secretary nodded as participants discussed high-level teaching strategies.
"I teach government and politics. Some issues we discuss in my class are a little polarizing," said social studies teacher Chris Carnahan, drawing laughter from DeVos as well as his colleagues.
The Secretary of Education also visited three classes. One was AVID, a program designed to help students develop skills and confidence to continue their education after high school. The others were advanced placement U.S. history and language arts.
Before she arrived at Matt Brisbin's Literature and Composition class, a student asked the teacher, "What do you want us to do?"
"Just keep doing what you're doing," Brisbin said. "Act like it's just someone from the front office."
On a wall nearby, a poster read, "It is our choices that show what we truly are, far more than our abilities." Another poster listed "12 1/2 Writing Rules," including "If it's boring to you, it's boring to readers," and "Learn to tell both sides." The list ended with the half-rule, "Stop looking at this poster and write something!"
As Brisbin had advised, students continued their regular work as their room filled with media personnel and school officials trailing the secretary of education.
DeVos sat with Quinn Van Horn and other students as they analyzed poetry. Slipping on her glasses so she could read along, she listened to them interpret poems such as "The Progressive" and "Beauty."
While still at the main campus, DeVos took five minutes to answer questions from the media, consisting of reporters and camera crews from Portland television stations, Oregon Public Broadcasting and The Oregonian, in addition to the News-Register, KLYC and The Bruin, Mac High's student newspaper.
The secretary took several questions, most related to her support of vouchers, which would enable families to use public funding to pay for private schools.
"Vouchers give parents choices to find a school that fits and works for them," she said. She reiterated several times her view that, "We need to invest more in individual students and less in systems and buildings."
She said vouchers likely "wouldn't impact a school like this," noting that at Mac High, "It's encouraging and very exciting to see students so engaged with learning."
DeVos said it's incorrect to say she doesn't support public education.
"I do," she said. "I support great schools and great education.
"I want every student to have a great education, each child to have the opportunity for a great education."
For that reason, she said, "I want to invest in individual students."
The final question went to Tommy Douglass, managing editor of The Bruin. He asked DeVos how she would increase minority graduation rates.
"Make sure every student has the opportunity to go to a great school that works for them," she said, again making her argument for a voucher program.
Douglass, a Mac High junior, said he was excited to have been able to ask a question of the federal Secretary of Education. And he was glad she'd chosen to visit McMinnville.
"It's pretty cool Mac High gets to show itself on a national stage," he said, noting, "We really do have great results."
Not everyone at the 2,200-student school was happy when they found out she was coming, he said. But after the principal and teachers talked about what an opportunity her visit provided, most began to see it in a positive light — for Mac High, at least.
"It's very empowering for students to show their academic results and work skills, and what their teachers are doing," Douglass said.
After answering questions from Douglass and other reporters, DeVos moved on to EASA, where she examined Mac High's robotics program. She sat in on a staff discussion about topics such as the district's science experiences for every grade level and professional development that provides consistent instruction across the district.
Later, she had dinner with invited community members, educators and PTA presidents.
Roberto Gonzalez, PTA president at Grandhaven Elementary School, said it was a good opportunity for federal leaders to see education is a team effort.
"Not only schools and teachers, but other players in the community — Linfield, Chemeketa, health services, parents, PTA," he said. "All come together for the success of kids."
Gonzalez grew up in a very different kind of school system. While public schools were available, families that could afford it sent their children to private high schools, where they received a much better education.
He said he's impressed with the U.S. system, where K-12 public schools make sure every student reaches his highest potential. He's been amazed at the skills, such as critical thinking, his fifth-grade son, Emilio, is already learning and at the added opportunities offered, such as after school coding classes.
"It's amazing we can have a public system that works for everybody, no matter their background, income or disability," Gonzalez said.
The dinner with DeVos along with extra activities showcasing McMinnville schools were put together in a few days.
Superintendent Maryalice Russell got a call from the U.S. Department of Education late last week telling her the Secretary wanted to come to McMinnville.
It's not unusual for the high-ranking district to receive such requests from other districts and educators. But this is the first time a federal official has visited.
"If others can learn from our successes, we're happy to share our experiences with the secretary and her staff," Russell said.
"We're proud of the accomplishments of our students, our staff and our community," she said. "As educators, we look for teachable moments, and we see this visit as a way to engage in open dialog about good teaching strategies and good instructional practices in public education."