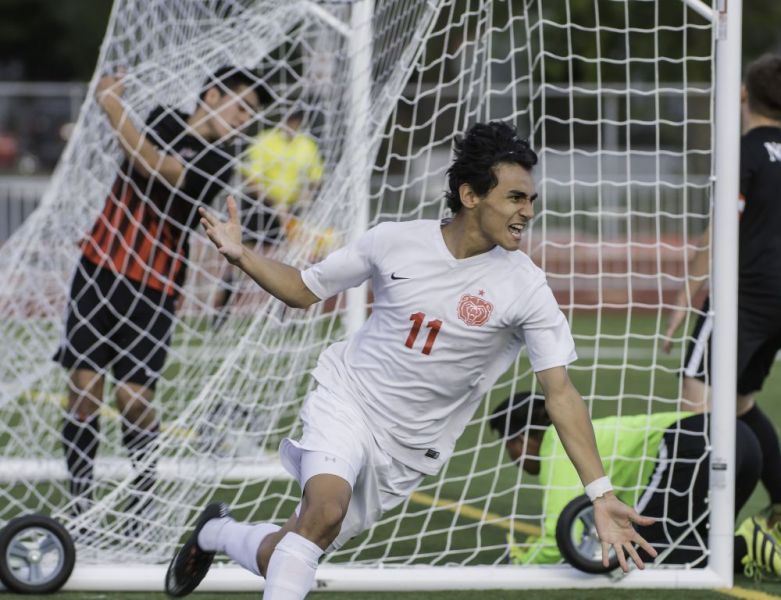 Mac boys' soccer ascends to first place in GVC with 2-1 comeback over North Salem
Arel Espinoza came through in the clutch for the second match in a row, as the senior midfielder slotted home the game-winning goal for McMinnville during today's 2-1 win over North Salem. Espinoza also notched the tying tally against McNary Wednesday in an eventual 2-1 Grizzly triumph.
As a result of the Grizzlies' win, they now hold sole possession of first place in the Class 6A Greater Valley Conference. They have also ascended to number one in the OSAA state rankings.
Mac appeared sluggish to start the match against the Vikings. The road team routinely outworked the Grizzly midfielders, gaining vital possession in the attacking third. As a result of slow reactions from several Mac defenders and keeper Grant Vicknair, North Salem capitalized with a goal five minutes into the match.
Trailing 1-0, the Grizzlies still failed to locate their rhythm for most of the first half. McMinnville head coach Jory Shene could be heard repeatedly imploring his players to "wake up." Finally, in the 30th minute, the home team hit the switch and reverted to their elite form.
While Mac couldn't grab a tying goal before the initial period ended, the solid run of play leading up to the break proved instrumental in their second half comeback.
In the 50th minute, Espinoza methodically worked his way up the Vikings' right flank. Spotting several teammates bombing forward, he rocketed a cross into a dangerous area near the North Salem keeper. Cameron Autencio received the pass, took a controlling touch, then fired a low shot into the back of the net.
Momentum shifted completely after the tying goal from the Mac striker. North Salem bunkered in, hoping for a road point, while the Grizzlies hunted for a win. They found it in the 75th minute.
After an incredible string of possession in the midfield, Mac pushed forward into Viking territory. Autencio dribbled into the heart of the defense and blasted a shot at the North Salem goalie. The net minder parried away the shot, but Espinoza rushed in to slot home the rebound.
North Salem attempted one last push for a tying score in the 80th minute, but Mac center back Diego Gil stood tall on a one-on-one battle and arrived victorious, poking away the ball and preserving the 2-1 victory.
McMinnville (8-0-3, 4-0-1 GVC) travels to Forest Grove next Tuesday at 7 p.m.