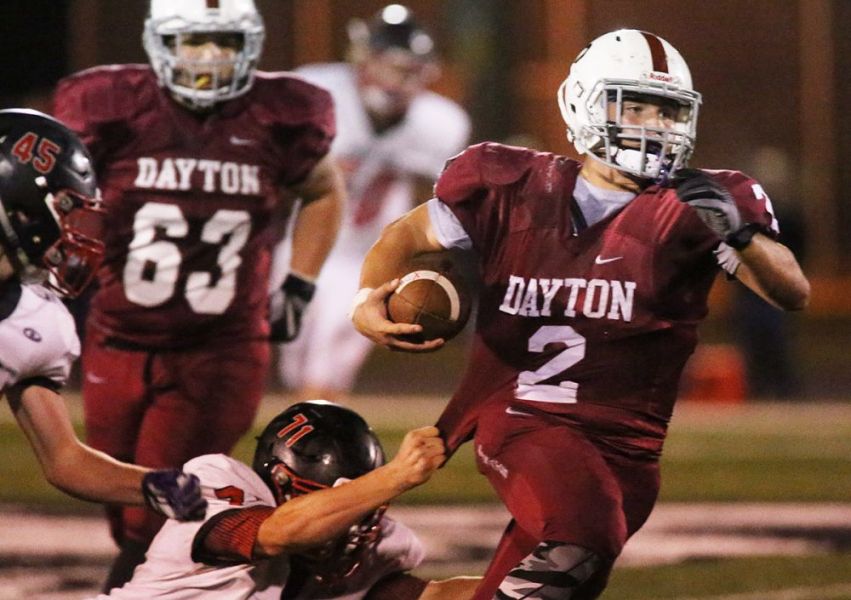 Pirates knock off number-one rated Eagles, 37-19
DAYTON – Zach Russell tallied 135 rushing yards and touchdown, and the Dayton Pirates knocked off number-one ranked Santiam Christian Friday night at Gubser Field, 37-19. Russell's three-yard TD plunge in the fourth quarter helped seal the crucial league conquest which places Dayton on top of the Class 3A West Valley League.
The Pirates led the entire match courtesy of a Tristan Fergus seven-yard TD pass to Aiden Huber in the first quarter. Fergus padded the first-quarter Pirate advantage with another big strike to Braeden Nowlin, this time a 50-yard score.
Santiam Christian tallied its first touchdown on a Luke Mehlschau one-yard run late in the first, cutting the home team's lead to 12-7.
Dayton responded with a 77-yard drive concluding with Fergus finding Bailey West for a 15-yard TD. The teams then swapped interceptions, with the Eagles' Kyle Paratone retuning his pick for a 24-yard score.
Fergus ensured his team would enter halftime with a two-score lead, bombing a 40-yard pass to Nowlin for a touchdown and a 24-13 edge at the break.
The Eagles capitalized on a Fergus fumble during the first series of the third quarter, as Zach Watson returned the turnover 93 yards for six points.
With the top team in the state threatening to take the lead again, the Pirates regained momentum three drives later as Fergus hit West on a 20-yard hookup and score. Dayton led 30-19 with 1:11 left in the third, and Santiam Christian couldn't muster a comeback.
Russell's touchdown run with 4:47 remaining in the final period occurred after West stifled a fake punt from the Eagles.
Dayton (4-1, 2-0 WVL) returns to action next Friday at Sheridan.