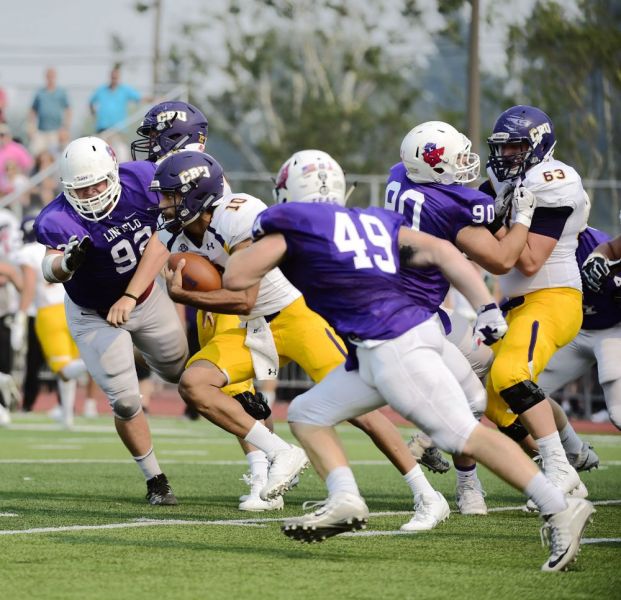 Linfield falls to No. 1 Mary Hardin-Baylor, 24-3
Linfield's number-six rated Wildcat football team (1-1, 0-0 NWC) found the Crusaders too much Saturday afternoon in a contest at Maxwell Field dropping the contest 24-3.
The 'Cats offense, overwhelmed by the speed of University of Mary Hardin-Baylor, was never able to find a scoring threat and it was only a 51-yard field goal by Willy Warne at the clock wound down in the first half that kept Linfield from getting skunked.
Though the Linfield defense played solidly against the defending national champs, the Wildcats gave up three plays of more than 35 yards, all good for UMHB scores.
The Crusader served notice early when T.J. Josey. their quarterback, went 74 yards on a keeper on the second play of their first drive, putting Linfield in a hole at the 8:32 mark of the first stanza, 7-0.
The Cru' led 10-3 at the half thanks to a 44-yard field goal by John Mowery.
The Crusaders really took the wind out Linfield's sails to start the second half as Bryce Wilkerson grabbed the opening kickoff and danced 95-yards to their second score.
The final nail in the Wildcat coffin was provide by Josey on a 35-yard strike to Isaiah Townes at the 6:26 mark of the fourth quarter. Josey lofted a perfect pass hitting Townes in stride as he glided into the endzone.
UMHB rolled up 353 yards of total offense, including 190 on the ground and 163 through the air. The 'Cats could manage but a tepid 141 yards of total offense.
McMinnville alum, freshman Colton Ramos average 42 yard on nine punts with a long of 52. Warne's field goal was Linfield's only score, but the 'Cat junior missed another earlier try from 41, wide left.
Linfield will have next week off, before meeting Whitworth at Maxwell Field in a battle of top rated Northwest Conference Teams.