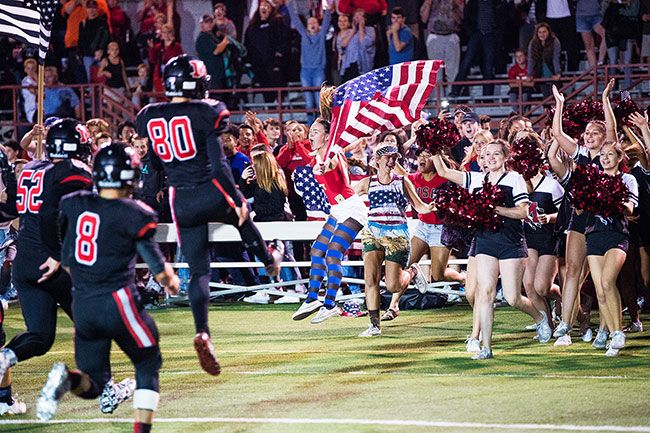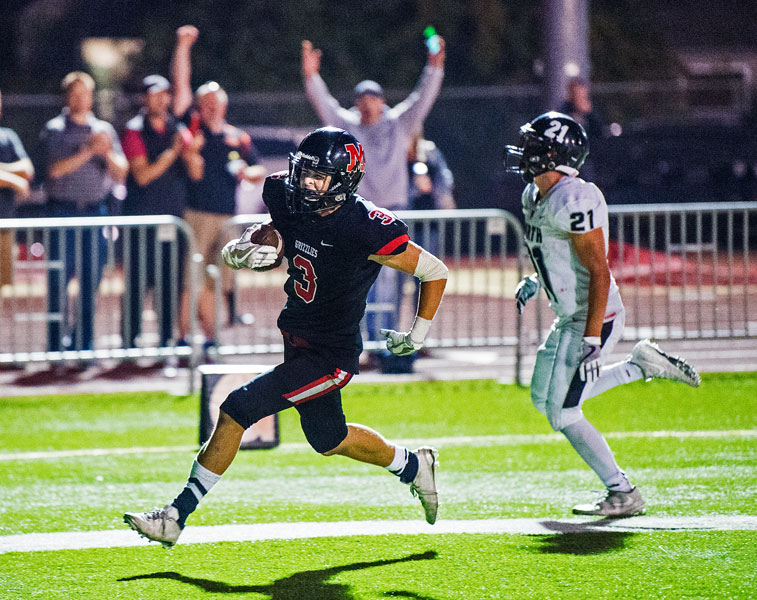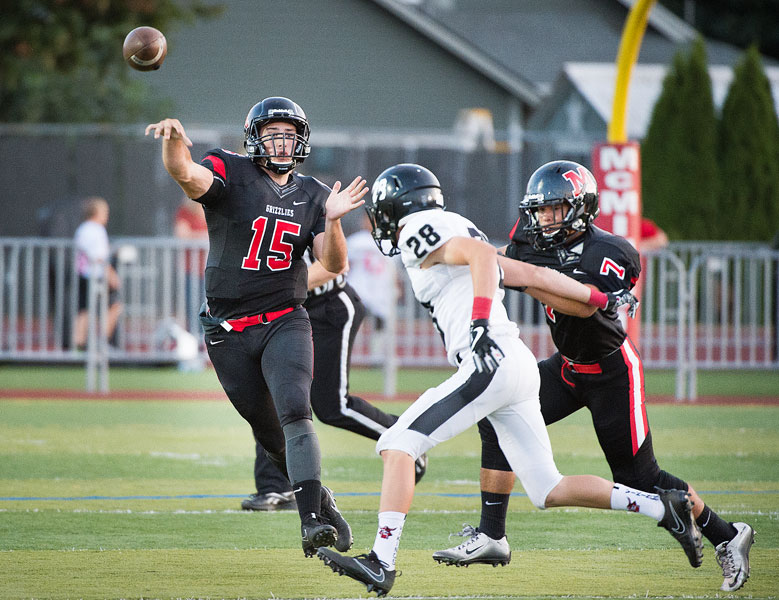 Mac escapes trap game with North Salem, 34-28
McMinnville (3-0, 2-0 GVC) escaped a gritty North Salem (0-3, 0-3 GVC) performance Friday night at Wortman Stadium as Sam DuPuis hit Colton Smith on a 20-yard catch and run at the 17-second mark of the fourth quarter for a 34-28 win, upping its record to 3-0.
McMinnville had few answers for the Vikings' Wing-T offense as North Salem threatened to run away early in the contest.
The Vikings used a strong return on the opening kickoff and scored on a 32-yard run by Rigo Padilla with 28 seconds gone in the opening stanza.
McMinnville answered when DuPuis hit Smith for his first of three TDs on the night, a 71-yard sprint at the 10:52 mark.
North Salem served notice it wouldn't go quietly into the night, scoring another go-ahead TD just under two minutes later for a 14-7 lead.
McMinnville appeared to take control of the game with a DuPuis to Odin Thorson 23-yard pass and followed that score at the 4:10 mark when Smith swiped a pass and went 68-yards with the pick-six, for a 21-14 lead.
As the first quarter wound down, the Grizzlies' defense seemed to find a combination to control the persnickety Viking misdirection offense, forcing them to punt.
McMinnville started the drive on its 49-yard line, unleashing the power of its offensive line and the bruising running of Ray Jacob. He turned in runs of 19 and nine yards before two carries put him in the end zone at the 11:55 mark of the second period, for a 28-14 lead.
But the Vikings regrouped and Padilla, who finished the night with 218-yards on 21 carries, got to the edge and scored from 11-yards, tightening the score to 28-21.
After a scoreless third quarter, North Salem found a way to tie the score late in the fourth when the pesky Padilla drove into the end zone again on an 11-yard rumble, tying the score at 28.
As the game appeared headed for overtime, the Grizzlies defense stiffened, giving them one last chance to finish off the Vikings. McMinnville wasted little time in putting the final stamp on the contest. With 44 seconds left in the game, DuPuis hit Thorson with a 28-yard pass.
Then came the pass to Smith for the final score of the game. McMinnville's defense shut down the Vikings offense for the last 17 seconds as North Salem was forced to go to the air. With a final pass falling incomplete, the celebration was on.
Jacob was once again a workhorse for McMinnville with 92 yards on 16 carries, and Smith had 90 yards on three receptions. DuPuis had 162-yards on 6-11 passing.
McMinnville will travel for the first time to meet Sprague next Friday in Salem.