A golden birthday wish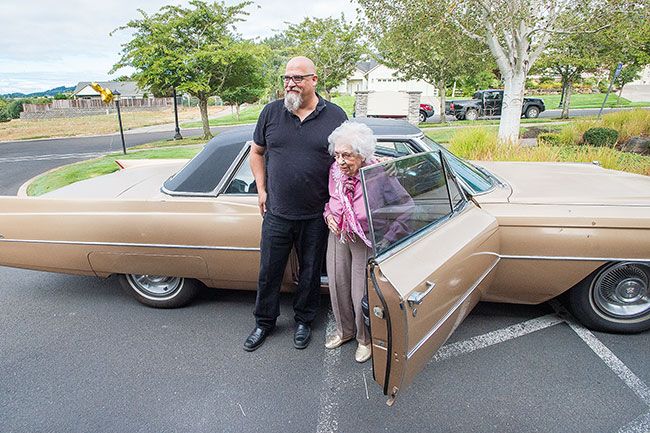 When Ellie Tibbetts' 99th birthday grew closer, her caretakers at Hillside Retirement Community asked her how she wanted to celebrate. She responded with one wish — to take a ride in a gold Cadillac.
Sales Manager Tracy Ell posted a note on the Newberg-Dundee Citizens Info site seeking someone with a gold cadillac willing to drop by the retirement home to make Tibbetts's wish come true.
The post was shared 26 times, eventually reaching three different owners of gold Cadillacs, all willing to help. On her Aug. 31 birthday, two of them, Sara Wimmer and Jim Triesch, drove from Newberg to McMinnville to meet Tibbetts at 9 a.m. at the retirement home.
"What blew me away is how the whole community came together to make this woman's dream come true," Ell said. She was amazed at the response, saying, "There are just truly amazing people in this world."
Donning a pink shirt, pink glasses, a birthday princess sash and gold shoes, Tibbetts was first helped from her wheelchair into Triesch's 1964 gold Cadillac Coupe Deville. The two did a loop around the 57-acre property before returning to a small crowd of nurses, friends and relatives, assembled to watch her birthday wish manifest into reality.
"I think it's fantastic," said Tibbetts, as she was next guided into Wimmer's newly purchased gold 2006 Cadillac.
Wimmer brought Tibbetts a bouquet of flowers in her favorite color — purple. "I saw the post and I thought, 'I don't see why not,'" she said.
"We are so thankful they did this for her," said Tibbetts' niece, Janeen Gobel. She said the community support was "just amazing."
"It just shows the positive value of social media," said Tibbetts' nephew, Hal Silliman.
He said one of the earliest memories he had of his aunt was the time she purchased a white 1964 Mercury Comet. "She was sitting behind the wheel going so fast, zipping through the streets yelling yippee."
"Did you go fast," he asked his aunt when she stepped out of Triesch's Cadillac. "Yes," she responded.
"I've been looking forward to doing this," Triesch said. "I saw it and thought, 'Wow, that's neat.' Then, 'Wait I think I have a gold Cadillac.'"
The gold Coupe Deville originally belonged to a good friend. Headed for Germany, he left the car with Triesch to sell.
Triesch said he was glad he could get good use out of the car before it sold. He said he couldn't wait to send his friend a picture of Tibbetts riding in it.