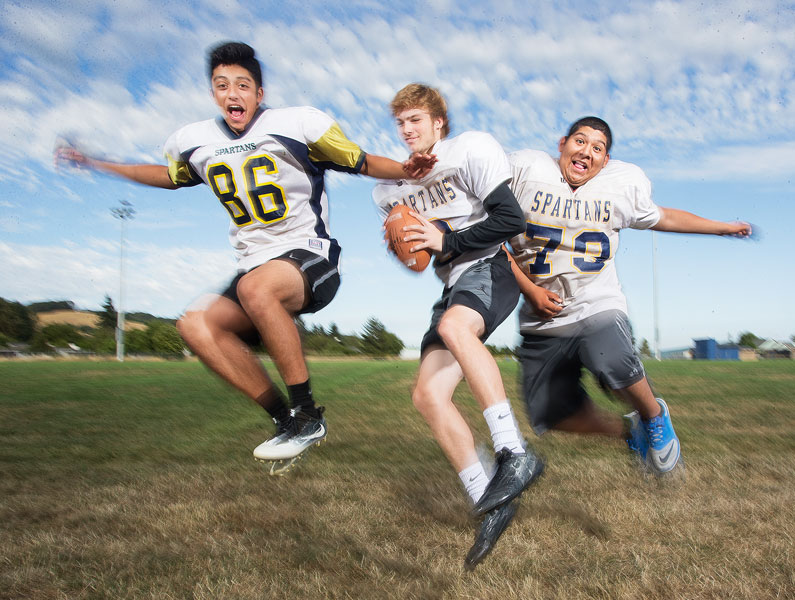 STEPPING UP in Sheridan!
SHERIDAN – One glance at Sheridan's football training camp and you'll see players consistently stepping up and rising to the expectations of new head coach Jacob Peterson.
It's been the prevailing theme during his inaugural season, and one in which he couldn't be more pleased.
"It goes beyond just our seniors stepping up, or some of our other leaders stepping up," noted Peterson. "When I took over this program, they told me I wouldn't get anyone in the weight room during the summer. I was told I might get three guys. I averaged 24 kids in the weight room all offseason; that's commitment all around, it's kids wanting to be successive and buying into what we're saying.
"They know it's not about the 'me,' it's about the team," he added.
Team-wide improvements typically would be difficult to achieve for a program with a combined six wins over the past three seasons. However, three specific Spartan leaders reflect the group's drastic, encouraging and desperately needed mentality change.
First up: offensive line stalwart David Olvera.
The senior guard anchors a bruising front five, which also features a pair of giants in 6'5" Brock Lux and 6'3" Jacob Jackman.
"We have the pieces and we have the dedication and drive to be a really good offensive line. We all like each other, and that helps us understand how hard we need to play to match one another's pace," noted Olvera.
Referring to the offense as a whole, Olvera said, "We can achieve a lot this year. Compared to my sophomore year, when I first started playing, I see a lot more talent and dedication. I see people who are willing to put in the work. There are no egos to impede us from being the best we can."
Peterson appreciates Olvera's pragmatic attitude and management of the O-line, saying, "He's the unspoken leader of the line; guys rally off of him. He buckles down every day. When things start to get loose, David gets everyone squared back up. It's nice having a senior like that who is willing to step up and take charge."
Olvera and the twin behemoths of Jackman and Lux will protect second-year starting quarterback Jake DeBoff. The junior shot-caller adds an extremely desirable personality to the position, according to Peterson.
"Jake has really stepped up as a leader in this offense. We're putting in a whole new system, a whole new philosophy, a whole new mentality, and it all stems from him. He's learned it quick, and he's directing people around; that's really what I like to see from him.
"He's going to be a pillar for us," he predicted.
DeBoff credits Peterson with his rapid ascension as a commander of the offense.
"With Coach Peterson coming in, he put me in the spots to be a leader. Knowing I wanted to be leader, he showed me the right ways to do that," said DeBoff.
DeBoff regards Peterson's fresh offensive play calling as critical to his development.
"I'm not going to be hit as much with our new offensive line schemes. I'm also going to be out of the pocket more, which allows me more time to get rid of the ball," he noted.
Once DeBoff escapes the pocket and slings the ball downfield, he'll target one of the premier receiving threats in the West Valley League: Chris Savoldi.
"Savoldi is 6'2", not many corners in this league can match-up to him in that regard. We want to take advantage of skills that create immediate threats out on the field, and that's especially true with Chris; I can't teach size," noted Peterson.
Savoldi, a junior and honorable mention all-league selection last season, epitomizes the fresh unselfish attitude of the Spartans. His outlook becomes especially impressive when considering his wide out position, which routinely reflects egocentricity.
"I'm putting the team ahead of my individual stats," said Savoldi. "That was a big problem last year, I felt like the majority of the time I got selfish when I didn't get the ball. Now, I realize making a block 30 yards downfield is more important for the team. I understand my role now."
Partnering with Savoldi to present a lethal triumvirate are wide receiver Joey Daniel and running back Tommy Dawson. The three represent talented options for DeBoff, and could lead to a career year for the QB.
Other offensive notables for Sheridan include speedster Josh Rogers, who becomes an all-around weapon this season, Wyatt Schultz, who'll receive a bevy of carries as a sophomore tail back, and Kaden Eggerts, the team's "Swiss Army knife," according to Peterson.
Regarding the defense, Peterson quickly pointed out the advancement of senior defensive end Angel Arenas.
"(Angel) is a guy who wants to be good, especially on the defensive line where he has stepped up. He's doing what we're asking of him, and I expect him to anchor the line," said Peterson.
A new 4-4 defensive set with a versatile group of defenders makes Peterson optimistic about improvement over last season's defense, which yielded 43 points per game.
Additional defensive playmakers include sophomore defensive tackle Brandon Ashlock and defensive lineman Riley Dearth.
Peterson expects his squad's new belief to help them challenge any Class 3A team in Oregon.
"This team is hungry. They are feeling confident right now, which is our biggest advantage right now. Other teams may overlook us, but they won't be ready for a Sheridan team that's this hungry," promised Peterson.
As Spartans continue rising to the competition of the West Valley League, expect a resurgence in Sheridan football.