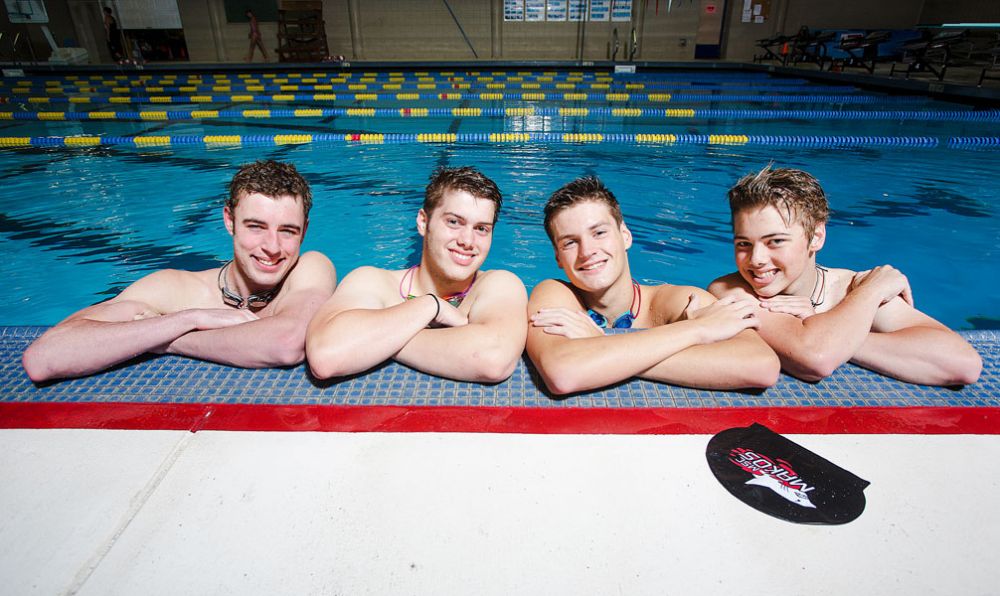 Sutton, Burres, Harris, Burres take on West Coast elite
Winning has no shortcuts.
Regardless of the sport, training entails long, gruesome workouts. Swimming may represent one of the lonelier journeys for athletics – unless supported by teammates. The four amigos, Garrett Sutton, Hunter Harris, Levi Burres, and Noah Burres discovered that difference while spending the summer preparing for the Arena Western Zone Senior Championships in Clovis, California.
The meet this week features competition from upward of 1,100 swimmers, with competitors hoping for the ultimate time in their events. Doing well qualifies them for Junior Nationals, also one of the first steps toward earning a DI scholarship.
Notes Hunter Harris, who will swim the butterfly and freestyle, "I've trained with a lot of different clubs. It's always nice to be back with our home club, training, working hard with my friends.
"Training with the home club is really the best way to train. Really, over the summer we feel more like a team. It's more one-on-one. We can swim together. I think the unity between us is better – and going into this meet that is really important, especially since we are going to be doing relays together – having that sense of unity is going to be very important. " he said.
For Harris and Burres, captains for the high school team in the coming year, this meet serves as a springboard for their efforts next season. They have high expectations for the team.
Though the meet in Clovis matters to each individually, as seniors and team captains, there remains a certain assumption to lead by example. Harris adds, "As the older guys – and faster guys on the team we have to motivate the younger guys to get them to state. If we are doing the sets correctly, getting our yards in, having a good attitude, then those around you are going to work harder and the team will be better as a whole."
Additionally, this meet, competing against some of the best swimmers on the West Coast, allows each member the opportunity to set a personal best in their individual and relay events.
However, with all due respect for personal bests, each swimmer actually focues on the podium's top rung.
Burres, who swims butterfly and breaststroke, called the meet an opportunity for him to achieve a Junior Nationals qualifying time in the 100-meter breaststroke – which means he must break 1:06.
But Levi, who finished second last year and currently the number-two ranked swimmer in the breaststroke, added, "No (a fast time is not the only thing), I want to get first place."
Lone junior of the four amigos is brother Noah, a distance freestyler, who will see action in the relays. Working out with the three seniors allowed him the opportunity to improve his stroke.
Sutton, a freestyle sprinter, witnessed his stroke improve dramatically over the last four months. Once a thrasher, now a smooth shark, he makes every stroke with purpose and economy.
"Earlier I swam more like a water polo player. But I went to a camp in Colorado and they really helped me to smooth out my stroke," he said.
While Sutton, as well, desires a personal best qualifying him for Junior Nationals, he also concentrates on a podium finish, noting, "The main thing is to place pretty good."
Pretty good – the understated swimmer talk for gold medal performance.