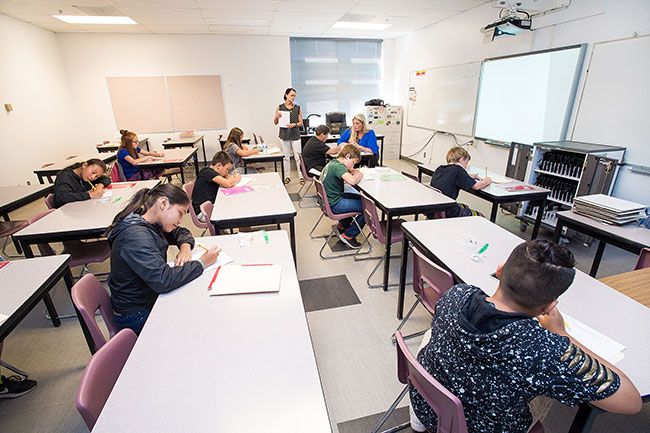 Refurbished rooms open for summer school
Of the News-Register
Sixth- through eighth-graders were so focused on math and reading as summer school opened Monday at Duniway Middle School that they may not have noticed the paint, flooring and color scheme.
But Principal Hilary Brittan-Lack and Summer School Coordinator Christy Werst couldn't stop celebrating the improvements.
"It's so cheery up here," Werst said of the hallways, where blond wood-grain tile and pale walls were set off with bold purple wainscoting.
"It's such a positive feeling," Brittan-Lack added, noting the light and dark gray linen-pattern floor tiles in classrooms will hide dirt as well as be easy to clean and long-lasting.
Construction crews worked hard to complete the classrooms and hallways on Duniway's second floor in time for the three-week summer school session.
"They've done a phenomenal job getting it ready," the principal said. "They've been thoughtful about keeping noise down in the areas where educational staff is working."
Crews are still finishing installation of new composite roofing in the gyms, replacement of the cooling tower, new flooring and lighting on the main level, and application of new paint throughout.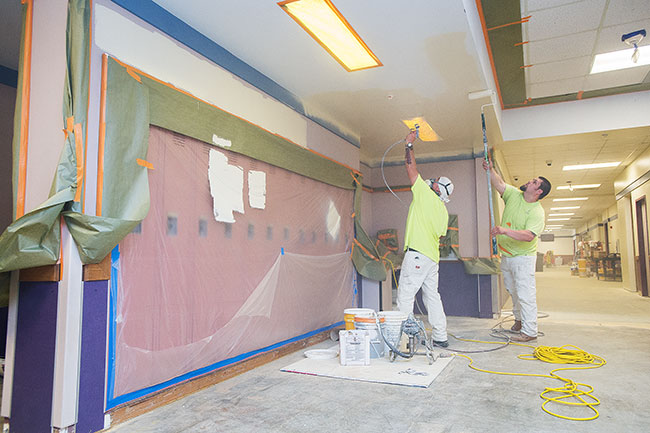 Brittan-Lack said she's especially happy about the new LED lighting outside the main entrance.
Not only is it more energy efficient, it is also much brighter. That will improve safety and make it easier for people arriving for evening events to see where they are walking.
Ryan Ward, project supervisor for CBC Construction, said the work is on schedule. Crews should be finished by mid-August — in time for movers to replace books and furniture now stored in other parts of the school.
Construction is also underway at a dozen other places around the district. But Duniway is the first school to put newly refurbished classrooms into use.
Projects scheduled for completion soon include Baker Field, which will reopen this month for sports practice and walking, but still needs restrooms and storage. On the other side of Mac High, workers expect to finish the new career technical center, fieldhouse and expanded cafeteria in time for the return of students in September.
Duniway is one of several schools hosting summer programs this month. About 80 students are participating, including incoming sixth-graders.
Teacher Brett Landman said his students are reviewing math facts, learning multiplication and other skills. Summer classes will make them better prepared for fall classes, he said, which will build their confidence.