Y-C graduates look to the future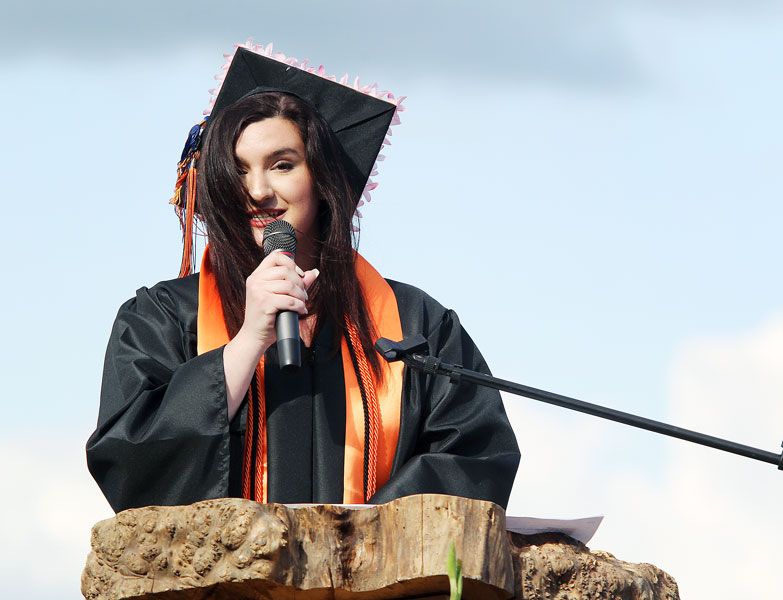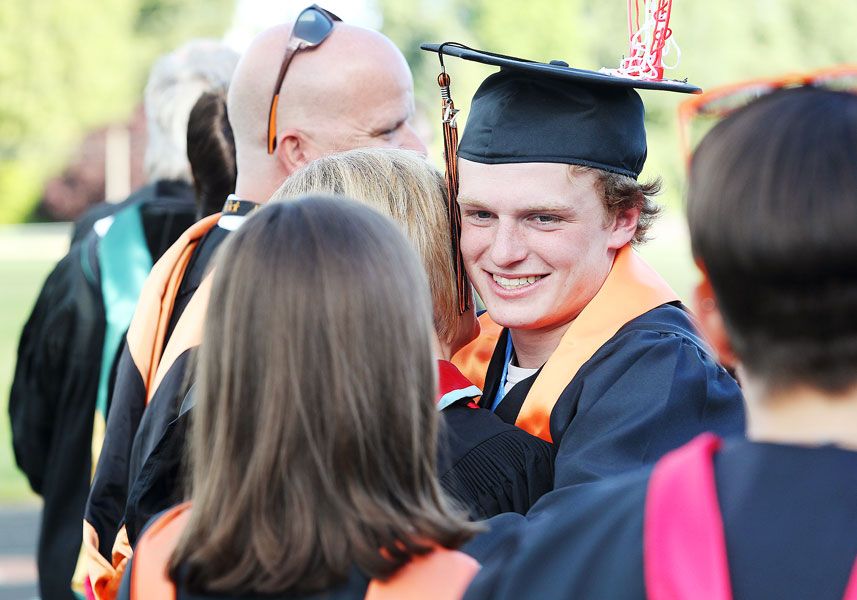 YAMHILL -- Members of Yamhill-Carlton High School's 117th graduating class celebrated their accomplishments and looked toward the future during ceremonies Sunday afternoon.
"What will the future hold?" Superintendent Charan Cline asked as he welcomed the commencement crowd.
The new graduates are launching into the ever-changing world with "excitement, ambition and hope," he said. And he's confident Y-C High has prepared them for that journey.
"Advisory mom" Renee McKinney, an English teacher, also focused on the future in her commencement address. "You're constantly creating a new future," she told the students she'd met as freshmen.
"Use the lessons you've learned to discover who you are," McKinney said. "Chase the right thing. Be devoted to loving others. Create your own purpose and meaning. Continue to wonder."
Emily Lockhart, co-valedictorian with Indiana Olson, described the memories shared by the Class of 2017. She thanked parents and teachers — in particular, Michael Buehler, who gave her a B in intermediate school, inspiring her to focus harder on her studies in order to earn a 4.0 grade point average in high school.
Emily advised her classmates to "live with no regrets, make new friends and remember the old ones, and strive to be happy."
Salutatorians Ellen Smith and Eldyn Long also spoke.
Ellen issued a challenge to her classmates, asking them to "go forward confidently and take chances in life" while enjoying the little things along the way. Eldyn also issued a challenge, daring them to "live life to the fullest, never forget how to have a good time, give everything your best effort and never stop daring ... never be afraid to fail."
Principal Greg Neuman brought down the house when he described the age in which members of the Class of 2017 started out. They are the last Y-C grads born before the turn of the century, he noted.
He remembered catch phrases of the '90s, such as "boo-ya," "talk to the hand" and "open a can of ...." and popular performers from the time, such as Vanilla Ice and a variety of boy bands. Truly, he said, the Class of 2017 is the best group to come out of that decade.
"Go forth. You are truly capable of greatness," the principal said.
Matt Wiles, vice principal and athletic director, congratulated the class, but issued some warnings, too. He advised the new graduates to "stay the course and be true to yourself ... don't be distracted by external influences."
Specifically, he told them to take selfies only if they "pass the grandmother test;" read books; quit starting sentences with "literally;" and remember all those who have motivated and supported then.
In addition, he said, they shouldn't worry about new apps for their phones. "The only apps you should be concerned with are college apps and job apps," he said, drawing applause from the crowd.
"Hashtag Wiles speaks the truth," he quipped.
The graduation had its serious moments, as well. The crowd observed a moment of silence for two members of the class who died before graduating, John Miller and Angelina Williams.
Audience members stood respectfully as Amanda Ransom, a sophomore, sang the National Anthem. As the song ended, they burst into prolonged applause.
As each graduate's name was called, he or she stepped up to receive a diploma, shook hands with administrators and school board members, and walked over to have a picture taken.
Christopher Martinez opened his diploma folder so the important document would show in the photo.
Only a couple hours earlier, Chris had raced onto the campus to join his classmates in their black robes with orange sashes.
"I feel really ready to graduate," he said. "Finally. It's time to cross this milestone."
Chris, who said he's always had a passion for science, will major in biology at the University of Oregon this fall, with the goal of becoming a paleontologist. He feels ready, he said. "We had cool science teachers at Y-C."
Jim Brey and his wife arrived about the same time as Chris. They wanted to find good seats so they would have a clear view of their son, Braden.
Braden will be heading to Corvallis in the fall. He plans to dual enroll at Linn-Benton Commuty College and Oregon State University, the school his parents both attended.
He lettered in football and baseball at Y-C High and loves to snowboard, his dad said. He works at Fruithill Farms.
"Braden is a good kid," his dad said. "He has lots of friends."
Danielle Bonacorso arrived early, too. She wanted to see her namesake nephew, Daniel Miller, her sister's son.
"He's into basketball and he's good at math," she said. "And he's so sweet and sarcastic and funny. He's a good guy."
Daniel hasn't quite decided what to do next, although he's considering culinary school, his aunt said.
As the ceremony began, Daniel, Braden, Chris and other graduates-to-be marched into the stadium, girls from the north, boys from the south. They paired up in the center for the walk to their seats on the football field.
Audrey Hawkins watched for her youngest grandchild, Megan.
Megan, daughter of Jody and Debbie Hawkins, made the first team, all-state in softball at Y-C and worked after school at Argyle Winery. She plans to attend Chemeketa Community College with the idea of becoming a dental assistant.
"Megan is a good girl," Hawkins said.
Her son, Megan's dad, added, "She's happy-go-lucky. We're really proud of her."
Many students had decorated their mortarboards with glitter, beads, college logos or other personal items. Wyatt Garrisan, for instance, wore a basketball hoop on his hat. Devin Chitwood added the Volkswagen logo to his.
Hunter Horne taped one of his shoes on top, walking with only his sock on his left foot. Savanna Montgomery made her cap glitter.
Campbell Covington Smith outlined her mortarboard with pearl beads, with "Bloom with Grace" inscribed in the center.
As the graduating seniors entered, audience members clapped and called out. "I love you Derek!" a man yelled as the grauates entered. "2017!" someone cried. "Whooo!" went many others.
"There he is!" shouted Debbie Dutton, spotting her grandson, Christopher Stubbs.
A few minutes earlier, as she waited in the stands, her phone pinged with a text message a few minutes before graduation was due to start.
"Come to the cafeteria," read the message from her grandson. He wanted to hug his grandmother one more time before receiving his diploma.
After returning to her seat with a few new photos of Christopher in his graduation gown, Dutton said she's excited to be at his commencement. He's the first member on his dad's side of the family to graduate, she said.
"He loves Y-C High. He's thrived here," she said. "I'm very proud of how he's turned out."