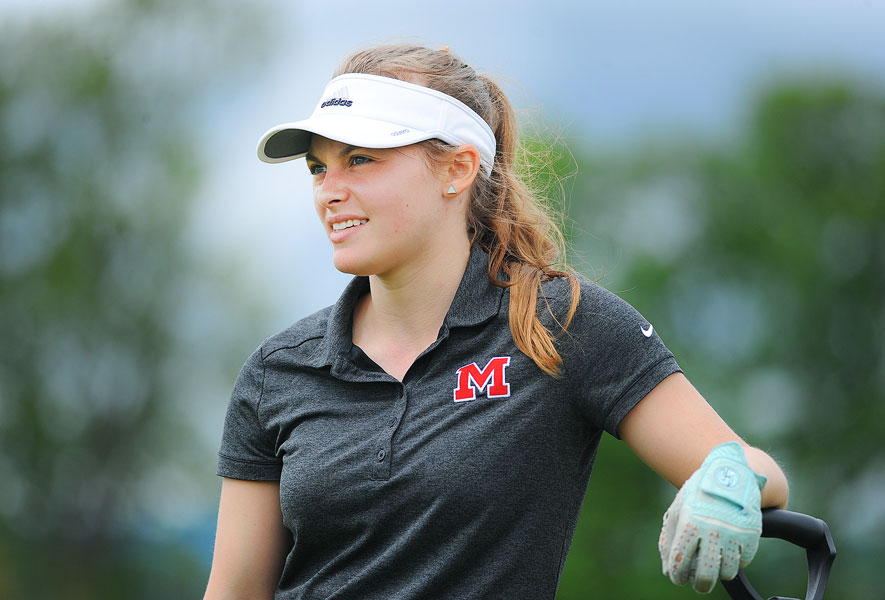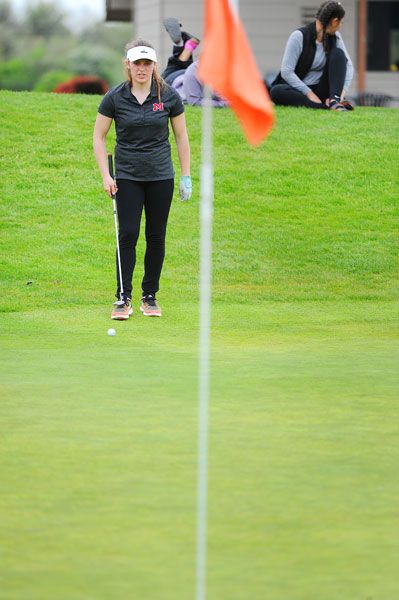 Frosh Remmick seeks to break 100, qualify for state
Every golfer dreams of breaking 100 (strokes) for an 18-hole round of golf. McMinnville freshman Frances Remmick is no different. After shooting a pair of 101s at Trysting Tree Golf Club last week, Monday at Emerald Valley Golf Club (near Creswell) she pursued the elusive goal, and a chance to qualify for the state tournament the following week.
Remmick knows she must play her best on the Emerald Valley Course to meet her goal and qualify for the state tournament on the same course the following week – but the heady freshman says, "I like a challenge. I've grown up loving challenges. Golf challenges you every stroke, but I am excited to see what will come my way."
Remmick will most certainly have her golf skills challenged at the Emerald Valley Course, another notch in difficulty above Trysting Tree. She will compete against a group of talented girls, most older with more experience, all aspiring for the state tournament.
Jeremy Vernon, her coach, noted, "Frances has made steady improvement all season, and had two excellent rounds at our district tournament, but to qualify for state she will need to find that extra something on a pretty tough course.
"She had a sniff at success at the district meet, and we'll have to see if that can carry her to the next step," he said.
Remmick began playing at 12, crediting her mom for introducing her to the game. She took a few lessons and said, "Everything just clicked for me. The pro told me I was good – and it was also a fun activity with the family."
She attended a clinic at Bayou Golf Course and through that experience began playing in junior tournaments, starting in 2013 with the Erling Jacobsen Tour. But the pace of tournament golf overwhelmed her. By 2014, she was ready for break.
Last summer, however, she rekindled her golfing passion by, among other things, volunteering to assist with teaching younger golfers at the junior program at Michelbook.
In her eighth grade year, she met Vernon, who told her, "I can't wait for you to get to high school and join the team."
Remmick found playing with the team more to her liking, as the team has been there for her support, through the ups and downs of the season. She adds, "I'm hanging out with people my age who like to play golf."
She felt surprised by how nervous she became when she teed up for the first round of the district tournament at Trysting Tree, and even more astonished when she was announced as an individual qualifier for the regional tournament.
Her first call, after learning of the qualification, was to her mom, of course.
Remmick, however, notes, "I was more focused at the district tournament. It was different than other tournaments. While I had fun with the other girls on the course – at district and at regionals – I am representing the school."
Remmick credits the strength of her game with her driving, which she says is usually 200 yards – and on good days slightly longer. She has spent the time prior to challenge at Emerald Valley working on her chipping, where she hopes to see improvement.
"Over the year, I've seen my putting improve – and the first thing I do when we get to course is go straight to the putting green," she said.
Thanks to her grandmother, with whom she always shares her scores, Remmick realizes the importance of her short game, and particularly putting.
"When I talk to my grandma about my games and share my scores, she always reminds me, 'Drive for show, putt for dough,'" she says with a smile.
Remmick will carry Grandma's advice with her in her quest to make the state tourney – and break 100.