McMinnville pursuit reaches 80 mph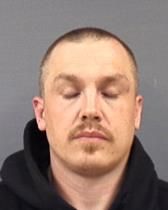 A Salem man was arrested late Tuesday night after leading McMinnville police on a pursuit that reached speeds of 80 mph and ended with the vehicle being driven into a ditch.
Jake Russell Griffin, 35, was arraigned Wedneday before Judge Cynthia Easterday on two counts of attempt to elude a police officer and one count each of driving while suspended, reckless driving and recklessly endangering another person. He was also wanted out of Polk County.
One of the elude charges is a Class C felony. The other charges are Class A misdemeanors.
Officer Chris Powell Powell gave this account in a probable cause affidavit:
About 11 p.m., he attempted to stop a 1995 Isuzu Rodeo SUV for having only one license plate. The vehicle pulled into the Carl's Jr. parking lot at 1285 S.W. Booth Bend Road. After momentarily stopping, the vehicle sped off.
Powell initiated a pursuit which lasted about six miles within the city limits. The vehicle drove over spike strips laid down by an assisting officer which flattened both right side tires. The vehicle continued to drive on rims.
During the pursuit, the vehicle drove into the oncoming lane, blew through stop signs and traffic signals and dangerously passed numerous vehicles.
When the vehicle lost control and drove into a ditch on Southwest Hill Road near Alexandria Street, the driver, identified as Griffin, and his girlfriend, Jessica Lynette Rich, 35, of Salem, fled on foot but were quickly taken into custody.
Griffin is lodged in the Yamhill County Jail on $70,000 bail. He will next appear in circuit court at 1:30 p.m. Wednesday, May 10 for an arraignment on a grand jury indictment.
He failed to appear for a drug court hearing related to a Polk County case earlier this year in which he was charged with one count each of attempt to elude, felon in possession of a firearm, reckless driving, recklessly endangering and unauthorized use of a motor vehicle. The charges are a mix of Class C felonies and Class A misdemeanors.
Griffin also failed to appear Tuesday morning for arraignment on a Marion County charge of possession of a controlled substance/methamphetamine, a Class C felony.
He failed to appear in Marion County on a charge of unauthorized use of a motor vehicle.
Rich was taken into custody and lodged without bail on a Marion County hold. She failed to appear on a charge of unauthorized use of a motor vehicle.