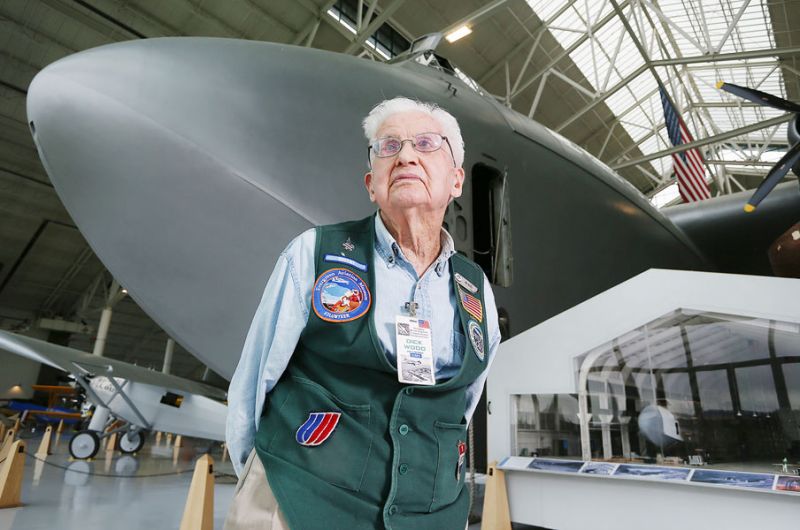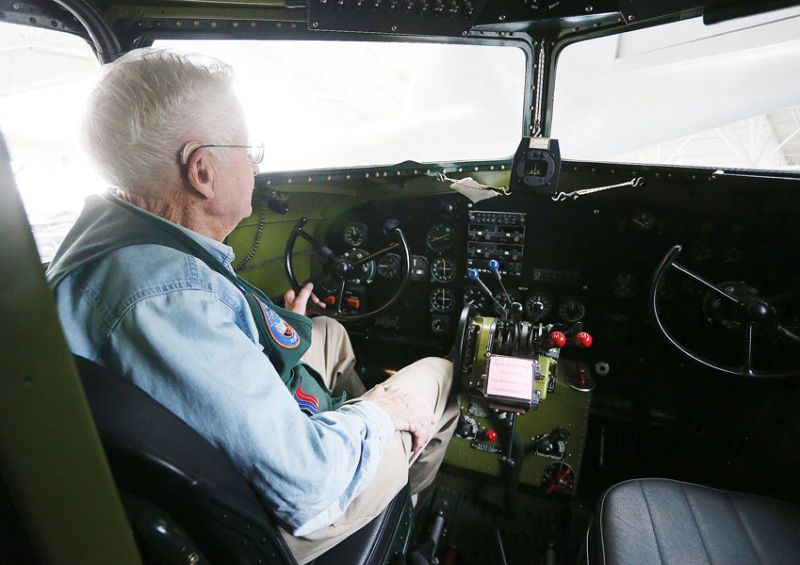 Stopping By: Landing in the right place
The future airline mechanic, private pilot and aviation museum docent was even born in the right place — the aviation-minded town of Dayton, Ohio. His childhood home was on West Second Street, just a block over from the Third Street home of the Wright Brothers.
Wilbur Wright died in 1912, nine years after the Wright brothers completed the first flight of a powered, controlled airplane. But Orville was still alive, and inventing, when Wood was born in 1920.
Volunteering leads to friendships
As a youngster, Wood liked to pedal his bike over to Orville Wright's house. He'd wait at the end of the driveway, hoping to catch a glimpse of his aviation hero coming or going.
He enjoyed watching planes, too. Sometimes he and his brother, six years older, walked five miles to the airport south of their house. They'd sit and watch the Curtis JN4Ds, nicknamed "Jennys," produced for the government as training planes during World War I.
"This is the plane that ignited my interest," Wood said, holding up a photo of one of those Jennys on the field at his childhood airport. "So noisy! They had V-8 engines with no muffler."
With aviation booming after the war, Wood said, many pilots bought surplus Jennys. They used them for barnstorming — flying from one farm to the next to offer rides to wide-eyed youngsters and their adult chaperones.
Charles Lindbergh was one of the early barnstormers. He later used his Jenny for delivering airmail.
In 1927, he flew another plane, the Spirit of St. Louis, on the world's first non-stop, solo, trans-Atlantic flight.
The Ryan company built the Spirit of St. Louis. As a young mechanic, Wood was again in the right place: He worked at Ryan Aircraft Corp.
In high school, Wood already knew he wanted to be an aircraft mechanic. He prepared himself by taking math, physics, drafting, welding and metal shop.
After graduation, he headed for California to enroll in a master mechanics course at the Ryan School of Aviation. He earned his aircraft mechanic license in a year, qualifying him to work on planes and their engines.
Over the years, he continued his education by enrolling in night classes, studying subjects related to his career and those that just interested him, too. All told, he completed the equivalent of at least two years of college, he said.
But after getting his license, the young mechanic's first job was in Ryan's factory. He helped build wings for planes ordered by the government in the build-up to World War II, such as PT-22 trainers.
Wood was in the right place when a United Airlines recruiter came calling.
He and six other Ryan graduates were hired to join United's crew at its main maintenance base in Cheyenne, Wyoming. A group photo taken on their first day there — July 7, 1940 — shows 20-year-old Dick with jet black hair and a confident grin.
New hires had to apprentice under master mechanics specializing in certain areas, such as radios, hydraulics or engines.
But Wood didn't want to do the same thing all the time. He wanted to be able to repair everything. So he spent a few weeks in one specialty area, then a few weeks in another.
After 13 months in Cheyenne, he accepted a transfer to the Burbank Airport, which then was the main airfield for Los Angeles. "I didn't want to go through another Wyoming winter," he said.
With the transfer came the chance to repair any problem that turned up, just as his varied apprenticeship had prepared him to do.
Mechanics deal with all sorts of problems, from flat tires to oil leaks. For every 2,000 hours a piston plane flew, a complete overhaul was needed. Today's jets need overhauls every 6,000 to 7,000 hours.
When United moved its main repair base from Wyoming to San Francisco, Wood transferred to the Bay Area as a lead mechanic in charge of a crew.
The move took him to the right place. In San Francisco, he met his future wife, Helen.
They talked and talked during a young people's hayride into the hills near the Bay in August 1942. By November, they were engaged; by January, they were married.
Over the years, his job with the airline gave them a chance to travel all over the U.S. They also went to England, France, Sweden and Denmark, where "her relatives treated us like royalty."
While working in Burbank, well before he met Helen, Wood had dated a girl from Santa Barbara.
That led him to be in the wrong place for once, but luckily an hour or two early, when the Japanese shelled the California coast during World War II.
He took his date to Goleta Beach that Feb. 23. "I'd better get you home," he told her as darkness fell.
He drove her back to her house in Santa Barbara, said goodnight, then checked into a hotel.
The next morning, when he picked up the newspaper, "The big black headline read, 'Japanese Sub Shells California Coast,'" he recalled. The attack happened yards from where he and his date had been strolling.
As an aircraft mechanic, Wood was definitely part of the war effort. He and his coworkers at United spent a great deal of time working on military aircraft, as well as commercial planes.
Their job was essential to keeping planes safely airborne.
He was even sent to Hickam Air Force Base in Honolulu to fix planes there. He was already married by then, but since he had to bunk on base, he was forced to leave his wife in San Francisco.
By the next time he was sent to Hawaii, the war had ended.
United was starting commercial flights to the Islands, and the company needed a mechanic there. Helen and their first daughter went along with him.
Three years later, when they returned to San Francisco, they had a second daughter with them.
Daughter Carol Shaw now lives in McMinnville. Daughter Nancy Swanson lives in California.
Wood always loved to fly, as well as to repair planes.
He knew he could never be a commercial pilot, since he's worn glasses since he was young. But he did earn a private pilot's license.
He has flown 44 different types of aircraft, including two light planes of his own and some big planes, thanks to his job as a mechanic.
He often had the chance to go on test flights, he said. With no passengers on board, pilots sometimes let him sit in the co-pilot's seat andtake the controls for a while. He was always delighted by the opportunity to fly DC-3s, Convair 340s and other propeller-driven airliners.
He didn't fly any jets, but he did learn to repair them.
"United sent me to school, a lot of classroom work, then using a simulator," he said. "I got very enthusiastic," he said, as he and other mechanics learned everything from "how to start the engine to how to put out fires."
Since jet planes like the Boeing 247 and the DC-8 were new technology then, many passengers were wary. To educate the public, Wood became part of a crew that made presentations about jets in cities across the U.S.
Using a cutaway model of a jet engine, he explained how the new technology worked and how fast and safe it was compared to piston engines. "My job was to get them to be jet-minded," he said.
Wood spent the last 18 of his 41 years with United in Medford, working as a passenger agent. He helped people plan tours and choose the right flights.
He enjoyed working with customers, he said. One thing was a little frustrating, though.
Medford did not have a repair department, so when a plane needed attention there, he had to send for a mechanic from Portland or San Francisco.
He was an experienced, qualified mechanic, of course, and he could have solved most of the problems himself. But as a passenger agent, he was no longer a member of the mechanics' union, so had to wait for a repairman like everyone else.
He'd been on the other side of that coin years earlier. "If a plane broke down somewhere, I'd have to get my toolbox and go," he said.
"Once I changed an engine outdoors on a winter day, with just a stepladder." He didn't have the benefit of an overhead lift or work platform, let alone a hangar.
About a decade after he retired, he and Helen decided to move to McMinnville to be closer to their daughter. They relocated in January 1993, the same month they celebrated their 50th anniversary.
Wood and his wife realized they were in the right place soon after they moved to McMinnville.
The Spruce Goose was coming.
The Woods drove to Portland for the celebration as sections of the HK-1 Flying Boat were floated down the Willamette River on barges. They viewed the fuselage and wings at their temporary landing spot near Dayton. They watched the parade as pieces were trucked along Highway 18 to the Evergreen buildings near McMinnville Municipal Airport.
Helen Wood encouraged her husband to become a restoration volunteer. He happily joined other volunteers working to get the Goose ready for reassembly.
Finally, after the sections were transported across the highway to the new museum, he and the rest of the crew helped put the pieces together to restore the huge plane to its original magnificence.
With the Goose complete, Wood turned from restoration work to other duties, such as building a stand for an engine display or cleaning up the rowboat built from wood leftover from the HK-1.
Today he's one of the volunteers who tell visitors about the partnership between aviator Howard Hughes and shipbuilder Henry Kaiser, which led to construction of the flying boat.
It was designed to carry men and equipment across the ocean to join the fighting in WWII. A flying boat, Hughes and Kaiser figured, could cross the Atlantic in about 14 hours, rather than the seven to 10 days it took a troop ship.
It would be much less vulnerable to German submarines, as well. "It's hard to torpedo a plane," Wood quipped.
The government gave the go-ahead for three flying boats. But aluminum was already designated for other war-related purposes, so the project had to use wood — birch actually, rather than the rhyming but inaccurate "spruce" of the plane's nickname.
Only one of the big planes — Evergreen's centerpiece — had been built by the time the war ended.
Critics said it would never fly. But Hughes himself surprised everyone by revving up the engines and lifting off during a taxi run in Long Beach harbor on Nov. 2, 1947.
As the 70th anniversary of that flight approaches, Wood relishes spending Thursdays in the Goose. He gives tours of the flight deck, where visitors can get their photo taken sitting in Hughes' seat.
Wood pointed out the remote technology that allows a photographer high up in the flying boat to send a digital image to the museum gift shop. By the time the visitor climbs out of the pilot's seat, exits the plane and walks across to the shop, the photo is ready.
On the day Hughes flew the Goose, such technology was the stuff of science fiction. "Amazing," Wood said, happy to be in the right place to see it come true.
Starla Pointer has been writing the weekly "Stopping By" column since 1996. Contact her at 503-687-1263 or spointer@newsregister.com.
---
Volunteering leads to friendships
"We always need more volunteers," he said, suggesting those who are interested go to the website www.evergreenmuseum.org/volunteer for applications and additional information.
"It's a wonderful way to spend one day a week."
Wood said it's a good place to make friends as well.
One of the friends he met at the museum was Jack Schlemer, a former pilot who died last year. The men bonded beside Evergreen's DC-3.
Schlemer piloted United Airlines DC-3s on short hops up and down the length of California, and over to Catalina Island, in the 1950s. Later, the World War II veteran flew coast-to-coast in other aircraft.
Wood repaired DC-3s during a long career as a United mechanic. He worked at the Burbank Airport in the early 1940s, and at United's repair hubs in Cheyenne, Wyoming, and San Francisco.
When they saw the DC-3 at Evergreen, the two docents immediately recalled the days when passenger flight was becoming a regular part of travel. When they took a second look at the DC-3, they realized it was not just the type of plane they'd both worked with, it was the plane.
Schlemer examined his log books, in which he noted every takeoff and landing. There it was — DC-3 No. NC16070.
Wood had the same number in his records.
"This one was United's first DC-3," he said. "They liked it so much, they bought more. Eventually, they had 75. It's still a good airplane."
Half a century later, all three of them ended up in McMinnville — the plane, the pilot and the mechanic.
- Starla Pointer