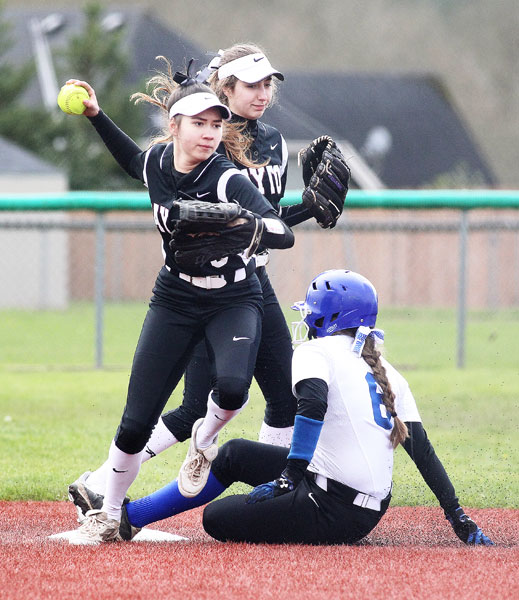 Dayton pounds Cavaliers for doubleheader win
DAYTON – It's safe to say Ani Heidt is fitting right in with her new teammates on the Dayton softball team. The junior McMinnville transfer is enjoying a breakout season as a member of the Pirates, and her recent exhibition in Tuesday's double-header against Blanchet Catholic, in which Dayton won 11-1 and 6-2, promises greater success on the horizon.
Reflecting on her move to the small 3A school, Heidt said, "It's been a great transition. Everyone here has made me feel so welcome and all of the players have been very accepting."
Pirate head coach Rob Umbenhower appreciates the versatility of the newcomer.
"Ani and Haley (Couch) are both quality pitchers, so having Ani here is a big luxury. She definitely filled a need by coming here as a pitcher, but she is also very positive and brings a big bat to our lineup," said Umbenhower.
Heidt counts Umbenhower's initial belief in her skills as a primary reason for her seamless transition.
"He's a legend here; an amazing coach. From the very beginning, he made it clear how he wanted to use me on this team and made me feel really good. He's been great to me, and to the rest of the team with his focus," noted Heidt.
In the opener, Heidt started in center field while fellow ace, Couch, received the starting nod. Heidt helped stake the Pirates to an early 2-0 lead in the first inning when she drove in Couch with a sharply-hit single.
Dayton tacked on another run in the second, as Gabby Shadden RBI groundout made it a 3-0 margin.
Heidt commanded the spotlight in the final three frames. She hit a double in each of the third, fourth and fifth innings to blow the contest wide open. Her punishing approach at the plate resulted in a 4-4 day with four RBI, more than enough support to back Couch's one-run pitching performance as Dayton captured game number one, 11-1.
"I was seeing the ball really well in that first game," said Heidt. "We've been focusing a lot on fundamentals in practice, and that really paid off today. There is always room for improvement, but I think I picked up the ball well."
Umbenhower called on Heidt to toe the rubber in the nightcap; she didn't disappoint. She cruised through the first three innings, striking out four Cavaliers.
Heidt encountered trouble in the fourth, relinquishing two runs (one earned) on two hits. However, over the final three frames, she posted zeroes across the board.
At the plate, she continued her torrid pace initiated in the first game. After a first inning strikeout, Heidt collected a single and a run in the fourth and slugged her fourth double of the day in the bottom of the fifth. Her final two-bagger highlighted a three-run inning for the home team, and Blanchet Catholic couldn't mount a late comeback, handing Dayton the 6-2 victory and the two-game sweep.
"I left some pitches hanging (in the fourth); I struggled with my spin a little bit," explained Heidt. "The rest of the game I got lots of spin and they hit into more groundballs."
Other notable performances for the Pirates included Kylee Hill's combined 1-4 outing which included a triple, four runs scored, two RBI and two walks.
Dayton (4-0, 0-0 WVL) aims to continue its perfect start as it hosts Irrigon today at noon.