Sheridan firefighters extinguish chimney blaze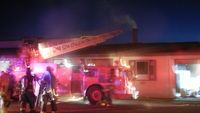 SHERIDAN -- Firefighters extinguished a chimney fire at the Sea Reach building Friday night.
The exhaust system ducts from a paint booth were identified as the source of the fire, a Sheridan Fire Department spokesman said. Flames had not spread outside the duct work, he said.
High temperatures also contributed. Temperatures topped 100 degrees Friday and remained in the 90s as firefighters worked on the Sea Reach blaze.
"Firefighters were being rotated out and hydrated frequently to help combat fatigue and heat-related issues," the spokesman said. One firefighter was transported to Willamette Valley Medical Center for treatment of heat exhaustion.
Twenty-eight firefighters from Sheridan and the West Valley Fire District responded. Other departments covered Sheridan's response area.