Arrest made in connection with vehicle thefts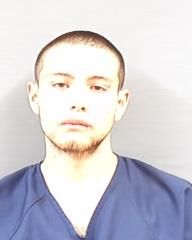 A McMinnville man arrested Thursday in connection with a rash of vehicle break-ins was identified by officers after his ID was found in a coat he dropped while fleeing from a homeowner.
Dustin Scott Castilleja, 22, was charged with four counts of unlawful entry into a motor vehicle, two counts each of second-degree criminal trespass, second-degree theft and third-degree theft, and one count of third-degree criminal mischief. They are all misdemeanors.
He was lodged in the Yamhill County Jail on $46,250 bail, pending arraignment in Yamhill County Circuit Court.
Capt. Tim Symons of the McMinnville police gave this account:
About 3:20 a.m, a resident in the 1100 block of Northwest Wallace Road was alerted to a prowler in the driveway of his home by his barking dog.
When he looked outside he saw an adult male inside a vehicle parked in the driveway. The resident confronted the subject, who fled on foot, dropping the coat and two backpacks.
Officers responded to the area and began searching for the suspect. They found the coat, and with an identification in hand, they went to Castilleja's residence on Southwest Shelton Street.
An officer observed him running toward his home, at which time Castilleja began fleeing through backyards and hopping fences with officers in pursuit.
He eventually returned home and was spotted by officers again, at which time he took off, running through yards and trying to hide in a neighbor's shed, where he was taken into custody.
When officers returned to the Northwest Wallace Road area, they discovered numereous vehicles had been entered. Items Castilleja had in his possession were identified.
It's believed all victims have been identified, but anyone living in the 600-1200 block of Northwest Wallace Road who believes their vehicle was entered and something was taken either Wednesday night or Thursday morning should contact the police at 503-434-7307.