Country roads, take us home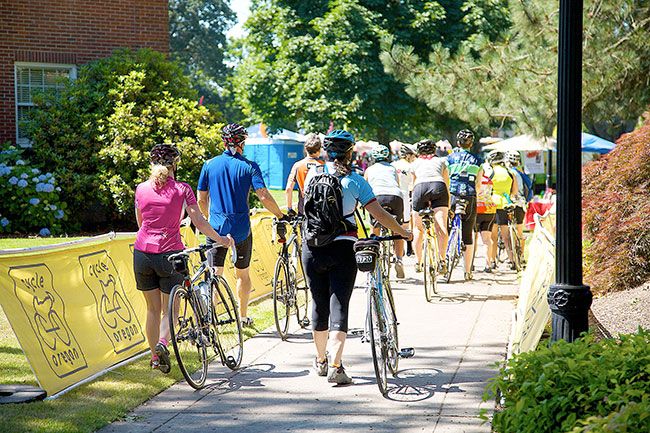 The wonderful part about reporting on Yamhill County affairs is the opportunity to visit as many places in the county as possible. I head out to the high schools, to various ball fields, to the houses and businesses of many welcoming individuals.
But how often do I – anybody, for that matter – really get to see the county? So much occurs away from Highways 18 and 99. Bustling city streets make way for quiet rural roads. It's a question that always irks me: what am I not seeing?
When I learned that Cycle Oregon's weekend ride would travel through Yamhill County and parts of Polk County, I jumped at the chance. It would be an ideal way for me to explore back roads and byways, to see sides of life that we touch on in our publication but could always use refreshment. The routes would take us along some of the far southern, eastern and western reaches of the county, past familiar landmarks and completely new sites.
Of course, to participate in a bicycle event, I needed a bike.
My chariot of choice – by which I mean, borrowed from a family collection – was a Peugeot of some model. (Oui, the French car company also makes bicycles.) No one knows its exact age, but if the Peugeot were a person, it would be able to legally drink. It might be too old to use its parents' insurance. The bike is painted metallic gray with orange letters, but it's still noticeable enough to draw comments and compliments from the occasional rider.
I had trained for Cycle Oregon over a period of time, riding as many as 42 miles in a day and attempting to shed a little weight for purposes of endurance. I squeezed in rides around the neighborhood and ventured out onto back roads whenever I could.
Most importantly, I had someone to lean on for additional advice: my aunt, a veteran of nine Cycle Oregon week-long rides and several other weekend rides. In a mentally challenging event, her advice was valuable. She also assisted me with the general code of conduct for cyclists: how to pass properly, how to be passed, how to signal and how to respond to other situations.
Cycle Oregon took over Linfield College as its base camp, and when we arrived at Dillin Hall for dinner on Friday night, nearly every table was full. Pedestrians traversed up, down and across Linfield Avenue, attending to their bikes and other needs and visiting sponsors' booths. Out-of-area campers had the options of setting up a tent on campus or staying in a Linfield dorm room; tents began to pop up all over the grounds.
As my aunt emphasized, Cycle Oregon is not a race. And most races don't have beer gardens and live music, both of which were set up on Linfield's IM lawn. The atmosphere Friday night resembled a picnic in the park with 2,100 people who just happened to bring along their bikes.
I had one goal along the way: finish. Cyclists had their choice of short, medium and long routes for both days; I was committed to long-long. Nothing to lose, a wealth of knowledge and experience to gain.
DAY ONE
The forecast calls for heat – 95 degrees of it – so my aunt and I leave Linfield at 7 a.m. We're among the first few riders on the course as we move from Davis Street to Second Street to Hill Road.
Along the way, plenty of cyclists point out loose gravel or pass on the left. They call out their action before making it, and I attempt to respond in kind. Some even offer a "Good morning" as they ride along.
Cycle Oregonians are honest, I've learned, sometimes to a fault. A story in our family lore involves my uncle – a former college football player who stands 6-foot-5 – participating in a Cycle Oregon week ride on a bike built for a man six inches shorter. Person after person would pass by my uncle and say, "You're too big for your bike." "You're too big for your bike." On and on and on.
The Tour de France meets Prairie Home Companion, if you will.
A group of us turn onto Latham Road, the site of our first hill of any consequence. The night before, Jay Graves of Bike Gallery, an event sponsor which provided on-site mechanical assistance, examined the Peugeot and gave me advice when climbing the hills. Essentially, I needed to stand straight up to generate the maximum amount of power, due to the size of my bike and how I fit on it. I have left my aunt a few miles back and will not see her again until that evening; she would complete the medium route.
So, I go it alone. And the going is pretty rough. I find my energy sapped quickly. I stop, take a few deep breaths, swig some water, repeat. This is clearly the aspect of my training that I did not focus enough on.
Of course, the best part of an uphill climb is the ensuing descent. Some cyclists cut it loose, going 30 to 40 miles per hour – cool, calm, and in control. I'm hesitant to travel that fast, but the descent is an endorphin rush: it makes me want to continue on to what's next.
I linger for a bit during the water stop at the Delphian School, 22.5 miles into a 73-mile day. Dragons softball coach Scott Gregory – volunteering for the event – bids me adieu with the comment, "Enjoy the next hill."
I don't really enjoy the next hill, essentially climbing Rock Creek Road toward its intersection with Buck Hollow Road. I stop, I start, I gasp for breath. I drink water. Cyclist after cyclist passes me on the left.
Once I summit the hill, I take a deep breath and look around. Wow. The rolling hills, thick groves of trees and pockets of farmland are breathtaking, and energizing. Another brilliant discovery and breath of fresh air.
The next rest stop is at the base of the hill, at Blackwell County Park. I venture in and immediately head toward the bountiful food tents. Fresh cherries and blackberries? Delicious! Pretzel pockets filled with peanut butter? Don't mind if I do. Granola bars, energy gels, various food-like substances I've never heard of? Why not?
A piece of advice from my aunt comes to mind: you can complete Cycle Oregon and still gain weight. I'm beginning to see why.
Around me, bikers are immersed in conversation, refilling water bottles, walking down toward Willamina Creek or relaxing in the shade. Bikes of all colors, shapes and sizes lay scattered about. Tandem bikes are hardly uncommon on Cycle Oregon, and more than a few are parked here. A three-person tandem bike is propped up against a fence. I have seen at least two tandem recumbent bikes (the type you sit in) at this point in the journey; my knees ache thinking about taking one of those up the hill. My aunt later reports on a four-person tandem bike, which I never got to see.
The route winds around Willamina Creek before a sharp right turn at Fort Hill Road, taking us deeper into the forests north of Willamina. This is go time – the steepest hill on the course, in terms of elevation, by far. The summit represents the de facto halfway point of the course. It's not smooth sailing from there (the sun is out, and the pavement is getting hotter) but it's close enough.
All that energy I consumed evaporates on Fort Hill Road. The climb is demoralizing – one uphill slope, followed by a bend in the road with another uphill slope, onward to infinity. Vocal complaints fill the air. Riders dismount and walk their bikes up.
That, I could not abide by. My goal was to pedal all 125 miles of the two-day event, so dismounting from the Peugeot is not an option. Progress is slow. And not particularly steady. Some 500 riders pass me – or maybe that's the delirium talking.
But I do make the summit. And the backside of the road shoots out riders like cannonballs.
Somewhere along the roller coaster ride, I feel a sharp pain in my right quadriceps muscle. Did I tear something? Sprain something? What's happening? The next four miles are pure agony, and by the water stop at Fort Hill Restaurant I'm ready to throw the bike down. How much longer can I endure this?
That water stop was perfectly timed for many bikers, exhausted from climbing the hills. "Ken (Chichester, Cycle Oregon's route designer) said this was pretty flat," one woman exclaimed. "I'm like, are you kidding me?" Many riders at the rest stop nod silently in agreement, although it dawns on me that the most experienced riders in the event are probably back at Linfield by this point.
The rest proves fruitful, my right side feels better, and I'm ready to continue. The route takes us over Highway 18 and along Yamhill River Road before crossing Highway 18 on our way toward Willamina. There are no steep inclines, the pace is steady and the occasional shade trees are welcomed.
Willamina-Sheridan Highway is rutted and rowdy, difficult to deal with on tires less than an inch thick. The worst comes to fruition near the Boise Cascade plant outside of Willamina: a woman fails to negotiate the railroad tracks and falls off her bike, landing on her side. She complains of rib pain, and two cyclists stop to her aid. Within minutes, a sag wagon – one in a fleet of Ford Econoline support vehicles for the slow, unwilling or injured among us – happens upon the scene, and the driver calls an ambulance.
It's startling to see. I take it easy toward Sheridan County Park, the Cycle Oregon lunch destination.
Lunch comes for the long-route riders after 49.5 miles of traveling. The route is effectively dissected at that point, with the hills behind us and the Pacific Northwest pastoral farmland of southern Yamhill and northern Polk counties still to come. I wind my way through Ballston at as consistent a pace as I can muster. There is no protection from the sun, which I feel with every turn of the pedals.
Riders are spread across the wheat fields. Children in front of their houses, hawking bottled water and lemonade, are welcome signs of progress. It's a lonely sojourn until the route intersects with Highway 18, which we must cross again. At Farmer John's Produce & Nursery, our final water stop, I dunk my hat into a trough of ice water and put it on before leaving.
The last nine miles fall away quickly – I know exactly where I'm going, and most of my fellow riders picture the end in sight. We follow McCabe Chapel Road to Masonville Road, to Old Sheridan Road, to Peavine Road and back to Hill Road. When I encounter a group of riders stopped at a traffic light on Second Street, it comes as a shock. I use one final gasp of energy to pass a few riders on my way to the finish line at Linfield.
That night, at dinner, I speak briefly with Nancy Scappa, a Cycle Oregonian from Yreka, California, participating in her second weekend ride. Scappa is far more experienced, having regularly competed in day-long and weekend rides in Northern California. She took the long route, calling it "fun" and "easy."
"That one climb (on Fort Hill Road) was pretty hard," she said. "I did it without stopping. That's what matters to me."
It's an important lesson: go at your own pace.
DAY TWO
My aunt and I begin our day at breakfast, chatting with two women, one of whom had volunteered for the week ride for the past eight years. Cycle Oregon, she told us, traditionally has a gender imbalance on the week ride – more men participate than women – but the weekend ride evened the ratio. (That makes the week ride, the woman noted, a great place for a woman to find a date.)
More so than gender demographics, I am struck by the age range of participants. I cannot confirm this, but I was told of one rider who hung a small sign on the back of his bike that read, "How does it feel to be passed by an 80-year-old?" On the other side, many young children are along for the ride on tandem bikes or even actively participating on their own two wheels. Many of them are faster than me.
The first part of the long route on the second day takes riders along Highway 18 to Cruickshank Road and then to Airport Road. It's a veritable peloton, with faster riders jockeying with slower riders for position and opportunity. We get things sorted out as we go along, aided by a surprising lack of motor vehicle traffic.
Most of the riders started on the course early due to the forecast: chances of thunderstorms, especially around 3 p.m. It's also noticeably cooler on Sunday, compared with Saturday. My aunt and I – both riding the long route, and riding as close together as we feel comfortable – remark about the dark gray clouds on the horizon, and the chance they pass over us.
Around the 12-mile mark of the 52-mile ride, as we approach Briedwell, it hits me – I'm missing an extra gear from Saturday. The 73 miles really took it out of me. How well can I continue on? I do my best to push myself – the ride is much flatter than Saturday's, and I want to move as fast as I can after seeing lightning strike in the distance.
Twenty seconds later, a thunderclap. The storms are coming faster than we had anticipated. All the more motivation to hurry.
The riders continue along Broadmead Road through Broadmead and toward the intersection with West Perrydale Road; a food and water stop is located at Perrydale High School. I can feel myself pressing – I know the distance between Broadmead and Perrydale is just a few miles, but I get antsy and take myself out of the ride mentally. My aunt talks me down a bit as lightning continues around us. We make it to the high school and take a long stop, chowing down and standing still. (Hey, it beats sitting on a bicycle seat.)
The lunch stop is 17 miles away, with the largest climb of the day – along Bethel Heights Road – still to come. A group of female riders entertain themselves and us with a rendition of Carly Simon's "You're So Vain." Many riders, still struggling to recover from the previous day, require a stop, and I eagerly join them. But we all keep pedaling and summit the hill, knowing most of the day's hard work is done.
Until the rains come.
We felt the occasional drop along Broadmead Road, but now – winding our way through wine country, south to Zena and along Spring Valley Road – the rain begins to pour intensely. Lightning strikes, and thunder claps almost simultaneously. The storm is on top of us, and our tires are not built to handle wet conditions. It crosses my mind that Cycle Oregon could delay the event, or pick up riders, if conditions get too bad. But that doesn't happen, and we press on over and through the rolling hills.
The lunch crowd at Hauer of the Dauen Vineyards – 38.1 miles into the route – is much smaller than yesterday. Either lots of riders opted for shorter routes or more riders finished faster due to the relative ease of the course. I have a Bike Gallery mechanic check the Peugeot, and just before my aunt and I leave, the skies open up and pour more water onto the scene.
At the first sign of clearer skies, we press on. Webfoot Road is light on vehicle traffic, and bike riders are again spread out along the route. The last dip on Webfoot Road before we enter Dayton is deep and unwelcome in wet weather, but my aunt and I go at a comfortable pace and complete the short climb.
We make the final water stop at Dayton High School while most riders pass by – sensing the end, a way out from under the thunderstorms. Traffic on Lafayette Highway intensifies; my aunt and I separate, and I find myself within inches of a horse trailer moving at 20 miles per hour. Somehow, the turn back onto Highway 18 lacks pressure.
About half a mile down Highway 18, I feel it. Something's not quite right. My back tire is wobbly. A thousand scenarios play out: did a screw fall out? Did I run over glass? Did the tire somehow fall out of alignment? I slow way down, trying to keep calm on the highway, passed by riders gaining strength.
My aunt stops at the Evergreen Aviation Museum, where she realizes that I've run into trouble. It takes all of a second to spot the problem: a flat back tire. There's not a sag wagon in sight.
We wait 15, 20 minutes. No sag wagons, no mechanical aid. Riders continue to pass. Rain lets up momentarily. We hatch a plan: I call my parents – an impromptu sag wagon – who are in town for the afternoon and my aunt will wait for me until they or other help arrives. Then she will complete the course.
I hitch a ride and am dropped back off at Linfield College. I circle back to College Avenue and walk the Peugeot across the finish line. A group of Linfield student-athletes, huddled under tents, cheer me on. It rains even harder than before. I am given a medal for finishing. A gracious gesture.
One hundred and twenty miles. In two days.
Five miles short of my goal. Just when I was feeling good, feeling strong, feeling ready to finish. Just when I was about to conquer the exhaustion and fulfill my personal goal.
How do I make that up to myself?