Warriors rack up titles, team trophy amid second-day spree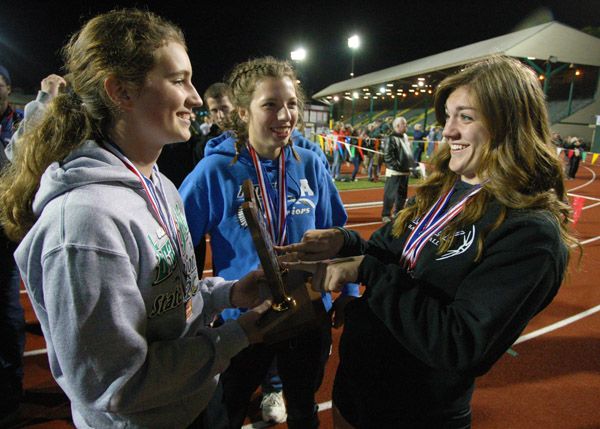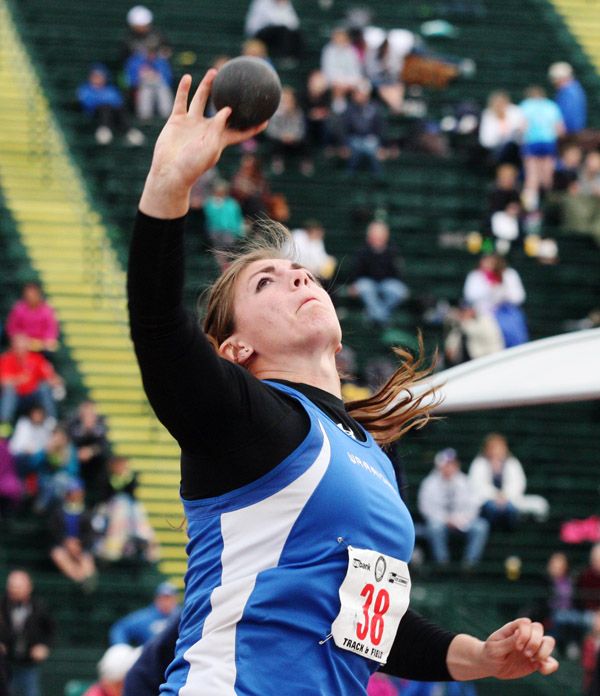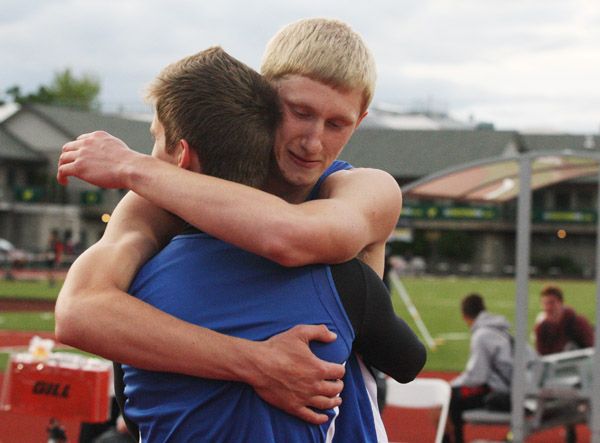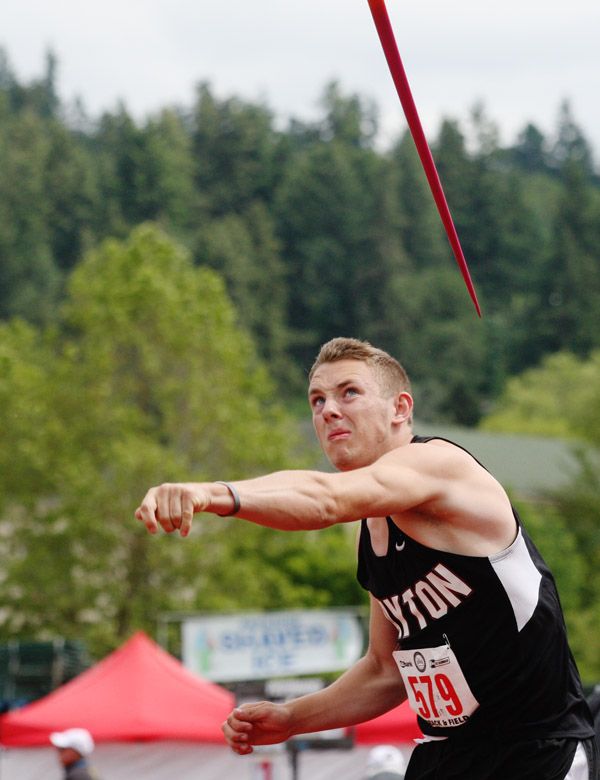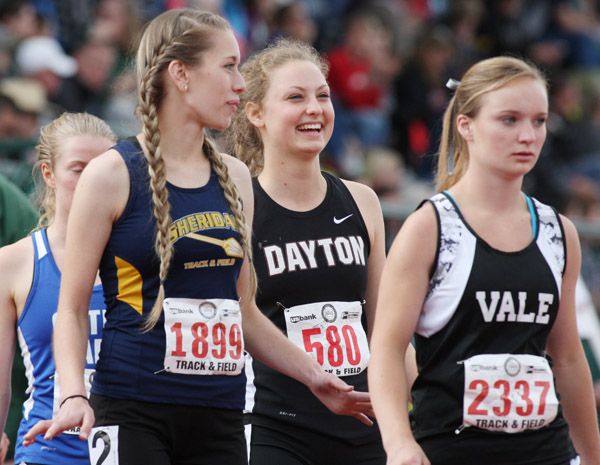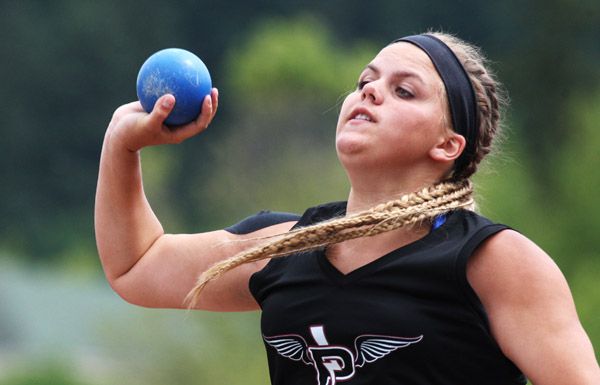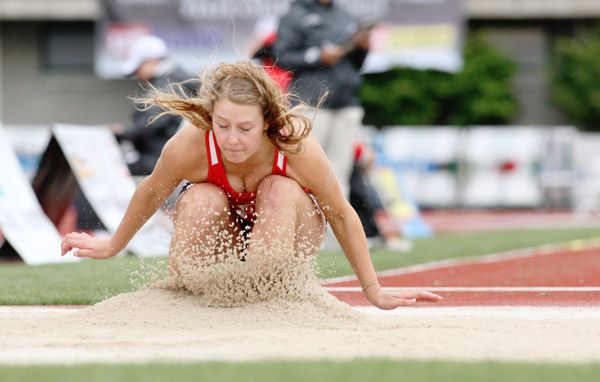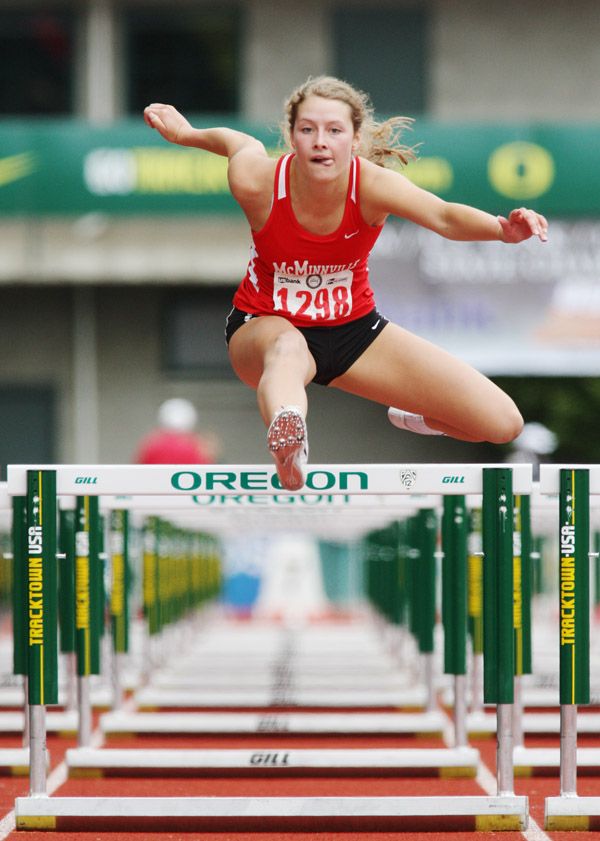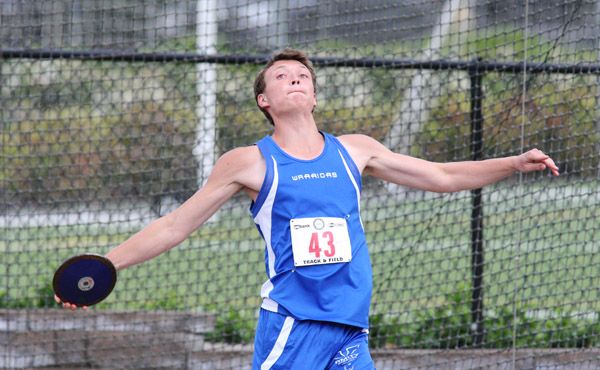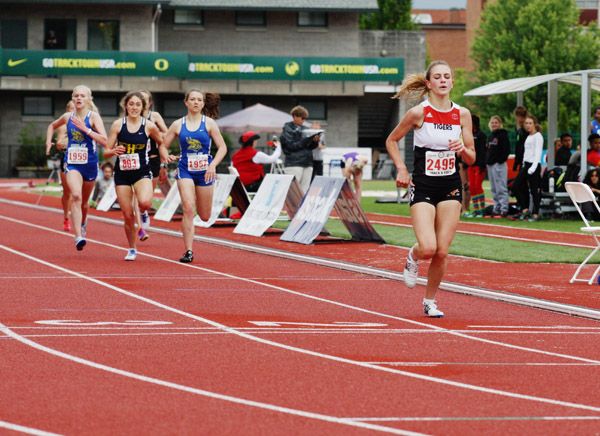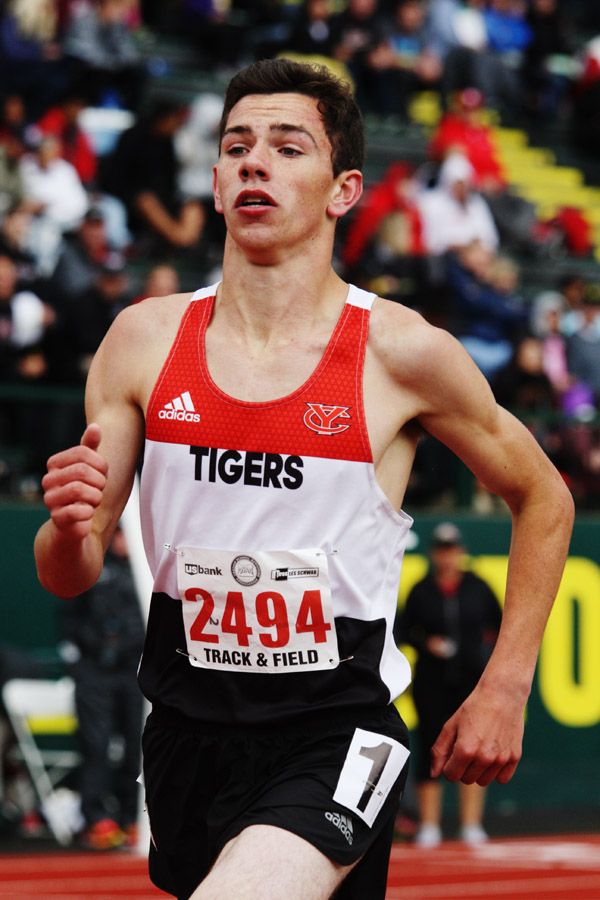 The only thing keeping Amity track and field from standing on the podium at the OSAA State Track and Field Championships Saturday was the next competition.
Such was the case with sophomore Amy Kraemer, who was conspicuously absent from the first-place stand when Class 3A girls' triple jump competitors were honoring. Kraemer had to check in for the 3A girls' 100-meter hurdles final, held shortly before the medal ceremony.
Kraemer won that, too.
In all, Amity brought home a third-place trophy in the girls' team standings (56 points) and finished sixth in the boys' team standings amid a slew of personal-best performances and emotionally fraught competition on the second day of the 3A track and field championships.
It is difficult to upstage McShane – who became the first Oregon girl since Jaclyn Espinoza of Regis (2004-06) to win three consecutive shot put and discus throw championships – on the Hayward Field stage. McShane was "happy with the place, but not with the mark" in winning the 3A girls' shot put; her best mark was 42 feet, 11 ¼ inches. She and Jordynn Slater of La Pine shared 3A high-point athlete of the meet honors.
Kraemer did her darnedest. She broke out her winning triple jump of 35-3 ¼ on her third attempt. Her 3A girls' 100 hurdles race was clean, and her time of 16.04 seconds was .41 seconds better than that of runner-up Madison Schreder of Lakeview.
Kraemer completed her meet with a fourth-place finish in the 3A girls' 300 hurdles (49.52). Add Kraemer's 25 points to McShane's 26 points and Meghan Drader's five points from the 3A girls' long jump Saturday, and the Warriors take home a trophy.
How can that be topped? The rest of the Yamhill County athletes in the Class 3A field sure tried, whether through focused performance or sheer entertainment value.
It was understandable that Amity senior Lance Nelson would factor into the title conversation in the 3A boys' high jump; he had cleared a classification-best 6-5 in 2016. But Jaycen Nelson? Lance's sophomore brother had not topped 5-8 before the West Valley League District Championships on May 14, when he cleared 6 feet.
So the Nelson brothers staged a dual for the ages, with Lance (6-4) edging out Jaycen (6-3, a new personal best) to win the state high jump title. Amity added an extra point from senior Kolton Rohde in the event (5-10), while Sheridan junior Bradly Crowe failed to clear a height.
Amity senior Ibrahima Niakh, nearly waylaid by back tightness, before Friday's competition, dominated the field in the 3A boys' 110-meter hurdles final, winning in a personal-best 15.48 seconds. Niakh's time was half a second faster than runner-up Justin Petz of La Pine (16.07). Dayton senior Zach Spink clipped a hurdle early in the race and ended up sixth (16.51).
Ronni VanZant of Sheridan proved her status as one of the fastest girls in Class 3A. The Spartans sophomore lowered her school record in the 3A girls' 200 (26.24), finishing second behind Pleasant Hill junior Megan Miller (25.79). VanZant clocked 12.71 in the 3A girls' 100 final, second to Miller's state meet record time of 12.83. Willamina freshman Taryn Hunt emerged from an outside lane to finish fourth in a personal-best time of 12.87.
Rohde and Nelson added seven points to the Amity boys' tally, with Rohde posting a mark of 43-6 3/4 (third) and Nelson posting a mark of 40-8 ¼ (eighth) in the 3A boys' triple jump. Dayton sophomore Aiden Huber scored at state for the first time in his nascent career, finishing sixth in the 3A boys' javelin throw with a personal-best 160-8.
Gubrud wins 6A long jump title as McMinnville athletes advance
EUGENE -- Friday was going to be a good day, Montanna Gubrud figured.
The McMinnville senior set a high standard in the Class 6A girls' long jump at the OSAA State Track and Field Championships, recording a mark of 17 feet, 4 inches on her first attempt. It was the start of a sequence of five legal jumps of 17-2 or better, with Gubrud's 17-6 best mark earning her her first individual state championship.
Gubrud is the first McMinnville track athlete to win a state title since Ashante Horsley won the 6A girls' 400 meters for the Grizzlies in 2012.
Gubrud followed up her state championship with a 16-seconds-flat run in her heat of the 6A girls' 100-meter hurdles. She finished seventh in her heat and did not qualify.
Grizzlies freshman Zane Fodge led his heat of the 6A boys' 800 for a lap before the pack enveloped him during the bell lap. Nevertheless, Fodge's fifth-place finish produced a personal record of 1:57.65 -- two seconds better than his previous best -- and a spot in the event final Saturday.
McMinnville senior Whitney Rich was the first non-qualifier in the 6A girls' 800 (2:16.08, sixth), and senior Brevin Geelan missed the 6A boys' 400 final after finishing sixth in his heat (50.51). Senior Skyler Godwin twisted an ankle warming up for the 6A boys' 110-meter hurdles, according to Grizzlies head coach Vic Downs, and did not line up for his heat.
Xthona wins state title in 4A girls' 3,000
EUGENE – Yamhill-Carlton's Perrin Xthona continued her dominance in the Class 4A long distance races during today's OSAA Track and Field Championships held at Hayward Field in Eugene. Xthona won the 4A girls' 3,000-meter final with a time of 10 minutes, 23.01 seconds.
This is the first state medal for Xthona, a senior for the Tigers.
"I'm really proud of myself. I'm so grateful that everything has worked out this year," said Xthona. "My coaches have been trying to prepare me for the stronger competition here. A lot of times during the league meets, I have been winning by one minute. Today, I definitely didn't try to lead these girls the whole race."
Xthona will get used to stiff competition at Hayward Field, as she will be taking her running talents to the University of Oregon next year. Xthona deferred admission to Berklee College of Music in Boston, which she intended to matriculate to before the Ducks began recruiting her this spring.
"It feels really good (to compete here). Hayward will be my home turf next year, and it feels right," she said.
Xthona will also compete in the 4A girls' 1,500 meters tomorrow, a race that has her seeded fifth out of the 14 entrants.
Fellow Tiger Dylan Schmidt also competed in the second day of the state meet. Schmidt was a finalist in the 4A boys' 3000-meter race and recorded a time of 9:23.16, good enough for a new personal record.
Schmidt, a junior at Y-C, was competing in the state championships for the first time after qualifying at this year's Class 4A Oregon West Championships.
"I really liked that I was able to run my race, get my 1,000-meter kick. I had a feeling that, with how well I was running, that I would set a personal best," said Schmidt.
Schmidt shaved 35 seconds off his previous best in the 3,000-meter race over this spring.
"With my training next year, I know I can work my way into the 8:50 range for the 3,000 meters. I want to come back to state and compete," said Schmidt.
Y-C's final competitor on Friday was sophomore Shane Davis, who competed in the 4A boys' 800-meter race. Davis recorded a time of 2:09.66, which was not strong enough to qualify him for the finals tomorrow.
"I thought I started out a bit too fast, and I ended up crashing at the end. Now if I paced myself better, I probably could have finished in a higher position," said Davis.
Despite the end result, Davis remained upbeat after the race. Immediately after the finish, Davis could be seen with a smile on his face.
"I try to be positive, no matter how I finish. I have to admit that it was a great experience for me," said Davis.
Clark, Price add points in Perrydale's name
EUGENE – Perrydale's Taylor Price had the Class 1A 100-meter hurdles first place medal in her sights, but a stumble on the final hurdle cost the senior crucial time and she finished in third place with a time of 17.24 seconds. Price still picked up six points for her team's total.
After the race, Price was emotional as she thought of that final hurdle and the problem it caused her.
"I was going out expecting such a great run, and that's why it's so hard to trip on the last hurdle. It's difficult to think back on how I could have done better," said Price.
Price's third-place finish, despite the stumble, is impressive when taking her lack of experience into account. The senior, previously a softball player, was convinced by friends to take up track her junior year. Still more impressive is that Price only competed in the girls' 100-meter hurdles once during her junior year.
When thinking back on her brief track career, Price began to put today's events at Hayward Field in perspective.
"I'm blessed to be in this position; a lot of girls have been training four years for a high finish in the hurdles. I'm really proud that I could make it this far, and I can't say I'm disappointed with the third place finish," said Price.
The Pirates second state competitor Sarah Clark capped off her high school sports career in style today after she completed her third event at the OSAA Track and Field Championships. After today's Class 1A girls' shot put and yesterday's 1A girls' javelin and 1A girls' 300-meter hurdles, Clark has earned her team six points at the state meet.
"It's really sad to be ending my sports career at Perrydale. But I'm glad I'm ending it at state, competing in three events, and going to two finals," said Clark.
In today's shot put event, Clark earned her team a point after completing a throw of 31-3 1/2. The throw also got her on the podium with an eighth place finish.
While Clark admitted some fatigue came into play with her shot put attempts, she was hesitant to say that competing in three events was in anyway a mistake.
"I don't have any regrets about doing three events. With the hurdles, you don't see many throwers out there competing, and so I'm glad I did that," said Clark.