Happy Halloween: Spooky stuff planned tonight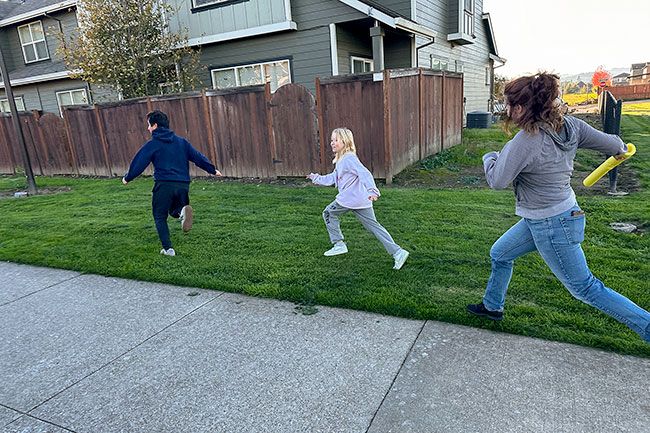 Halloween night brings a wide array of spooky (and some not-so-spooky) events. Here is an updated list:
* McMinnville's Third Street will fill with costumed trick-or-treaters from 4 to 6 p.m. Tuesday, Oct. 31, for the annual Halloween event, hosted by the McMinnville Downtown Association.
* A haunted house will be open from 7 to 9 p.m. Tuesday, Oct. 31, in the Carlton American Legion Hall. Admission is $5 per person or a food donation for veterans, or $20 per family.
* Baker Creek Community Church, 325 N.W. Baker Creek Road, hosts a drive-through "treats" event, 4:30 to 6:30 p.m., Tuesday, Oct. 31. -- this is an update of an incorrect time appearing in the print edition.
* Lillie's Sweet Shop, 734 S.W. Gilson St., hosts a "Haunted Bakery" event, a young-kids friendly event in the bakery, 5:30 to 8 p.m.. Tuesday, Oct. 31, with bakery tours and "Tim Burton-inspired" cookies and hot spiced cider served. The shop is located a block west of Highway 99W near Linfield Avenue.
* Sheridan Public Library, 142 N.W. Yamhill St., will show "The Nightmare Before Christmas" at 11:30 a.m. and 4 p.m., Tuesday, Oct. 31. Admission is free. For more information, call 503-843-3420.
* Yamhill Fire Protection District will host an all-ages "Halloween Spook-Tacular" from 4 to 6:30 p.m. on Tuesday, Oct. 31, at the fire hall, 275 S. Olive St. in Yamhill. Activities will include a costume parade at 5 p.m., a costume contest, and hot chocolate and chili bars. Free. Donations accepted for the organization's EMS fundraiser.
* Lum's Buick GMC, 830 N.E. Highway 99W, McMinnville, will host its annual Trunk or Treat event from 3:30 to 5 p.m. Tuesday, Oct. 31. Children can trick-or-treat, and the business or nonprofit organization that sets up the best booth will win a prize.
* Vineyard Heights, 345 S.W. Hill Road, McMinnville, will host trick-or-treating and other activities from 4:30 to 7 p.m. Tuesday, Oct. 31.
* The Carlton Business Association will host trick-or-treating in downtown Carlton from 4 to 6 p.m. Tuesday, Oct. 31.
Saturday, Nov. 4
* The Walnut City Rollers will host a post-Halloween costume skating event from 6 to 10 p.m. Saturday, Nov. 4, in the Leslie Lewis Pavilion at the Yamhill County Fairgrounds. Free. Prizes for best costumers. Pre-register at walnutcityrollers.com.