Harold William Hannagan 1933 - 2023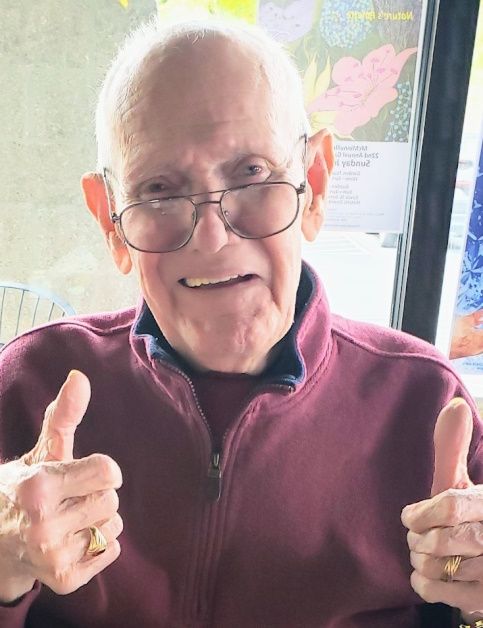 Harold William "Hal" Hannagan passed away peacefully on September 25, 2023, after a brief illness. He was 90 years old.
Hal was born July 25, 1933, in Westminster, California, but grew up in Pomona, with his parents, William and Gladys, and his sister, Helen. He loved camping, fishing, and hunting. He was active in the Boy Scouts for many years (and could still recite the Scouting oath well into his eighties!).
From an early age, he became infatuated with airplanes, no doubt influenced by stories of air battles of WWII. He served as an aircraft mechanic and crew chief in the Army Air Corps. He also had a fondness for automobiles and owned some really cool ones through the years. He recently said if he could have kept any of them, it would be his '37 Ford Business Coupe.
Hal had a decades-long career as Chief Aerospace Engineer at Explosive Technology (later OEA Aerospace), where he designed escape systems for military aircraft (most of them classified), as well as non-military applications. He took many business trips to Italy, sharing his knowledge and expertise with the Italian aerospace engineers. He loved his work and felt especially gratified when a pilot would contact him and tell him he'd had to "punch out" and that Hal's ejection seat had saved his life.
He married Margaret Sue King in 1962, and they raised their five daughters in Napa, California. They were long-time members of Grace Baptist Church, where Hal served as an elder and Sunday school teacher for many years. In addition to his Christian faith, he passed on to his daughters his love of the outdoors, as family vacations were usually spent camping. After Sue passed away, he became passionate about blood and platelet donations, to the point that the blood bank enlisted him to help them recruit more donors.
Several years later, Hal married Gwendolyn Ann Leedy, and they continued to make their home in Napa. After Gwen's passing, Hal relocated to Oregon to be near two of his daughters. He became a regular attender of Springhill Community Church. He loved corny jokes, ice cream, cowboy poetry, Abraham Lincoln, coffee, and the San Francisco Giants (though he eventually accepted that in Oregon his TV was able to get only Seattle Mariners games.) He recently celebrated his 90th birthday with a big family reunion and Italy-themed party.
Hal is survived by his daughters, Katy Ambrose (Jim), Melissa Winkelman (Steve), Sharon Kenyon (Ralph), Jenny Kim (Dean), and Becky Reyes (Erwin); stepdaughters, Debbie Fuca (Joe) and Donna Gunning (Dave); as well as 27 grandchildren and 10 great-grandchildren.
Hal's memorial service is scheduled for 11 a.m. Saturday, October 28, 2023, at Grace Church of Napa, 3765 Solano Avenue in Napa, California, 94558.
The family would like to thank Rock of Ages for their excellent loving and compassionate care of Hal during his last few years. In lieu of flowers, the family asks that you consider making a donation to Rock of Ages Valley View Retirement Village in McMinnville, or your local blood bank. To leave condolences, please visit www.macyandson.com