Emily Joan Bergstrom Jernstedt 1929 - 2023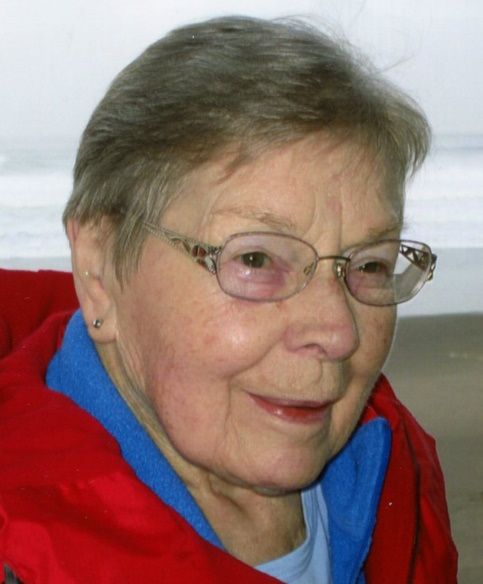 Emily Joan Bergstrom Jernstedt, longtime Carlton-area farming partner, died Sunday, March 19, 2023, at the age of 93, with daughter Joani at her side. She was born at home August 1, 1929, in Corvallis, Oregon, to Anna (Schreiber) and John Edwin (Ed) Bergstrom.
In her early childhood, Emily lived in Corvallis and Portland until the depths of the Depression prompted her parents to move "home" to McMinnville, Oregon. She attended McMinnville schools and graduated from McMinnville High School in 1947. She attended Willamette University for one year and then began working as a secretary at Memorial School in McMinnville.
Emily married Ernest Frank Jernstedt on May 14, 1950. They embarked on their life-long partnership in the house he built for them on the family farm, where they brought up their family of five daughters. Upon her marriage, she became an Associate Member of the First Baptist Church of Carlton, where she sang in the choir, taught Sunday school and was active in the women's groups, serving as treasurer, for many years.
In addition to her family and farm responsibilities, as a young mother, Emily was a member of the local ABC Club (About Babies and Children), a group dedicated to child development, parent education and charitable work. She supported her children's classroom and extracurricular activities through fundraising and near constant transportation services. Emily was also a member of the White Cloud Home Economics Cooperative Extension unit and served as a 4-H club leader. For seven years, Emily also worked at Carlton Elementary School, first as the school secretary, and then as the Deputy to the Superintendent.
In retirement, Emily and Ernest enjoyed travel adventures to Hawaii, Great Britain, Sweden, New Zealand and the Cook Islands, other European capitals, Alaska and the Southeastern United States. They also enjoyed the wonders of the Northwest, including the Columbia River, and many visits to the Oregon Coast. Together, they also enjoyed the beauty and quiet of the family farm.
Emily was predeceased in 2010 by Ernest, her husband of nearly 60 years; as well as her sister, Carol (Whit); brother John (Gerri); and sister-in-law, Ann. She is survived by daughters, Judy, Karen (Jim), Kathryn, Joani, and Lisa (Bill); grandchildren, Matthew (Mai), Noel, Krister, Emil, and Sofie; and great-grandchildren, Tova, Andrew and Quinn. She is also remembered fondly by her nieces and nephews and many members of her extended family.
In lieu of flowers, the family suggests memorials to the First Baptist Church of Carlton, c/o Macy & Son, or to a charity of your choice. Memorial services will be held at 1 p.m. Saturday, May 20, 2023, at the First Baptist Church of Carlton. To leave condolences, please visit www.macyandson.com.