Letter to readers: Feline fine when readers remind us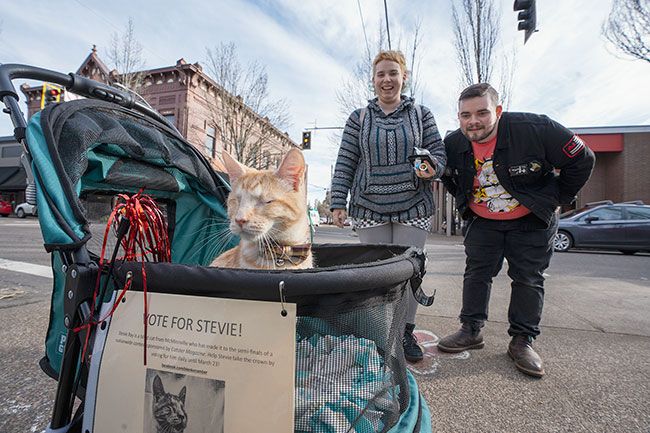 Thank you, Joyce S., and other readers, for reminding me that I'd failed to report on how well Stevie Ray, the blind cat, did in the America's Favorite Pet online competition.
I may grumble to myself when I get a call about something I've forgotten or overlooked, but I really do appreciate the reminders. I have a good memory. But after 41 years as a reporter, there is so much information stuffed into my head that sometimes it doesn't pop out at the right time.
I may not remember when I'm at my computer or even in arm's reach of a slip of paper and a pen, although I probably will suddenly recall the name or the number or the story idea at a time when making notes is inconvenient, such as when I'm swimming laps at the pool or sleeping.
It just doesn't do a lot of good to awaken our cats and tell them something like, "I must send reminders to those school board candidates that haven't returned my questionnaire." Petie and Gregor won't remind me in the morning; I'm sure this will shock you, but they aren't nearly as interested in the school board as I am.
So it's great to have readers — and editors and coworkers — who help me remember. And I appreciate the story ideas, as well; I am always, always looking for people who will share their stories and talk about their passions.
Now, before I forget again: Stevie was one of 12 cats in the country to make the finals. He ended up as a runner-up in the contest, which drew votes from people all over the country; they could vote once daily for free or donate money to an animal charity to "buy" more votes.
Still, Stevie was the winner, as far as many, many people have told his owner, Amber Blankenship of McMinnville. They've filled her Facebook posts with comments about the orange tabby's abilities to navigate, his friendliness, and his gentle disposition with the kittens Blankenship fosters for Homeward Bound Pets and Hazel's House.
Now, what else have I forgotten?
Starla Pointer
Education, business reporter and Stopping By columnist
spointer@newsregister.com