Patricia Dorothy Nordin 1930 - 2023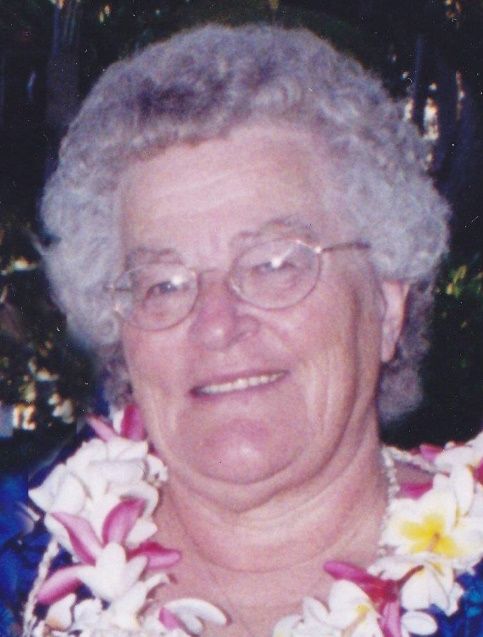 Patricia Dorothy Nordin, formerly Gass, 92, of McMinnville, Oregon, passed away March 18, 2023, at Rock of Ages Memory Care in McMinnville, Oregon.
Patricia was born April 22, 1930, in Milwaukie, Oregon, to Martin and Melania Gass. They moved to McMinnville in 1938. Patricia (Pat) attended grade school at St. James Elementary and McMinnville High School, graduating in 1948. She met Erick Nordin of Sheridan, and they were married in September of 1952. A little over a year later, they were blessed with the first of seven children.
Pat worked after graduating from high school at Oregon Mutual Insurance Company. She worked there until becoming pregnant with her first child. She was a housewife and worked summers in the strawberry fields, green bean fields and walnut and hazelnut orchards, with various of her children with her. She went to work in the '70s at McMinnville Middle School as a part-time kitchen aide. She worked there for 15 years and was promoted over time to assistant Kitchen Manager.
Pat enjoyed spending time with her children, grandchildren, and great-grandchildren. She also enjoyed gardening with her husband, camping and needlework. She made quilts for her grandchildren and some of her children, who cherish them still.
Patricia was preceded in death by her son, Greg Nordin; a granddaughter, Mikala Nordin; her sister, Evelyn Niehus; and her beloved husband, Erick. She is survived by her children, Patti Rathman, Mike Nordin, Deb Nordin, Judy Puckett, Ken Nordin, and Carolyn Graham; 11 grandchildren; and four great-grandchildren. She is also survived by her sisters, Eleanor Baune, Marian Huglen, and Kathy Zumwalt.
A Mass will be celebrated for Patricia at 10:30 a.m. Friday, April 21, 2023, at St. James Catholic Church in McMinnville. A reception will be held from 11:30 a.m. until 2:30 p.m. at the McMinnville Senior Center, 2250 N.E. McDaniel Lane. In lieu of flowers, donations may be made to St. James Catholic School or Pinnacle Hospice.
To leave condolences, please visit www.macyandson.com.