Rams, Panthers improve to 2-0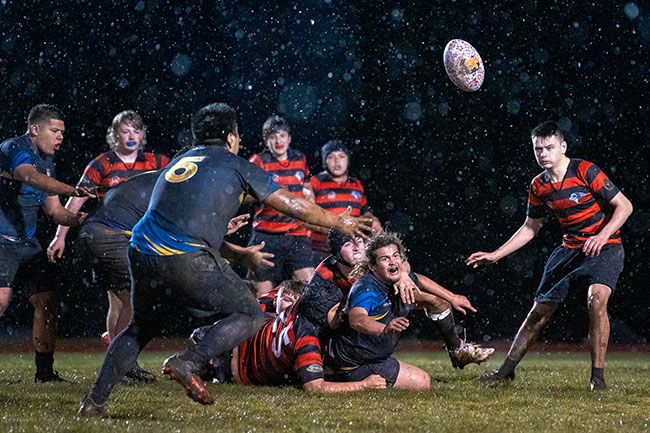 The West Valley Rams and the Valley Panthers both improved to 2-0 over the weekend with resounding victories over Newberg.
The West Valley Rams played against Newberg on Friday night, under the lights and amid some rain showers at Yamhill-Carlton.
The Rams controlled the game from start to finish, suffocating the Tigers attack while consistently gashing the Newberg defense en route to a 65-5 victory. Among the try scorers were Howard Yost, Hunter McAvoy and Jedidiah Kollaer.
The Valley Panthers were locked in a tight battle in their first half of their matchup with the Salem Snapping Turtles, but they pulled away late to win 33-5.
Coach Michael Fair said that the offense was able to find a rhythm in the second half as players came from a better depth to find more attacking lines and penetrate Salem's defensive wall.
Seniors Grace Barnes and Merary Ulloa-Uribe led a fourth quarter charge, running strong and allowing other Panthers to link up off them. Sophomore Dakota King was certainly a beneficiary, scoring four tries on the day to bring her total through two games to nine.
King also made a try-saving tackle on defense, leveling one of Salem's best runners to provide another spark for the Panthers as they built their lead.
Merary Ulloa-Uribe scored a try and went four-for-five on kick conversions, bringing her to an excellent 13-of-17 on the season.
Fair said the win was truly a team effort, with contributions from starters and bench players, including several underclassmen and newcomers.
Both the Rams and Panthers have the week off for spring break and are back in action on April 8 in Bend, where they will take on Summit at the Pacific Crest Athletic Fields.
The Panthers' next home game is on May 6, where they will face Newberg at Duniway Middle School in their regular season finale.
Aside from their game in Bend, the Rams will play in Albany, Vancouver and Camas, Wash. and Monmouth, where they will take on the Eastside Tsunami on the campus of Western Oregon University. That matchup is on May 6.
The Tsunami are the reigning state champions, and the final match of the regular season will likely have major implications on postseason seeding.