Local cat in running for 'America's Favorite Pet'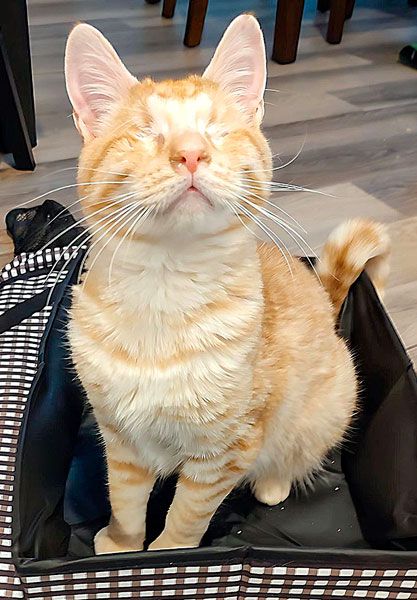 Stevie Ray, a blind cat named in honor of vision-impaired musicians Stevie Wonder and Ray Charles, is in the running to be named America's Favorite Pet.
As of Monday, the orange tabby had the most votes in his group in the quarterfinal round of the contest sponsored by PAWS, the Progressive Animal Welfare Society, which rehabilitates injured wildlife, shelters homeless cats and dogs, and promotes compassionate actions for animals.
Voting in this round continues through March 9 at americasfavpet.com/2023/stevie-2bc9.
Stevie's owner, Amber Blankenship of McMinnville, is urging local residents to cast votes for Stevie so he can be sure to advance to the next round.
Stevie fans can cast one vote a day free. They also can add more votes by donating money to PAWS.
Blankenship, who fosters kittens for Homeward Bound Pets and Hazel's House, adopted Stevie last year.
He had been found with bruises and injuries to his face. Taken to Homeward Bound Pets, he was nursed back to health, but vets had to remove his eyes
Stevie is now healthy, although he was left with permanent damage to his tear ducts and sinuses that Blankenship is treating with massage and holistic herbs and oils.
Although he was likely abused, she said, he is extremely loving to humans as well as other cats — especially the foster kittens in their home. He has an uncanny ability to navigate the house, avoiding obstacles and heading straight for his bowl at feeding time.
"He enjoys pop-up cubes, tunnels and any toy that makes noise!" Blankenship wrote on his profile for the America's Best Pet contest.
She said Stevie likes going to Brookdale retirement home to visit seniors along with her other kittens. And he loves snuggling with his mom, a veteran with PTSD.
Blankenship heard about the PAWS America's Favorite Pet contest early this year and entered Stevie's story. He has advanced through several levels to reach the quarter finals.
If he is the winning cat, he will receive $5,000, which will go toward his care and the care of other cats that are preparing for adoption. He also will be the subject of a story and photo spread in Catster magazine.
To Blankenship, Stevie already is a winner. "I tell him how handsome he is all the time," she said, revealing that she already has a crown tucked away for when he is named America's Favorite Pet.