Care for Kittens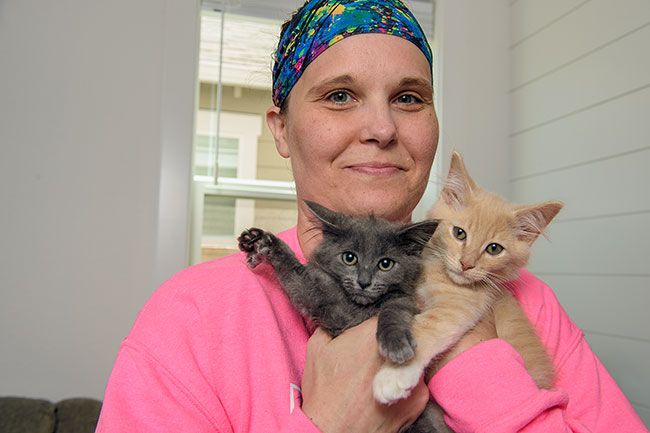 Kittens cannot solve inflation, lower gas prices or heal strife within or among nations.
But boy, can kittens spread happiness and make people's lives better.
"Kittens are therapeutic," said Amber Blankenship, a foster care provider for kittens who volunteers for Homeward Bound Pets and Hazel's House.
She takes in nursing mother cats and their kittens, along with orphans, and raises the little ones until they are old enough for adoption.
"It's really hard to have a bad day when you see babies that depend on you and love you," she said.
This spring and summer, Blankenship and her two pet cats have had a houseful of kittens. Two mothers and their litters moved in to their home in May. By mid-June, eight kittens were tumbling around the house, exploring everything that moved and climbing everything that didn't.
They've since reached the critical weight of 2 pounds each, qualifying to go to Homeward Bound's clinic on Evans Street to be spayed or neutered, tested for feline diseases, microchipped and vaccinated. By now, some have gone to permanent homes; others will be offered through the adoption programs.
It's always bittersweet to say goodbye to the little ones, Blankenship said. She wants them to have happy lives with loving owners. But she misses the individual personalities she's watched develop over several weeks.
"Those four just purr and purr," she said about half of the gang of eight that was tearing through her living room during a recent photo session. "Those four are more interested in chasing things."
Blankenship has been fostering for Homeward Bound for more than three years. In that time, she's helped raise more than 100 kittens.
"Chaotic, but fun," she said.
Blankenship said she sought out volunteer work because she struggles with PTSD. "I needed purpose in my life," she said.
She started out cleaning the cat building at Homeward Bound's no-kill shelter on Loop Road. Then she heard about the need for foster caregivers..
"A week later, I had my first kittens," she said.
She soon realized that as much as she was helping the cats, they were helping her, as well. "Fostering turned my life around," she said.
To qualify as a foster care provider, Blankenship filled out paperwork and went through some training. She had to show that her own cats were up-to-date on their vaccines, too.
Homeward Bound agreed to provide food, kitty litter and medication. She agreed to provide whatever care the foster kittens need.
In addition, she had to have a designated space in her home where the mothers and kittens could have private quarters. "At least one room," she said, noting that she had fostering in mind when she looked for a new home last year.
Her kitten room is not only separate from the rest of the house, it's also set up to appeal to cats. Toys, climbing structures and soft sleeping places fill the room, which she calls a "kitten Disneyland."
She just added a "cat super highway," comprised of several small platforms mounted along one wall – it allows cats to move around without returning to the floor.
A baby monitor keeps her informed of what the kittens are up to in their room.
As kittens become more independent, she lets them out of their room in the evenings, allowing them to play throughout the house. "They love it," she said.
She plays with them, of course, helping them learn to socialize with humans. "I'm with them a lot. I sit with the mama, talk softly, handle the kittens a lot — most moms are okay with that."
She also takes kittens to visit people.
She may load kittens into a special stroller and walk downtown with them, for instance; one Halloween, she dressed kittens in tiny pumpkin costumes for a Halloween walk.
A couple times a month, she takes kittens to visit residents at Brookdale senior living center; the joy is mutual.
Blankenship's own pets, Gumby, 11, and Pokey, 9, are fine with having the kittens around. "Gumby, especially, does so well with them," she said. "He gives the kittens baths and cuddles with them, especially with the ones without moms."
Pokey, who is recovering from losing his back leg to bone cancer, is a little shy. "But he plays when he gets to know them," she added.
Sometimes Blankenship takes charge of female cats that are about to give birth, becoming a midwife as well as a caregiver. Other times, the kittens are a few days to a couple weeks old when they arrive with their mother; they may not even have their eyes open yet.
About half the time, she receives orphaned kittens. Many are old enough to be eating on their own, but some are so small, they need bottle feeding. Occasionally they still have their umbilical cords attached, she said.
"They need round-the-clock care. I have to feed them at 3- or 4-hour intervals," she said, noting that she doesn't get many vacations or days off.
She has to do the missing mother's other duties, too, including stimulating their bowels and bladder and bathing them. She keeps them warm and dry, as well as fed.
It's a lot of work, she said, but it creates a special bond between human and feline.
"And it makes me really appreciate the mothers!" she said.
Tiny kittens are fragile. Without mothers to care for them, newborns have a low survival rate. Blankenship said she realizes she cannot save them all, but it still hurts when a kitten dies.
The first litter she cared for had two kittens; one survived. Most litters average five kittens; some have included as many as 10.
"You can't save every kitten, so this is not for everyone," she said. "But I can't imagine my life without fostering."
She focuses on the ones that make it.
"It's a joy when they thrive," she said. She loves to see them open their eyes, grow and become aware of and fascinated by the world around them.
She recalled saying goodbye to that first healthy kitten.
"When it was time for it to go to its forever home, I broke down crying," she said.
She's become used to sending kittens off into the world, but it's never easy. She often keeps in touch with the people who adopted them, and has made many friends that way.
"I want to know they're going to good homes," she said, noting that she recommends that people adopt two unless they already have a cat; kittens do better in pairs.
"They're hilarious, they're fun, they're companions for life," she said.
She's gotten used to saying goodbye, though she still misses the patter of tiny paws. But every time a group of kittens leaves her care, there's another on the way.
"My mission is to save as many cats and kittens as I can." she said.
Starla Pointer, who believes everyone has an interesting story to tell, has been writing the weekly "Stopping By" column since 1996. Contact her at 503-687-1263 or spointer@newsregister.com.