Stopping by: Justice in balance - judge Collins looks back on lessons learned, forward to principles in place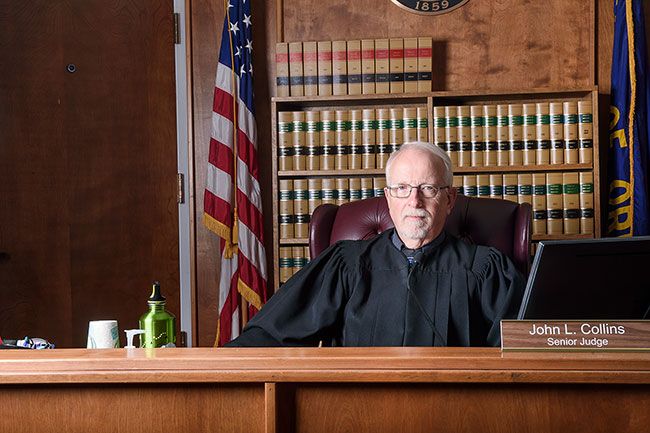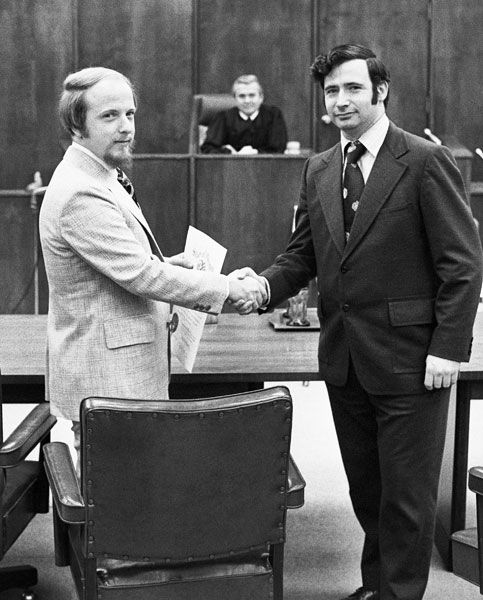 Years ago, when young District Attorney John Collins stood in the courtroom, awaiting arrival of suspects for arraignment, he would hear the clanking of chains as deputies walked them up from the Yamhill County Jail.
They were innocent until proven guilty, but they sure didn't sound that way.
"That's not right," Collins said to himself.
It's not right for the suspects to be humiliated, Collins said recently — speaking nearly 50 years later from his judicial office, a few yards from where he once prosecuted cases.
It's especially wrong for juveniles, he said; they may have experienced trauma already and now feel victimized again.
And it's not right for justice, he said, since jurors and others in the courthouse may judge them as "looking guilty" because they are heavily restrained.
[See also: Judge -- Excising bias is important]
Collins took action, telling the sheriff to correct the situation; the sheriff went to Tommy's Bicycle Shop and purchased inner tubes to put over the chains, quieting the noise. As a judge, he went on to write a lengthy opinion about the problem of suspects being brought into court in shackles.
Today, many arraignments take place on video, so defendants aren't brought into the courtroom anyway. But if they are, Oregon law protects juveniles and adults from being chained, although soft restraints still can be used to keep them from lashing out or trying to escape.
Collins is proud that his efforts and the opinion he wrote contributed to the creation of that law, especially since it has improved the way young people are treated.
"When juveniles come up to court in person, they seem more at ease and not shamed," he said. "We did the right thing."

Getting rid of shackles is one of many changes Collins has helped bring about in the decades he's been part of the legal system, including serving as DA for 16 years and judge for the past 30.
Collins was appointed to the bench by Gov. Barbara Roberts in September 1992. Now the senior judge of the 25th Judicial District as well as the longest serving judge in Oregon, he officially retired Dec. 31, 2021. He will will continue to serve, however, until his replacement has been named.
A native of Salem, Collins first considered the law when he was a child. One neighbor was an attorney, another a judge.
But by the time he started classes at OSU, he was thinking of medicine instead. Yet, "I wasn't sure I wanted to go to school that long," said Collins, who ended up spending just as long getting his law credentials.
He switched to business administration, thinking he might become a hospital administrator. The business courses taught him a lot about people, he said.
After finishing his undergrad years, took admissions tests for both business and law, acing the later. He followed a friend's lead to Willamette.
"I had some potential," he said modestly. "And I enjoyed law school a lot."
Collins first joined the Yamhill County DA's office in 1972 after graduating from Willamette. He spent a year trying cases as a deputy district attorney, then left to pursue a master's degree in criminal justice through a fellowship to New York University.
The hands-on experience served him well, he said. For instance, it taught him more respect for victims and the importance of keeping them informed of the court process.
"There are so many things I did better" because of that early work in the DA's office, he said.
He returned in 1976 to serve as district attorney, a job to which he was appointed by Gov. Bob Straub. He was 28 when he was sworn in on Jan. 5, 1976 — the youngest DA in Oregon.
"I really enjoyed being DA," he said. "I felt I accomplished a lot."
The job put him in a position to push for victim's rights to be recognized and considered. Many years ago, he said, prosecutors could be "a little insensitive" to victims, treating them as evidence, rather than as people who'd been through something traumatic. Thankfully, that's changed.
Collins also urged that victims be allowed to speak in court, which can be good for the victim and the defendant, he said. "It's healthy for all," he said.
And he helped Yamhill County establish a program for victims of domestic violence, working with the late Mary Henderson as she established a shelter for women and children who had escaped violent situations. McMinnville's Henderson House, providing outreach, education, and services for victims of domestic and sexual violence, is named for her.
Child welfare has always been another of his top priorities.
"I believe 95% of parents want to do well," he said. "They're just not taught, or didn't have the right experience themselves, or they have a problem with drugs or other behavior."
Mediation often helps parents understand their role better, he said. Mediators may assist them in developing a parenting plan.
Foster parents have been a godsend, as well, he said. Foster families often help children "emerge as competent, happy adults."
Over the years, county legal and treatment programs also have developed better understanding of the emerging brain, which has helped in treating juveniles more appropriately.
"Young people can change, even more than adults," Collins said.
Yamhill County's Court Appointed Special Advocate (CASA) program has made a big difference, as well, said Collins, who has supported the program from its start 30 years ago.
Trained CASA volunteers are assigned to children involved in the legal system. They get to know the kids "holistically," he said, finding out their needs, their health, what their school is like, what home is like, etc., and advocating for their best treatment.
"CASA didn't take long to prove itself," he said. "It helps move cases along, helps parents know what they need to do; it has been a big benefit to everybody."
Working on a child abuse or neglect case can be challenging for a judge, Collins said.
"We're human. It's hard when we see people suffering," he said. "We have to work at neutrality, but we don't want to get numb or cynical; we want to stay human."
To maintain neutrality and compassion, judges need to take care of themselves, Collins said.
That's true for anyone in a stressful position, he said. For him, that means reading, humor and physical activity, including hiking and cycling.

Moving to the bench after being district attorney took some adjustment.
"At first, as a judge, I wanted to toss off the robe, jump over the railing and add to the closing arguments," Collins recalled.
That temptation was rare, though, since Yamhill County is "fortunate to have a good quality of representation on all sides," he said.
A prosecutor must make sure judge and jurors get all the information they need to reach a fair conclusion. A judge, on the other hand, makes sure the process is conducted fairly and without bias.
A judge also sets expectations for lawyers, Collins said. He or she must be fair, forthright and knowledgeable about the law, remaining consistent in every case, whether civil or criminal.
He's seen a wide range of civil cases. Some involved family members tussling over their parents' assets; some were complicated by dementia and mental incapacitation. Collins has heard numerous experts testify about the spectrum of such illnesses.
"Judges have to educate themselves," he said, so they can understand the complexity of all sorts of issues. "We have to keep on learning; it's our duty."
Judges also need to treat people with respect at all times, he said. It's the right thing to do, and it's a good idea, as well, he said; "If you treat people with respect, they will return it."
At least most of the time, he said.
He joked, "there have been time when lawyers challenged my patience."
A judge doesn't have to agree with the way people think in the courtroom. Rather, Collins said, he or she needs to accept that people have different perspectives, and give them the chance to be heard.
"Go with it. Say, 'nevertheless ... here's what the law requires,'" he said.
A judge's most important duties are to "be a neutral arbiter, make sure the rule of law is followed, have knowledge of the law and human nature" and make sure the process from beginning to end is "fair and open."
Collins said he follows mottoes such as "A just outcome, not just an outcome," and "A just, fair and open process, not just a process."
Recently, a parent stopped Collins to thank him for the way he treated her son in court years ago. She recalled that the judge had told the teen, "We're counting on you to do better."
Her son took that advice to heart. He cleaned up his act, joined the military and today is doing well. He told his mother, "That judge was firm but fair."
A welcome compliment, Collins said.
"I want to be firm on the law and the facts; firm, not mean, and not too punitive or inconsistent, because that won't help," he said.

Collins remembers many cases like that of the woman's son.
He also keeps track of defendants as they move through the process, from arraignment to being held in jail to being released or convicted.
On his wall hangs a list of everyone who has been in jail awaiting trial for 60 days or more.
The list once covered multiple pages; now it has only 13 names, relatively few, although five more than before COVID complicated everything.
Keeping the list, therefore keeping people in mind, "helps us manage cases better and understand when pretrial release should be used," he said.
The courts, and society, also need to consider how prison sentences should be used, he said. Prison shouldn't be the inevitable conclusion to a trial, especially for drug-related property crimes, he said.
"We need to hold people accountable," he said, but punishment without taking steps to help them improve their behavior is not right. Instead, he said, the system needs to use techniques such as "motivational interviewing," which makes criminals consider their actions and embrace the benefits of better behavior.
"How did that work for you?" for instance, is a technique proven to put people on a path of self-examination.
Many criminals need to be incarcerated to protect society and to "pay" for heinous actions, he said. "But some might be made worse" by being exposed to a prison environment, he said.
"We need to dig deeper each time," he said, pointing to a plaque on his shelf that says "Smart people answer questions, wise people question the answers."
Collins said he once believed the answer to drug crimes was simply getting people off drugs. But now he sees drug use as more of a symptom than the problem itself. "How can we change the way they think?" he asked.
The answer lies in understanding — and helping them understand — how their thinking is wrong. Often that means teaching them to avoid "bad" people and find positive peer support, instead.

This isn't the first time Collins has decided to retire. He thought about it a few years ago when Judge Ronald Stone wound up his career, but figured he should stay in order to maintain continuity in the Yamhill County courts.
Later, when he was satisfied that the county was in good hands with judges such as Cynthia Easterday and Jennifer Chapman, he thought again of retiring.
Then COVID arrived, and "retiring didn't seem right ... we needed people to work with this huge challenge."
Now, at 74, he is on the verge of the state-mandated retirement age for judges, 75. So he's cleaning out his office, packing up his numerous awards, inspirational plaques and items such as Lady Justice wearing a COVID mask as well as a blindfold; several scales of justice; and a justice snow globe that sits atop three books on ethics, civil code and the constitution.
In addition to biking, hiking, watching birds and pursuing photography, Collins said, he plans to continue serving as an unpaid judge as Oregon law allows, 35 days a year for five years.
"When something is such a big part of your life, it's harder to leave," he said, explaining his earlier reluctance to stop working. "I hope I've gotten better every year and learned something new."