Continuing her mother's wreath-making tradition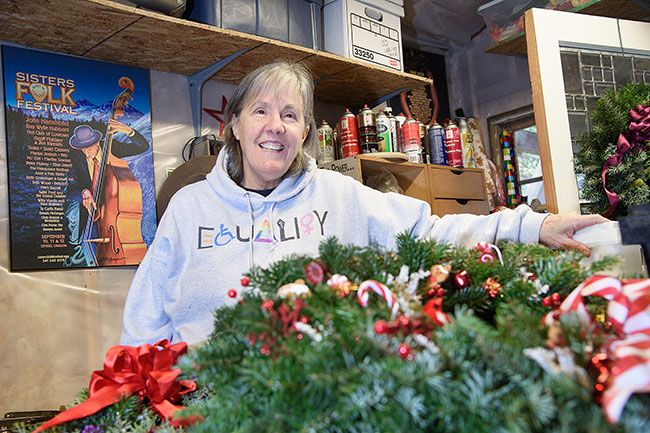 For most of the year, Janet Zuelke's eyes are on the stars, as she's one of the founders of the Carlton Observatory at the Evergreen Aviation & Space Museum.
But in late fall, she focuses on more earth-bound endeavors. After spending early November outdoors collecting moss, twigs and cones, she returns to her Carlton workshop to create traditional Christmas wreaths, wreaths woven on wine barrel hoops and whimsical gnomes.
She is continuing a tradition her mother started when she was a young girl. "Mom made beautiful pine cone wreaths in the '60s," Zuelke recalled, showing off an oblong one built completely of different types of cones in 1963.
J anet and her eight siblings helped. After their mother drilled a tiny hole in each cone, the children poked wires through the holes. They dipped the cones in shellac before their mother tied them tightly and permanently in place.
These days, Zuelke uses hot-melt glue instead, in part to avoid the lacquer fumes. And cones are decorative additions, rather than the base of her evergreen wreaths.
When her own son Jay and daughters Jennie and Shayna were young, Zuelke made wreaths to supplement the family budget. The proceeds made Christmas a little brighter for her kids, she said.
She continues because she enjoys not just the extra cash, but also the process. She especially likes going out in the peaceful woods to gather materials.
In her creations, berries and flowers, such as dried hydrangea blossoms and hawthorne berries from her yard, add interest. Sometimes she includes a bird, purchased from a craft store, to create a focal point.
She also uses dried pomegranates, poppy pods, cinnamon sticks and artichokes. Other times, she applies tufts of bright green moss to contrast with the darker green hues of freshly cut fir, juniper and manzanita.
Once in a while, she adds glittery or shiny touches, such as tiny Christmas presents or plastic candy canes. The resulting wreaths are not the style she prefers, she said, but inevitably they are the first that sell at her open houses and craft shows.
The wine barrel rings also draw the eye. Zuelke covers about one-third of each ring with greenery, exposing most of the galvanized steel ring.
Her gnomes start with a different kind of metal frame: a tomato cage, turned upside down. Once she adds a cloth cap at the pointed top, a pair of eyes halfway down and a sheep's wool beard, it becomes a happy gnome — or maybe an elf straight out of Santa's workshop.
Zuelke makes some of her gnomes and wreaths for commercial enterprises, such as local wineries and restaurants. She's been creating large wreaths for Cuvee's windows for the last seven years, for instance.
Most of her wreaths and other decorations go to private homes, though. She even ships some to friends who've moved to other states.
Her creations run from $45 to $70. They will be available for sale at an open house in her workshop, 410 W. Grant St., Carlton, from 10 a.m. to 3 p.m. Saturday, Nov. 20, and Friday and Saturday, Nov. 26-27.
She and daughter Shayna also will sell them at the Barn Swallow artists' market from 11 a.m. to 4 p.m. Friday through Sunday, Nov. 26 to 28. It's held at Abbey Road Farms, 10280 N.E. Oak Springs Farm Road in Carlton.