Looking better, brick by brick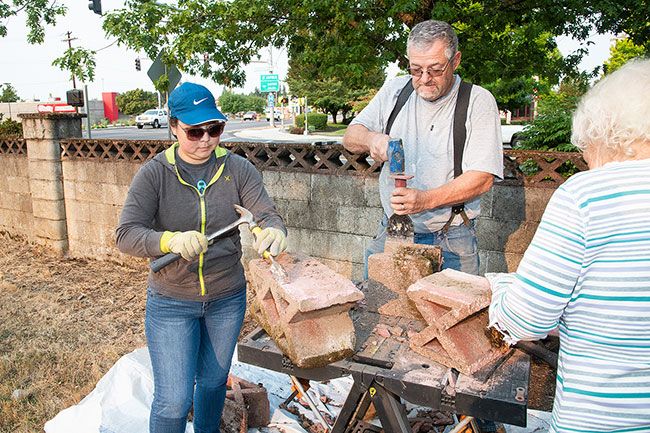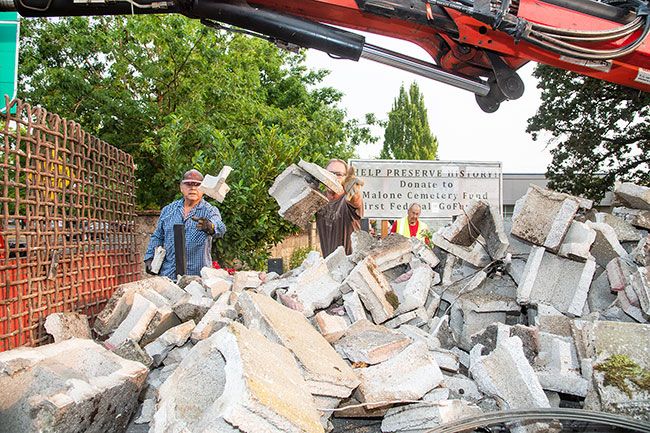 Members of Sunrise Rotary and other volunteers have been cleaning up and making improvements to the Malone Cemetery, the small family plot adjacent to one of McMinnville's busiest intersections.
The cemetery was started by Madison Malone, a farmer who came across the Oregon Trail from Missouri in 1843. His family was the fourth to settle in the McMinnville area.
Malone buried his first wife in 1851 on the edge of his farm, and later his second wife and some of his children. When he died in 1880, he also was buried at the site, which now abuts the Wilco Farm Store at the intersection of Highway 99W and Grandhaven Drive.
Several efforts to clean up the cemetery have been mounted over the years. The latest, spearheaded by McMinnville residents Joan Buccino and Jan Stoven, started last spring, a few months after an ice storm caused a tree to fall, damaging the site's front wall.
"It deserves more respect," Buccino said.
Sunrise Rotary members joined them in a cleanup in July and again Saturday, Aug. 14. They trimmed weeds, marked graves to avoid future damage, and cleared debris.
"Without the piles of barn boards, debris, broken limbs and more, it's beginning to look more like a cemetery," Stoven said.
The cemetery project recently received a grant from First Federal. Buccino has set up a GoFundMe account as well as an account at First Federal to accept donations.
The nonprofit project now has about $2,700 to work with, Stoven said.
Much work still remains, but "we are making progress," the organizers said.
They have received estimates such as about $2,400 to construct a new wall; and $750 to straighten, repair, sandblast and refinish the heavy iron cemetery gates.