Summertime sampling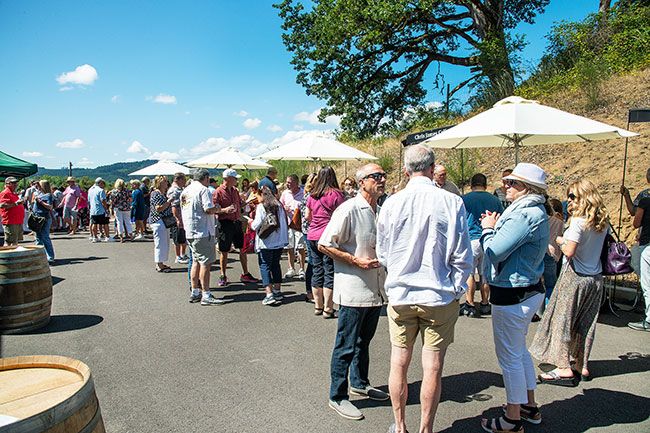 A joyful time at Yamhill-Carlton AVA winetasting event
Hundreds of people laughed and chatted Saturday morning, July 17, as they sipped samples from 35 of the wineries in the Yamhill-Carlton American Viticultural Area Winery Association.
What a joyful noise wine aficionados make when they're able to get together, said winemaker Deven Morganstern, who doubles as the general manager for R. Stuart Winery in McMinnville.
The happy cacophony reminds him of growing up with five siblings, he said. He finds it so inspiring, in fact, that he called his small-batch label "Joyful Noise."
He buys a ton of grapes each year from two YC AVA vineyards, Hershey and Lazy River, both near Yamhill. He ends up with three barrels of each variety.
"I love drinking wine, and I love that making it is a challenge," Morganstern said. "It's different every year."
Ken and Dana Pearlman of Amity complimented the Joyful Noise wines.
"Really good," they said as they swirled the Hershey wine in their glasses. They grow chardonnay grapes themselves at their Pearlstad Vineyard in the Eola Hills.
Another couple, Ken and Sheila Daugherty of Camas, Washington, spoke a little more broadly about how much the liked what they sampled at the YC AVA's Summer Tasting event.
"Every wine is unbelievable," the Daughertys said.
Members of the wine club at Ken Wright Cellars, they are frequent visitors to Yamhill County. They signed up for the summer tasting event to try more wines from the YC AVA and talk directly to winemakers.
A California man, who heard about the Summer Tasting while visiting friends in Oregon, agreed with their assessment.
"I love it," Jon Webb said. "I love it. Wine and food and folks having a great time ... what's not to love?"
The YC AVA is a geographical area that takes in the area north of McMinnville and from just east of Carlton and Yamhill to the Coast Range.
More than 50 wineries and 110 vineyards are part of the YC AVA. About 2,500 acres, mostly on hillsides and ridges at 200 to 800 feet above sea level, are planted in Pinot noir, Pinot gris and Chardonnay.
Resonance, the first Willamette Valley winery opened by renowned Burgundian company Maison Louis Jadot, hosted the YC AVA's annual Winery Association summer tasting event.
"Yamhill-Carlton: Down to Earth," read wine bags distributed to guests. But both the visitors and the hosts were actually over the moon, because they were able to resume the annual event after canceling it in 2020 because of the pandemic.
This year, the event included a raffle with proceeds going to Tiger Vines, the nonprofit that markets wines made from grapes students grow in the Yamhill Carlton High School viticulture program.
Among winemakers pouring their own wines was Matt Driscoll, who makes Wild-Aire wines at the Carlton Winemakers Studio.
Originally from Virginia, Driscoll moved to Oregon "to chase Pinot," he said. He's been producing about 500 cases of Pinot noir, Pinot gris and chardonnay a year since 2005.
He said he likes to start his wines with the yeasts that grow wild in local vineyards. He picks a batch of grapes a week or two before the harvest begins, ferments them, then reintroduces them to the fully ripe grapes. "I'm trying to be as natural and authentic as possible," he said.
A few booths down, Peter Shea poured wine from Shea Wine Cellars. It's the winemaking arm of the vineyard his parents, Dick and Deirdre Shea, planted in 1989, the same year he was born.
The Sheas sell 80% of their harvest to several other YC AVA wineries. The rest they turn into wines that showcase the vineyard's chardonnay and Pinot grapes, Peter Shea said. "We're known for robust, fruity flavor that makes a very big Pinot," he said.
At the Resonance booth, the host's cellar manager, Jared Coon, poured wine while winemaker Guillaume Large charmed visitors.
Large recounted the winery's origins, noting that parent company Maison Louis Jadot was founded in France in 1859, the same year Oregon became a state. When Louis Jadot started its winery in the Carlton area, he moved from his native Burgundy to oversee turning grapes into wine that would "express the terroir."
"It is exciting to take the time to understand the Willamette Valley," he said. "There is an energy here, a soul here. Very promising."
Several area restaurants provided appetizers during the Summer Tasting.
"We always support the wine community," said Pierre Zreik, managing director of Newberg's Allison resort that will be hosting a similar tasting event for the Chehalem Mountains AVA on July 31.
The Allison's Jory restaurant served pork and hazelnut terrine on crackers, something that goes well with wine, Zreik said. Carlton's Cuvee offered pâté; Carlton's The Horse Radish set out caprese frittata with smoked mozzarella and watermelon gazpacho; Martha's Tacos of Lafayette served chips with carnitas or pollo asado.
There was plenty of food and wine for 500 guests, who came during two sessions, morning and afternoon. About 85 of those opted for VIP entrance an hour before each of the regular sessions.
Dozens of winery representatives and volunteers helped out. One of them brought her own lunch — or rather, her handler, Susi Crum, brought a stash of snacks to keep Kanani, a female falcon, happy during the summer tasting event.
Kanani, whose name means "beautiful" in Hawaiian, works at Crum's Tanager Cellars just north of Carlton. She protects the vineyard from marauding robins and starlings.
"My first year, I lost half the crop to birds a week before harvest," Crum recalled.
Many other vineyards use propane cannons to discourage birds; others put up balloons or other types of abatement. But starlings and robins often get used to those methods, swooping in to eat grapes between each "boom!"
Kanani commands respect. The smaller birds see her distinctive shape and fly away, said Crum, a former Air Force Defense Force commander.
Crum went through a two-year apprenticeship to become a certified handler just so she could work with Kanani and another Falcon. The birds didn't need much training, she said. "It's in her DNA to chase ... this uses her natural behavior."
Kanani responds to Crum's whistles or raised glove and returns to her perch, ready for a reward, such as a bit of chicken heart.
"We don't need cannons anymore," her owner said.