Tiny trailers carry hope for homeless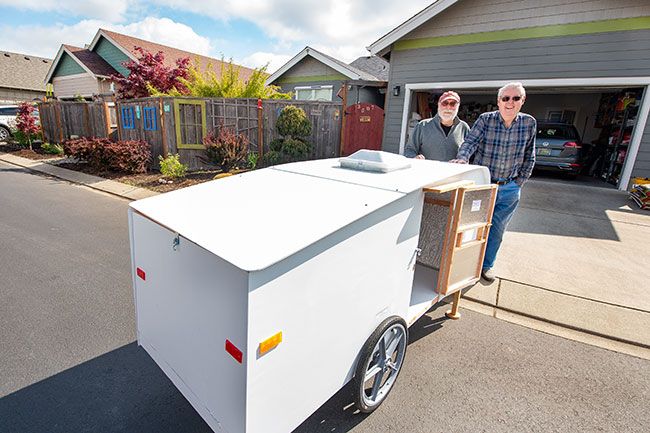 More than two dozen people have comfortable places to sleep because of Turtledove Shelters, a McMinnville manufacturing program started by people who decided to stop talking about the homeless problem and start doing something about it. Their efforts are spreading to other cities and states, as well.
Patrick Evans and Lee Eggers designed and are building the portable shelters, 3.5-by-8-foot trailers that can be pulled behind bicycles. The insulated shell has room for sleeping and a few possessions.
"This seems to have met a need," Evans said. "We have shelters, but a shelter is not a home. This is a micro-home, and it's theirs."
Evans said he doesn't belong to any particular faith community, but he lives his life according to the Beatitudes, which Jesus preached in the Sermon on the Mount. He said Jesus advised us to offer help if we see someone hungry, tired or scared.
"It breaks our hearts to see someone cold and wet. We have to do something about it; we have to," he said.
In 2018, he joined other concerned citizens meeting to discuss homeless issues in McMinnville. A homeless resident, Ed Doty, told the group that many of his counterparts need shelters of their own.
Evans and a couple of other people from the group built three Nomad shelters using plans they found online. One of them is still around, he said.
Designed for occasional camping, the Nomad worked, but were difficult to build, he said. Insulating them was particularly challenging.
So he and his neighbor, Eggers, sketched out their own version of a bike trailer. Evans turned the design into architectural plans, using computer-aided drafting.
Both men are Navy veterans with experience in building and technology. Eggers is retired from a large tech company, for which he did maintenance, and Evans from a job as a production engineer building cell towers for a wireless company.
Doty, who's also been involved in the project, served in the Marines. He's the one who came up with the name, Turtledove.
They started construction in March 2020. The work requires precision, but is not difficult, Evans said. It takes him and Eggers about a week per shelter.
McMinnville High School's shop program also is participating, with a student building one of the Turtledoves.
The nonprofit gave away its first shelter in July 2020. It since has made about two dozen trailers that have been distributed through organizations that help homeless people, such as the McMinnville Elks Lodge, McMinnville First Baptist Church and Champion Team (now Encompass Yamhill County).
Turtledove works with other organizations to get the shelters in the hands of those in need. "We're manufacturers; we don't do the social work part," Evans said.
He said that after speaking with recipients, he was surprised by how many are longtime McMinnville residents who lived on the streets after falling on hard times. They are truly community members, he said.
Materials for each Turtledove cost about $500, Evans said. Materials include insulation, plastic, metal for the frame, a hitch, and wood.
Elk Creek Lumber recently donated "a pickup full" of wood to help with the project, he said. Other businesses and individuals have donated funds, including some who sent their federal stimulus money to Turtledove.
In addition to donations, the nonprofit organization raises funds by selling plans for the Turtledove shelters. Plans have been purchased by organizations that help the homeless in Oregon, Washington, North Carolina, Alaska, Colorado and California.
Evans said he's pleased other places are working to address homeless issues, as McMinnville is.
However, just providing Turtledove trailers is not enough, he said; McMinnville also needs a dedicated place for homeless people to park them.
If the city provides a space, Evans and his partners would like to begin building larger, semi-permanent homes as well. They have plans for Conestoga shelters, which resemble the top of the wagons used on the Oregon Trail. They are popular in Eugene.
And Evans wants to go even further to help homeless people. "We hope to help them make the transition from sidewalk to Turtledove to Conestoga to an apartment," he said.